Commentary
Some surprises on Santa's naughty list
Updated:
December 23, 2010, 11:28 AM ET
By
Jerry Greene
| Special to Page 2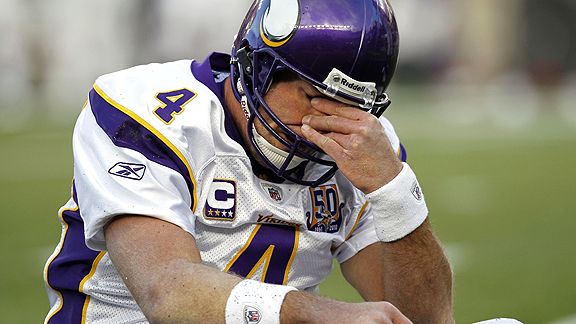 AP Photo/Winslow TownsonNo real surprise seeing Brett Favre on Santa's naughty list. How public opinion has changed in only a few years.
Sometimes, if you are to believe all the headlines and YouTube videos, it seems as though Santa Claus won't have to worry about delivering presents to any of our celebrities, inside and outside of sports.
Just imagine how long his "naughty" list must be! The list for "female singers and actresses under the age of 21" by itself must be as large as the Mitchell report. But that is not our concern.
Who has been the naughtiest in the world of sports? That's what we asked and, as always, you responded with a naughty list long enough to impress the Grinch. We narrowed it down to your top 10 that we promised to send to Santa so that everyone on it can expect nothing beyond a lump of coal in their stockings.
Harsh, but they brought it upon themselves. You may well guess who is No. 1 because he's been No. 1 on more lists this year than we can count.
And a reminder that we disqualified Tiger Woods, Ben Roethlisberger and LeBron James because Santa already has his own list about them.
So, Santa, no need to check our list twice. Once should do.
Top 10 Sports Naughty List For Santa
10. Jets strength coach Sal Alosi, because he's either a dastardly cheat on his own or knows how to take orders really well -- said Sharon K. of New York City.
9. England goalkeeper Robert Green, because he mishandled that painful ball and ruined the year for his country -- said Chris H. of St. Louis, Mo.
[+] Enlarge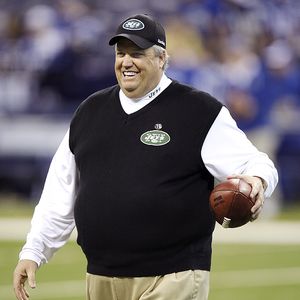 AP Photo/Michael ConroyRex Ryan made Santa's naughty list. Get your mind out of the gutter. It wasn't for that.
8. Wide receiver Randy Moss, because how dare he not be grateful for the free buffet and eventually make Bill Belichick look like a genius (again) for dumping him -- said Graham B. of Macon, Ga.
7. Tom Brady, because he chooses to wear his hair like that and still refuses to lose -- said Nik R. of New Delhi, India.
6. Rex Ryan, because he stole all of Santa's milk and cookies despite all that talk about stomach surgery -- said Lisa H. of Hamilton, Mont.
5. All four teams in the NFC West, because it's terrible to think that one of them actually will get to host a playoff game -- said Chase M. of Oklahoma City.
4. New Orlando Magic player Gilbert Arenas, because guns don't get you suspended but being an idiot with guns will do the trick -- said Ben M. of Peoria, Ill.
3. Cecil Newton, not because he allegedly tried to pull down $180 grand to send his kid to Mississippi State but because he failed to name him Fig -- said Jack F. of Falls Church, Va.
2. The vuvuzela horns, because they were the only thing more annoying this year than having to watch soccer -- said Ryan B. of Atlanta.
1. Brett Favre, because, aside from being a textbook narcissist, when he finally didn't start a football game he immediately starts selling a $500 football to celebrate that his streak ended, which shows us who he roots for, Brett Favre -- said Jeff S. of Ebensburg, Penn.
Yes, Mr. Favre got more votes than anyone else. Just missing the top 10 but still on our extended naughty list are Michael Vick, Kobe Bryant, David Stern, Roger Goodell, Vince Young, Lane Kiffin, Floyd Mayweather Jr., Urban Meyer, Ines Sainz, JaMarcus Russell, Kevin Garnett, Rick Pitino and, uh, The Who for Super Bowl XLIV's halftime show.
Finally, what list is your name on? Only Santa knows.