Commentary
The rough life of a Guinness adjudicator
Updated:
January 18, 2011, 3:06 PM ET
By
Jeff Arnold
| Special to Page 2
Mike Janela is sitting in a basketball gym in Manhattan counting free throws.
He's got whiplash from moving his head side-to-side, like a dysfunctional bobblehead doll, charting the flight of the ball from Perry Dissmore's hand to the rim 15 feet away.
He figures after 10 minutes, this free throw-shooting pastor hell-bent on setting a new Guinness World Record will stop for water or to collect his thoughts. But like a metronome, Dissmore keeps shooting.
[+] Enlarge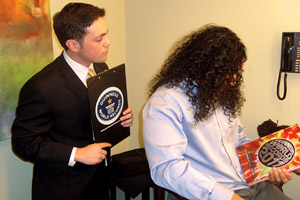 Guinness World Records Guinness World Records adjudicator Mike Janela checks out Troy Polamalu's hair insured for $1 million, setting the record for the world's highest insured hair.
So Janela keeps counting.
"I'm sitting there thinking about all the professional athletes who have trouble making free throws two at a time," Janela says. "And here's this guy popping them in -- almost 2,000 in an hour."
For the record, specifically, the Guinness World Record, the tally of made free throws in an hour reaches 1,968 before Janela stops counting.
It's all in a day's work.
As in, it's his job.
Like it was in Janela's job description as a Guinness World Records adjudicator to travel to St. Louis to witness a run at the world's largest bikini parade. Or when he flew to Merida, Mexico, for the world's biggest serving of roast pork to ensure all 6,821 pounds of pig were accounted for.
Or, better yet, when he traipsed off to the Bahamas, where high-wire legend Nik Wallenda rode across a 90-foot tightrope while suspended a record 250 feet over the ocean without the luxury of a safety net or harness.
"You're watching this, hoping he makes it," says the 25-year-old Janela, who came to Guinness in 2009 after working as the play-by-play radio voice of the Hickory (N.C.) Crawdads, the Single-A affiliate of the Pittsburgh Pirates.
"For that minute, your eyes are fixed on him."
Oh, sure. Not every day is like this. There was the time he sat in his office verifying a new record by video, counting each of the 601 times Ashrita Furman caught one of the three balls he was juggling while hanging upside down. Record attempts may be sent in on video, but require that witnesses be present at the time of the attempt.
Since he started, Janela has logged nearly 55,000 work-related airline miles, traveling as far away as Comodoro Rivadavia, Argentina, where he witnessed the longest guitar-playing marathon.
That lasted 100 hours -- the final eight of which Janela was present for, the day after he sat in for four hours as part of the more than four-day solo performance.
Guinness officials, including 25 adjudicators like Janela, approve only 3 percent of the 50,000 record requests they receive each year.
"It really is big -- it really means to be part of history," says Carlos Martinez, the head of Guinness' USA records management team. "It's carrying the lineage of a title that has traveled person to person and country to country. It means to be No. 1."
Don't think that's lost on Janela, who holds a broadcast journalism degree from Syracuse, but couldn't stomach calling minor league baseball games every day of the summer, traveling the Carolinas by bus.
Once back in New York, though, he wasn't sure what to make of a job ad that detailed a gig where his love of sports and traveling and his ability to speak fluent Spanish and Portuguese gave Janela a better shot than most.
"It seemed a little fake at first," Janela admitted. "When you hear Guinness World Records, you don't think people actually work there. You think it's just this automated database where a few people are pushing buttons."
Not so.
When he's not traveling, Janela spends his 9-to-5 existence at GWR's New York office, where life often goes from the mundane to borderline ridiculous.
Like the day when he walked into the lobby to find the world's largest dog -- a Great Dane named Giant George measuring 7-foot-3 from nose to tail -- getting acquainted with the world's smallest dog, Boo Boo, a Chihuahua who measures 4 inches tall and tipped the scales at 24 ounces.
"To be a gatekeeper between the people attempting a record and getting the official Guinness world record achievement is a lot of power," Janela says. "And to have that be my job is something you really can't put into words."
Jeff Arnold is a freelance writer for Sports Media Exchange, a national freelance writing network.