Commentary
Obama putting pressure on Bears
Updated:
January 23, 2011, 9:29 PM ET
By
Jerry Greene
| Special to Page 2
Talk about pressure.
The kettle cannot get hotter than the one boiling Sunday on frozen Soldier Field because the leader of the free world (perhaps not counting the Red States) has expressed his desire to attend the Super Bowl only if "his" Chicago Bears beat the Green Bay Packers for the NFC Championship and entry into the "Big Game," as it is called by everyone who has not paid the NFL to use the term "Super Bowl."
Yes, President Obama wants his Bears in the Super Bowl and has even called the score, Chicago 20, Green Bay 17.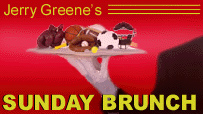 That's pressure. Except which team should be sweating more in the sub-freezing temperatures?
If the Packers win, as they are favored to do, they have gone against their President. If they even want to think about health-care coverage in their golden years, they had better give that some careful thought. After all, has a football team ever been vetoed?
But if the Bears lose, as they are favored to do, they have let their President down. Remember in "West Wing," how they always would say: "I serve at the pleasure of the President of the United States?" Doesn't that mean the Bears must win?
And then there is the AFC Championship Game, too, with the free-quoting New York Jets invading Pittsburgh to take on the Steelers. Apparently the President doesn't care who wins that one, so no pressure there, right?
Let's briefly think about each game (without a single "X" and few "O's" involved) before I defy the President by telling you who will win and by the exact score:
NFC Championship Game -- Green Bay Packers at Chicago Bears -- Cheeseheads favored by 3.5
These two have played 181 times already, so they ought to have it right by now. All season long the Bears have been able to wear the "No Respect" card proudly as TV and radio "talking heads" made jokes about their offensive line and took shots at their quarterback. The experts would have us believe that if we look up "Pick" in a dictionary, we would find a photo of Jay Cutler. Yet, here he is and here they are. Of course if we were going to choose one fact to point out, it would be that the Packers have intercepted five passes in their last three games. If you're the President, that's a filibuster. On the Cheesehead side, quarterback Aaron Rogers is the flavor of the day. Yes, he's been magnificent but may we have a moment to reflect on whether Brett Favre might have taken the Pack to the Super Bowl if he had stayed? No? OK, let's move on.
AFC Championship Game -- New York Jets at Pittsburgh Steelers -- Steelers favored by 3.5
Wouldn't it be cool if they were the Jersey Shore Jets? They feel like the Jersey Shore Jets. For much of this week they were muted but the mere thought of Steeler WR Hines Ward now makes their defensive backs start foaming. Has a team ever been penalized for unsportsmanlike conduct before the opening kickoff? The outcome of this game could well depend upon the last game each of these teams played. In their fertile minds, did the Jets win the "Big Game" when they whipped the hated Patriots in New England? If they peaked then, they are in trouble now. But the Steelers could have a worse hangover. They beat the hated Baltimore Ravens but the nasty birds left a lot of purple bruises that could weaken the Steelers badly. Finally one name to remember: LaMarr Woodley. Not saying the Steeler LB will have a great game (although watch him versus Jets RT Wayne Hunter) but his name reminds me of Headley Lamarr in "Blazing Saddles." And how often do you get to make a Headley Lamarr reference these days?
Bottom Line: Who wins and by what exact score?
Green Bay 21, Chicago 17
Pittsburgh 21, New York Jets 17
I told you it would be an exact score -- and an identical score.
PS -- Sorry, Mr. President.