Commentary
Jimmy Button to ride again, for charity
Updated:
January 25, 2011, 3:42 PM ET
By
Alex Prewitt
| Special to Page 2
The last time Jimmy Button exited San Diego's Qualcomm Stadium, he was in an ambulance, strapped to a stretcher and paralyzed from the neck down after a horrific motocross accident during practice. With a bruised spinal cord at his second and third vertebrae, Button was told he would likely never walk -- let alone ride -- again.
The next time Jimmy Button exits San Diego's Qualcomm Stadium, he will do so via the power of his now-working legs, pedaling a bicycle and kick-starting a cross-country quest to raise awareness for spinal cord injuries and help those who can no longer help themselves.
[+] Enlarge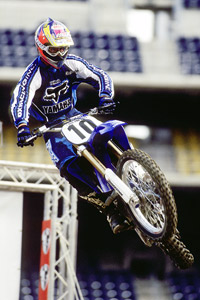 Courtesy Jimmy Button Former motocross champion Jimmy Button started Miles for Miracles for victims of spinal cord injuries.
It's an inspiring story worthy of at least a few tears. A former motocross champion cut down in his prime, Button has feverishly rehabbed his way back, and started Miles for Miracles to bring hope to victims.
"Knowing what it's like to be trapped -- your mind is working fine but you're trapped inside this body that won't listen to you. It's like you're locked in a straitjacket and a prison all at once," Button said. "It's the most surreal, terrible thing I've ever had to experience. For me being affected the way I was, I just wanted to do something to contribute and help out. I felt compelled to do something to try to make a little difference."
Along with trainer Cory Worf and a team, Button will cycle 2,428 miles from San Diego to Daytona Beach, Fla., over nearly two months in the hopes of raising $1 million. He got the idea from a "60 Minutes" show on spinal cord research, and began training nearly a year ago on an indoor stationary bike. The first time Button began riding, he lasted somewhere around 12 minutes, but he worked his way up until he was able to ride outside in August 2010.
"Scared as hell, to be completely honest," said Button, when asked what went through his mind when he took to the road for the first time in 10 years. "I had my heart-rate monitor on and everything, and I was just standing over the bike before I even put my pedals in, and my heart rate was at 120 just standing there."
More than anything else, Button hopes to facilitate discussion regarding spinal cord research.
"There's a stigma; I know that I certainly had it, that people in wheelchairs ... I had questions but I never wanted to ask them because I thought they would be offensive," he said. "Very early in my injury, I was still in a wheelchair, and me and my friends went to a McDonald's, and there was a little kid who pointed me out and asked his mom why I looked like a monster. It's stuff like that -- just educating people that people in wheelchairs aren't monsters, and opening it up a little discussion."
So what will the moment be like when Button rides out of Qualcomm on his own will?
"My guess is pretty heavy. The day will finally be there that I'm starting this big journey. I'm a pretty emotional guy anyway; I'm pretty sure I'll be crying, but it will be emotional for everyone."