Commentary
Q&A: Jason Statham's respect for UFC
Originally Published:
January 27, 2011
By
Kelley Carter
| Special to Page 2
Jason Statham knows what you want: Lots of blood. A high body count. Bullets flying everywhere. Wall-scaling. Drop-kicks. A fist to the jaw. Maybe two.
He delivers on all in his latest film, "The Mechanic," a high-speed picture that has him playing an assassin-for-hire whose skill is that he makes all of his hits look like accidents.
[+] Enlarge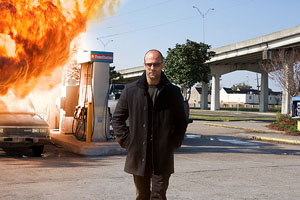 Courtesy of CBS FilmsJason Statham did all his own stunts in "The Mechanic," but that's nothing new.
And most importantly, he does it all himself. You won't see a body double in this film. Matter-of-fact, you haven't seen a double for any of the roles that Statham has played.
The 43-year-old English actor and martial arts enthusiast laughs, and jokes that he only does his own stunts and fight sequences because it's what's expected.
Here's what else he has to say about "The Mechanic," which opens Friday.:
You do your own stunts and fight sequences in all your films. Why is that important to you?
"Well, years ago I did an action film and it was the first film I did, and it had a small budget and I did a lot of martial arts and stuff and I just ended up doing a lot of stunts. They didn't have a lot of money, they couldn't afford a stunt man -- a stunt double -- and I ended up doing all my own silly stunts, and from that day on it was a hole that I dug for myself. And now if I don't do them, they go, 'Well ... I thought you did all your own stunts ... ' So now my ego is so overly attached to the fact that I did stunts on that first film, I'm screwed for life."
I love it. I'm guessing you've had a few bad falls in your career, yes?
"Yeah, I've fallen off the bed a couple of times. But I'm used to it. Kicked out of bed, more like."
Hilarious! Now you're a big UFC fan. Was that before you started doing all your own stunts and fight sequences?
"You know what, I've been a fan of UFC since the very first one. I remember seeing it and being like mesmerized by the different styles and who was gonna win and, you know, the very first until today. I've always been a fan, and it's just the elite sport for me. It's where all the styles come together and ... I'm just always impressed. They're the ultimate athlete. They just have so much concentration and mental strength. They overcome their fears and they're the true gladiators."
If you were a bit younger, would you consider doing this yourself?
"Ehhh ... you know, these kids start way young. They've got so many years of experience. By the time they're in their early 20s, they've almost got 15 years of experience, so you can't compete with that standard unless you were doing that from an early age. So I'd be kidding myself to think that. But you know, I do have a great admiration for that."
How did you prepare for this role? It's really physical -- fighting, wall-scaling, all types of crazy things you're doing here.
"Synchronized swimming ... "
You can't be serious.
"It reaches a point where we start to make fools of ourselves. In all seriousness, all the training that you have to do ... you learn on set. It's very important when you're throwing fists and wielding weapons and things are crashing around you, that you have a good sense of awareness. You can't just turn up and expect that you'll know what you're doing. I didn't."
What's the craziest thing you did in this film? The wall-scaling?
"No one would do that, by the way! No one would get in that rig and get hoisted up to there. That's a long way up. I kid you not. And that takes some set of balls to do that."
Kelley L. Carter is a Los Angeles-based entertainment freelancer.