Commentary
Texas legends immortalized in steel
Originally Published:
February 2, 2011
By
Todd Wills
| Special to Page 2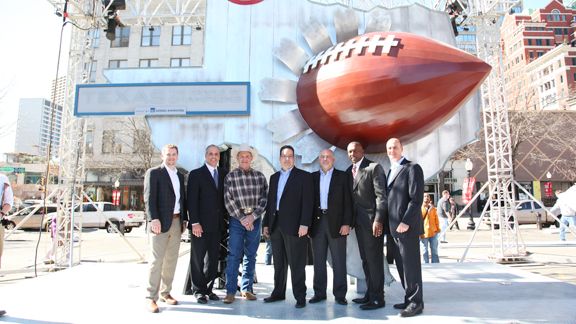 Karen CampbellWalt Garrison, third from left, and Tim Brown, second from right, attend the statue's unveiling.
FORT WORTH, Texas -- Walt Garrison, meet Tim Brown.
Garrison, the former Dallas Cowboys running back famous for his broken nose in Super VI and a star of Skoal commercials back in the day, didn't know until Friday that Tim Brown, the 1987 Heisman Trophy winner at Notre Dame and nine-time Pro Bowler for the Oakland/Los Angeles Raiders, played his high school football in Dallas.
Garrison, from Lewisville, a northern suburb of Dallas, was dumbfounded.
It took a reunion at the unveiling of the "Cradle of Champions" steel sculpture on a beautiful day in downtown Fort Worth for Garrison to come to the realization. That he shares a bond with Brown as one of the 2,000 former NFL players immortalized on the back of the Texas-sized steel monument who played their high school football under the state's "Friday Night Lights" and eventually made it in pro football.
[+] Enlarge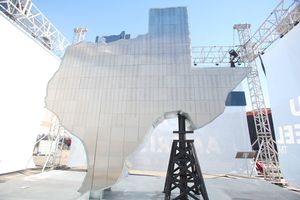 Karen CampbellThe back of the 16-foot-high statue is filled with the names of players from Texas high schools who played in the NFL.
"I didn't know Tim was from South Dallas," Garrison said. "I didn't know Dez Bryant [the Cowboys rookie receiver from Lufkin] was from Texas until today. It just tells you all you need to know about the tradition of high school football in Texas. All the names on the back of that."
It was an overpowering moment for Brown as well.
Gerdau Ameristeel, a steel mill and steel recycling company that has plants in Midlothian and Beaumont, created the sculpture out of parts collected from more than 1,300 Texas high school football stadiums and the recently imploded Texas Stadium, the home the Cowboys made famous with the hole in the roof before moving into Cowboys Stadium, Jerry Jones' dream world that will host Super Bowl XLV on Sunday.
The monument, in the shape of Texas, is spectacular from the front, with a giant football coming out of the front of the 16-foot-tall structure. But it's what is on the back of the sculpture, the names of the Texas high school football alumni listed by year that played in the NFL, that takes your breath away.
"The front is great," Brown said. "The back of it is even better."
Brown, the hopeful future NFL Hall of Famer, spoke to a crowd of about 300 in Fort Worth's historic Sundance Square, about the tradition of high school football.
Brown shares one of the state's proudest traditions: He and legendary TCU quarterback Davey O'Brien, who won the Heisman Trophy in 1938, both starred at Dallas' Woodrow Wilson High School, the nation's only public school to produce two Heisman winners.
[+] Enlarge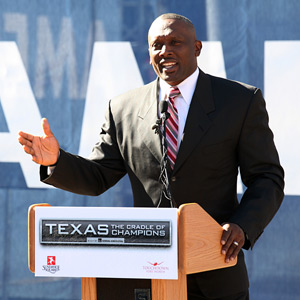 Karen CampbellFormer Notre Dame and Raiders star Tim Brown is one of the many Texas high school legends listed on the statue.
It is a legacy Brown wears proudly, even if he was awarded his trophy by the Downtown Athletic Club 51 years after O'Brien's.
"Me and his father would have been a great combination," said Brown, pointing to O'Brien's son David, who was honored at Friday's unveiling.
"Playing high school football in the state of Texas was the best three or fours years of my life, even though my teams went 4-25-1," Brown said. "I didn't know it at the time, but once I got into college and the NFL, where football was more pressure and a business, I came to realize what my high school days meant.
"There's nothing like Texas high school football."
The sculpture was fabricated at Thornton Steel in Fort Worth, where the city's mayor, Mike Moncrief, was able to put on a hard hat and help mold the monument. More than 1,300 high schools contributed anything from bolts to fence posts, so a bolt could come from Odessa Permian, and a piece of rebar from Southlake Carroll, two of the state's tradition-rich programs.
"We went through a social network," said Jim Kerkvliet, vice president for sales and marketing at Gerdau Ameristeel, "and parts came from all four corners of Texas."
The monument will be on display in Sundance Square, where ESPN has set up shop for its Super Bowl coverage, until next Sunday.
And where will the steel sculpture go after that?
Moncrief, who was empowered by Gerdau Ameristeel to pick the next destination of the monument, said after much deliberation that it will end up in front of TCU's newly renovated Amon Carter Stadium. The Horned Frogs were the little team that could in college football this season, winning the Rose Bowl on New Year's Day.
Of course Moncrief, thinking along the lines of a true Texan, knows what the final resting place of the "Cradle of Champions" could mean for TCU.
"I see it as a great recruiting tool for [coach] Gary Patterson and TCU," Moncrief said. "Think of all the families that will take their picture in front of it."