Commentary
NEXT, Playboy and Audi party on
Updated:
February 5, 2011, 11:51 PM ET
By
Laura Lane, Carrie Stewart, D'Arcy Maine
and
Kareem White
| Page 2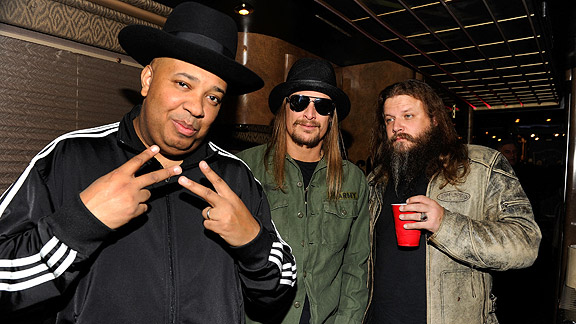 Kevin Mazur/WireImage Musicians Rev Run, Kid Rock and Jamey Johnson attend the ESPN Magazine "NEXT" Party.
Whoa Nellie! Things picked up mighty quickly in Dallas. Despite two factors working against the Super Bowl party circuit -- the worst snowstorm Tony Romo told us he's ever seen in Dallas and a cab strike -- we managed to party hop just as much as Ashton Kutcher and Demi Moore! We mounted up and hit every major celebration in town Friday night.
The stars were bouncing from party to party and even hosts of parties managed to sneak away to a bash across town. We saw halftime performers The Black Eyed Peas get down (a nice consolation for those without Super Bowl tickets). We saw Andy Roddick snuggling with wife Brooklyn Decker and Justin Timberlake hitting the town solo. We saw Playboy playmates and playboy wannabes. And we saw more athletes than we'll see play on Sunday.
But we're just getting started, partner! We're ranking these parties by the horseshoe and we still have one more night to go before game day.
ESPN The Magazine's NEXT Party
Why that title? Named after the Magazine's NEXT campaign, which showcases the upcoming generation of superstar athletes.
When and where: River Ranch in Fort Worth.
Performers: Kid Rock, Rev Run, DJ Ruckus. Kid Rock managed to convert a largely apathetic older crowd into full-on Kid Rock devotees in 45 minutes. Impressive to say the least.
Celebrities we saw: Despite a list of 700 confirmed athletes and celebrities, the red carpet (or brown carpet, in this case) seemed to be a hotbed solely for B-list NFL talent. And not that much else. Reggie Bush, Jermichael Finley and newly named Defensive Rookie of the Year Ndamukong Suh were the biggest football names we spotted. At one point, we swore we saw Nick Jonas chatting with Mark Teixeira with Nelly hovering nearby, but with the less-than-stellar celebrity guest list, we're starting to feel like we made this up.
Celebrities who were confirmed but we didn't spot: Several people claimed they smelled a distinctive odor coming from a dressing room rumored to be Snoop Dogg's. We never saw him.
Overheard: Shaunie O'Neal (Shaq's ex-wife) explaining she was rooting for the Steelers only because of the song "Black and Yellow." She was not the only one we heard using this rationale for their Super Bowl allegiance.
Food factor: Lots of finger food being served by waitresses dressed in 'Wild West"-type costumes. We tried everything that was fried or barbecued. This, of course, turned out to be everything. It is Texas, after all. The fried chicken-and-bacon bite more than likely clogged an artery, but it was well worth it.
Best party clothes: We were particularly impressed with Windell D. Middlebrooks, aka the Miller High Life guy, who donned a belt buckle bigger than the size of, well, Texas as part of an outfit comprised entirely of denim pieces. But he could just as easily be featured in the category below, depending on who you ask.
Worst party clothes: It's hard to know where to begin here. There are so many options. But maybe we should use this time to call out Nelly once and all for wearing sunglasses indoors, at night, and in a dim party setting. It's kind of unsettling. Where are you looking? He was by no means the only one wearing this trend. But we're putting the blame squarely on him for popularizing this during the "Country Grammar" days.
What would a cowboy think? The elaborate decor -- featuring a full-on Gold Rush-era Western town display combined with dancing cowgirls, a mechanical bull and Detroit's resident cowboy, Kid Rock -- would be enough to impress the surliest of cowboys. However, those of us who forgot our Stetsons at home may be a little less impressed in large part because of the less-than-expected celebrity guest list. We'll give this party 7 horseshoes (out of 10), but since it was thrown by the company that pays our bills, we'll throw in three additional horseshoes if anyone important at ESPN is reading this.
---
Audi Forum Party
Why that title?: Audi sponsored the party and even gave some guests an Audi car and driver for the night (including me!). Celebrities and non-celebrities felt like VIPs. It was quite a bonus considering the lack of cabs in Dallas.
Where and when: The Audi Forum Dallas at the Rachofsky House in Dallas. We chatted up Mrs. Rachofsky to get to the bottom of her giant house full of incredible art, which included Christo, Cindy Sherman, Paul McCarthy, Marina Abramovic and Kiki Smith on the walls. Turns out Howard and Cindy Rachofsky are art collectors who use the house mostly for educational art tours and charity events. As for living quarters? They have another awesome house down the street for that.
Performers: None at this bash, but as an intimate affair it didn't seem necessary. A DJ was controlling the mix of oldies and current tunes.
Celebrities we saw: We saw Ashton Kutcher and Demi Moore discussing fantasy football and mingling with Justin Timberlake; Hugh Jackman and his wife Deborra-Lee Furness chatting up partygoers; Cam Newton; Chord Overstreet of "Glee" and Matthew Morrison; and Marisa Miller and buddies Chace Crawford, Candice Crawford and Tony Romo.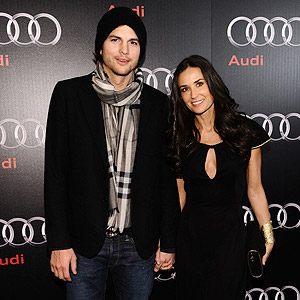 Michael Buckner/Getty Images for AudiAshton Kutcher and Demi Moore attend the Audi Celebration at the Audi Forum Dallas.
Celebrities who were confirmed, but we didn't spot: Jerry Ferrara and Cal Ripken Jr. Although they didn't show, there were bigger celebrities not on the list who showed up. It was the most solid party turnout of the night.
Overheard: Guest to Hugh Jackman: "You're Wolverine! I don't know who you are but my kids love you." Demi Moore explained why she and Ashton are rooting for different teams on Sunday. "Aaron Rodgers was my fantasy league quarterback," Demi said. Ashton didn't care. "I can't root for the Packers. It's against my code of ethics."
Food factor: The food here made us wish we didn't eat dinner. There was a delectable assortment of mini-burgers, avocado on wontons, salmon cones, ricotta donuts and chocolate truffles. The bonus was the margarita Jell-O shots.
Best party clothes: We have to give it to Ashton Kutcher. He looked warm and stylish in his plaid scarf, baggy beanie and cowboy boots, as a nod to Dallas.
Worst party clothes: There was a girl walking around who looked like she was attempting a blonde version of the Dita Von Teese pin-up look. She had it all wrong.
What would a cowboy think?: The Audi party was exceptionally well-done. They accounted for everything down to the smallest details: There was a person standing by the stairs who instructed, "Watch your step." There would be no falls at this soiree. The comfort of knowing we had an Audi car waiting for us meant we wouldn't be stranded again like on Thursday night without a cab in sight. The food was delicious, the drinks were great and nearly every celebrity on the list showed up. The house was incredible and it was a perfect-sized crowd. If there was one thing we could suggest, it would be to have this party go all night! We were having so much fun mingling amongst Ashton Kutcher, Demi Moore and Justin Timberlake, we didn't want to leave! A spectacular 9½ horseshoes.
---
The Sports Illustrated Black Eyed Peas Friday Night B4 Party
Why that title?: The Black Eyed Peas are in town to perform at the Super Bowl halftime show and this is the Friday night before the big game. Sports Illustrated teamed up with the band to throw what quickly became one of the hottest parties in town.
Where and when: Tower Building at Fair Park. It was a space big enough for the enormous party and we appreciate the proximity to other downtown Dallas events.
Performers: Black Eyed Peas with spin master David Guetta.
Celebrities we saw: We ran into Chuck Liddell while we were checking in. Mike "The Situation" Sorrentino was already inside the party. Hugh Jackman walked by us and we said, "Hey! We just saw you at the Audi party." Fergie and The Black Eyed Peas were working the carpet. Michael Strahan came through. Adrien Brody came strolling by and posed for a picture. Later Demi Moore and Ashton Kutcher came by and watched from a corner table before moving to a more secluded booth. We were officially impressed at their party-hopping skills since we had seen them at Audi and heard they'd been at GQ already. Although we didn't spot these celebrities, there was apparently a slew of them hiding in the dark crowd. We later heard that Ryan Howard, Cal Ripken Jr., Sam Bradford, Jessica Lowndes, Tobey Maguire, Michael Bay, Drew Brees, Wes Welker, John Legend, Owen Wilson, Maroon 5, Jerry Bruckheimer, Julie Henderson, Kurt Warner, Chelsea Handler, Jesse Palmer and Pam Anderson came by. Brooklyn Decker and Andy Roddick also left their own GQ bash in the early morn to hit up the party!
Celebrities who were confirmed, but we didn't spot: This party got a very inflated guest list overnight.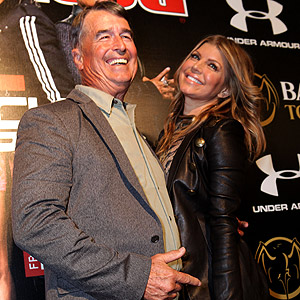 Tiffany Rose/Getty Images for Capital ASinger Fergie of The Black Eyed Peas and her father, Patrick Ferguson, attend The Black Eyed Peas Super Bowl Party.
Confirmations who we didn't see included: Jennifer Lopez, Marc Anthony, Troy Aikman, Jessica Alba, Cash Warren, Kevin Dillon, Nick Swisher, Serena Williams, Dane Cook, Chace Crawford, Miles Austin, Hillary Swank, Tony Romo, John Elway, Cameron Diaz, Alex Rodriguez, Terrell Owens, Kellan Lutz, CC Sabathia, Joe Jonas, Randy Jackson, Tracy Morgan, Dave Annable, Chelsea Handler, Mark Sanchez, Hayden Panettiere, Landon Donovan and Mark Teixeira. And weirdly, Chuck Liddell wasn't even on the list!
Overheard: Fergie brought her high school football coach father, Jon Ferguson, on the red carpet with her to do interviews. She explained how they would watch games together when she was younger. "This is the apex!" he said when asked about his daughter singing at halftime with The Black Eyed Peas. "As far as me as a football coach, you can't get any higher than Super Bowl. Super Bowl in Dallas in that beautiful stadium? Wow!"
Food factor: The food and drinks weren't quite as fancy as Audi, but the coconut shrimp was to die for. There were also turkey sandwiches and bottle service cocktails.
Best party clothes: I'll give this one to Fergie. She looked like a starlet in her gold sparkly dress, but the best accessory was bringing her pops on the red carpet. Can't get much classier than some good ol' family love.
Worst party clothes: There was a man who appeared to have put his tailgating attire on 48 hours too early. He was in a gold and green one-piece suit with face paint on and decked out in Packers memorabilia. He looked like a Green Bay superhero. It was strange.
What would a cowboy think?: It was a solid bash and The Black Eyed Peas know how to entertain a crowd, but the party was a tad chaotic and unorganized. I reckon a cowboy would get overwhelmed by the mob. It's difficult to categorize this party. On one hand, there was a greasy-looking "The Situation" partying while a demure Demi Moore watched in her Yves Saint Laurent dress across the room. But at the end of the night, no matter who you were, all you needed was your dancing shoes. An energetic 8½ horseshoes for this wild bash.
---
The Playboy Party
Why that title?: This was Playboy's 11th time hosting a Super Bowl party. There were lots of women dressed like they were at the Mansion rather than a hotel party. Some of them were Playboy Playmates, most were not.
Where and when: The Bud Light Hotel at the Aloft Dallas Downtown. And when? Well, it was supposed to start at 8:15 p.m., but we guessed right and knew this would be a late-night bash. Snoop Dogg didn't even come on stage until 1 a.m.! We're writing this recap at 3 a.m. and it's still raging.
Performers: Snoop Dogg, Warren G and Flo Rida.
Celebrities we saw: Remember those White House party crashers? Oh yeah, they were there. Tareq Salahi and Michaele Salahi. We don't think they deserve to be included in the celebrity category, but we don't know where else to include them. Not sure if that makes this party a total bust or one of the best. The Salahis only go for the hard ones to get into, right? However, posing on the red carpet isn't exactly sneaky party crashing ... or perhaps it's a genius way to party crash. Real celebrities included: Maria Menounos, Dave Annable, Aubrey O'Day and Ryan Howard.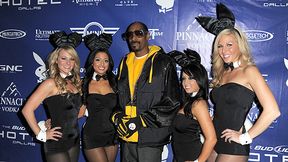 Jordan Strauss/Getty Images for Bud LightSnoop Dogg attends the Bud Light Hotel Playboy Party with performances by Snoop Dogg, Warren G and Flo Rida.
Celebrities who were confirmed, but we didn't spot: Adrian Peterson, Chad Ochocinco, Chelsea Handler, Kurt Warner, Maroon 5, Serena Williams, Sean Kingston, Terrell Owens, Tony Gonzalez and Tony Romo. We spotted Romo at Audi, and Terrell was hosting his own bash that night at Grey Goose and made it to GQ's party, but where was everyone else?
Overheard: A woman to her friend: "Where's Hef?" The friend replies: "I don't think he leaves the Mansion anymore."
Food factor: Oddly: fish. Lots of fish. Fried fish, crab cakes, seviche, etc. This animal kingdom category isn't traditionally Super Bowl party fare. Nor is it something that should be served alongside copious amounts of alcohol. Although, speaking of alcohol, the cotton candy and whipped cream flavored vodkas compliments of one of the party's sponsors were quite yummy.
Best party clothes: Does latex paint airbrushed to look like clothes on an otherwise naked body count? How about bejeweled pasties?
Worst party clothes: A knitted Spuds MacKenzie sweater that looked to be at least 20 years old. And you're actually trying to pick up women in that thing, dude? Really?
What would a cowboy think?: What cowboy wouldn't love seeing some Playboy Playmates roaming the crowd. It's not something you see every day in Texas! However, for us professional party hoppers, we'd appreciate a more timely performance rather than at 1 a.m. Not a whole lot of celebrities but an overall good time, giving it 6½ horseshoes.
---
The GQ Super Bowl Party Sponsored by Lacoste and Cadillac
Why that title?: It's self explanatory. GQ Magazine sponsored the party during Super Bowl week.
Where and when: The Hickory Street Annex in downtown Dallas. Guests began arriving a 9 p.m. and came in droves. The place was filled to capacity within an hour, with a slew of GQ-sponsored Yukon Denalis and Cadillac Escalades carrying celebs back and forth. People were still trying to get in, but security was turning people away.
Performers: Cee Lo and the entire Goodie Mob. Cee Lo Green's performance proved why he was nominated for so many Grammys this year. Cee Lo and the Goodie Mob took you back to 1995 with performances from their first album. Cee Lo performed all his smash hits, including "Crazy" from the Gnarls Barkley album and the "Forget U" song, along with many others. The highlight of the night had to be Kujo doing the Dougie when Goodie Mob performed "They Don't Dance No More."
Celebrities we saw: There was an array of celebrities in the building. Terrell Owens had a cameo appearance and was supposed to be a guest DJ but we didn't see him spin any songs. Boris Kodjoe, Eric Dickerson, Desmond Howard, Sean William Scott, Jessica Lowndes, Chris Spencer, Kujo, T-Mo and Big Gipp were all there, as well. Everyone who was anyone stopped by the GQ party.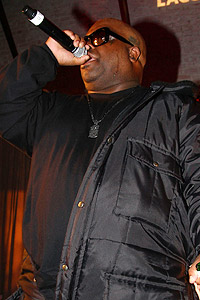 Jay West/Getty Images for GQCee Lo Green performed Friday night at the GQ party.
Celebrities who were confirmed, but we didn't spot: Adrian Grenier, Kevin Dillon and Tony Romo.
Overheard: A guy to his lady companion. "This party is [expletive] amazing!"
Worth noting: GQ gave away free magazines while Lacoste provided the rest of the swag. Swag would be an understatement after looking at the gifting suite. It was definitely swagalicious, with custom-made GQ/Lacoste T-shirts, full-size shopping bags filled with Lacoste shirts, shoes bags and other accessories.
Food factor: Just like everything else at the GQ party, the food was top-notch. Bobby Flay would be proud. They had chocolate-covered cheesecake, bacon burgers, grilled cheese sandwiches and shrimp nachos, just to name a few. The drinks were on point with the fellas Pat and Ron (that's Patron, if you don't know) on hand. GQ had four speciality drinks all made from different kinds of Patron, with the GQ Rita being the most popular.
Best party clothes: Ladies, this one's for you. Boris Kodjoe was fresh, dressed like a million bucks. He looked like he walked right off the cover of the magazine itself.
Worst party clothes: No one. Everyone was dressed to the nines.
What would a cowboy think?: A cowboy would say "yee-haw!" to this party. There were more stars than the Milky Way in the GQ party and it was a Texas-sized blast. One of the best parties I've ever been to. This party hopper will turn the party dial all the way up and give this party a full 10 horseshoes.
---
Reebok Zig Tech Super Bowl Event
Why that title?: Reebok's Zig Tech shoe and apparel line were put on display at the event, featuring several athletes and celebrities.
Where and when: Victory Park in downtown on Friday.
Performers: None at this party, but this was more about the athletes showing off the new wave of technology for Reebok. A DJ was spinning on the 1s and 2s for about 150 people.
Celebrities we saw: Peyton and Eli Manning, Chad Ochocinco, DeMarcus Ware, Erin Andrews, Ty Murray and MMA's Randy Couture.
Celebrities who were confirmed, but we didn't spot: None. Everyone listed made the event.
Overheard: The sound of many cameras flashing as Randy Couture rode a mechanical bull that was powered by the workouts of DeMarcus Ware, Chad Ochocinco and the Manning brothers.
Food factor: There was a bunch of food at the event. After watching so many finely tuned athletes, it made you wanna head to the gym afterward. Lunch was served with beer in true Texas form.
Best party clothes: All of the athletes were dressed in Reebok athletic Zig Tech apparel, but Erin Andrews can make a tablecloth look good.
Worst party clothes: None, really. Everyone was dressed like they were heading to Gold's Gym, so the workout look was pretty much the standard uniform.
What would a cowboy think?: A cowboy would have loved seeing Randy Couture ride the mechanical bull Texas-style. Watching the mechanical bull and seeing co-host and King of Rodeo Ty Murray would have made a typical fan wanna "Cowboy Up" and not miss this event. It was a good event that was exciting and wouldn't have chapped your hide -- 7 horseshoes.
---
Leather and Laces Super Bowl Party
Why that title?: The party's theme had an overall sexy feel to it, and Leather and Laces is by far the most appropriate title. There were also several scantily clad women wearing lingerie made of lace and leather.
Where and when: Hotel ZaZa in downtown Dallas on Friday.
Performers: There were no celebrities performing at this party, but there were a number of table dancers and some inebriated guests to keep you entertained.
Celebrities we saw: Evander Holyfield, Several Playboy models and a few former NFL players.
Celebrities who were confirmed, but we didn't spot: Nicole Scherzinger of the Pussycat Dolls as well as Kevin Dillon. They both hosted the party.
Overheard: A young lady standing next to the bar: "I guess I look unavailable to guys in here. But that's not stopping women from hitting on me!"
Food factor: No food, but the drinks more than made up for it. The event was sponsored by Crown Royal and Ketel One. I saw the biggest Ketel One bottle I've ever seen in my life. It was the size of Snooki from Jersey Shore.
Best party clothes: Playmate Nicolette Forshee looked stunning. She had a Tiffany blue dress that fit her in all the right places. Talk about accentuating the positive!
Worst party clothes: One guy had on a costume with a mask and was shirtless, with a leash around his neck. He was frightening.
What would a cowboy think?: This party was a good ole-fashioned hoedown! There were more cowboys than cowgirls as the night went on, but the ladies who stayed (the Playboy models) were more than sufficient. I give this party 6½ horseshoes.
For coverage of the previous days of parties, check it out here.
Laura Lane, Carrie Stewart, D'Arcy Maine and Kareem White will be covering parties throughout the weekend.