Commentary
'Big Bang' star loves cricket's World Cup
Updated:
March 23, 2011, 3:32 PM ET
By
Amar Shah
| Special to Page 2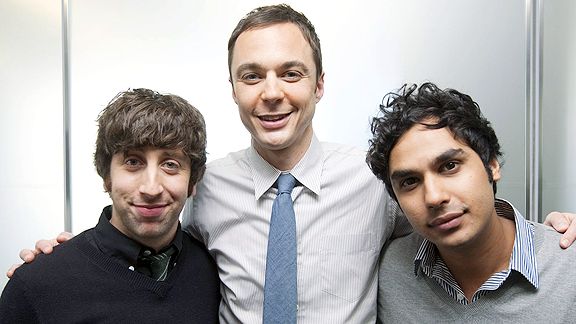 AP Photo/The Canadian Press, Darren CalabreseKunal Nayyar (right) hangs with "Big Bang Theory" costars Simon Helberg and Jim Parsons.
On CBS's smash sitcom "The Big Bang Theory," actor Kunal Nayyar plays Dr. Raj Koothrappali, a genius astrophysicist famed for his noted publication on the Kuiper belt object size distribution and, more importantly, for his hilarious inability to talk to women unless he's drunk. In real life, Nayyar can't stop talking about his favorite obsession: the sport of cricket.
The London-born and New Delhi-raised actor spent some time talking to Page 2 about his thoughts on the ICC Cricket World Cup, what every American should know about the sport, and which fellow "Big Bang" cast member would make the best cricketer.
You have English and Indian roots? Who's your team?
"I'm an Indian fan. I only lived in London for three or four years. I predominantly started watching cricket growing up in India."
Talk about your experiences playing cricket.
"I grew up like any other kid in Delhi playing cricket since I was 5 or 6 years old. I went to cricket camp in the summer. I played a lot of cricket for fun and at school. I was never really great, but I was a huge cricket fanatic. For me, getting on the field was a dream. Anytime we had a moment, we'd go into our driveway with a tennis ball and cricket bat and play."
What's your favorite World Cup memory?
"It's my favorite and it's my worst moment because we lost. It's when we played Australia in the final in 2003. I remember because I was in Portland, Ore., studying in college at the time, and my brother had found out this one Indian restaurant was going to be showing the World Cup final. It was two hours away and I skipped school that day. It was 4:30 in the morning and they were serving samosas and chai. It was $45 to get into this restaurant. It was so expensive, but we paid. We stood up when the national anthem played. I was almost crying. This was our year, but they absolutely destroyed us."
Do you find it difficult to explain cricket to Americans?
"They have a stigma about it. Like, 'oh my god, it lasts five days.' But once I explain it, they get it pretty quickly. It's like baseball, except in the one-day format you have 300 pitches to pitch. And how many runs you can score before you get out. And that's it."
Do you play cricket here in America?
"I've never played here. I've heard there are leagues in Los Angeles, but it's so hard to find the time. I just started playing golf but that's taking a lot of time. But on 'Rules of Engagement' there's a South African-Indian actor named Adhir Kalyan, who's a phenomenal actor and good friend of mine, and he's a very good cricket player. He plays in a league and tells me about it. I'm just not good enough and I haven't played in so long."
What are your thoughts about the sport in America?
"The great thing about America is there's a lot of money in terms of infrastructure. There's so much money for sports that you can build a nice infrastructure for cricket. But that will only happen when awareness of the game increases. That's why I think a league would be great. Because if you had a league, teams would make money through advertisement revenue. And when you make money that way, you have money to bring in kids to play cricket. It's really a matter of education. Once America gets the bug, like they get that addiction, then it's on."
What are some things Americans don't know or need to know about cricket?
"The first thing fans need to know is the game is not five days long. A one-day match will take five to eight hours, depending on how quick the game is. The stigma is it's a slow game. And everyone's just sitting there clapping like gentlemen. They don't see all the sledging [trash-talking] and all the little subtleties. It's a tough game. The ball's coming really fast at you. It gets ugly. It's exciting. America thinks it's a gentlemen's game. It's not. It's a battle out there."
What do your other co-stars feeling about your obsession?
"[Laughs] They don't get it, obviously. You know, except for Jim [Parsons], no one else is a big sports fan. We have a lot of jokes about my sports interests. It's a fun way to throw some jabs at each other. Like, I'm not a big fan of baseball. To me it's really slow. But I understand the appeal of it because many people think cricket is really slow. So we go back and forth with people on the set."
How would your character Raj explain cricket to Sheldon?
"Oh man. Here's the thing: If Raj tried to explain cricket to Sheldon, I guarantee you Sheldon would first say that's wrong and then launch into the longest explanation of some Wikipedia entry of cricket he's memorized. Raj will try to explain it like he's talking to a child, you know, the most basic, simple thing and Sheldon will launch into something else. Raj will get schooled in cricket by Sheldon."
After you, who would make the best cricket player on the cast?
"I'm going to say Kaley [Cuoco]. Because she played tennis at state when she was young and she's athletically inclined. We play pingpong on set everyday and she's got great hand-eye coordination and she's a really great player. She's probably the best. The worst? Pick any of the three guys. They're all terrible."
Amar Shah is a writer and producer living in Los Angeles. He's currently developing a romantic comedy screenplay set in the world of cricket. He can be reached at shahespn@gmail.com