Commentary
Cricket's surprising place in pop culture
Updated:
March 4, 2011, 7:13 PM ET
By
Amar Shah
| Special to Page 2
"Cricket makes no sense to me. I find it beautiful to watch and I like that they break for tea. … My friends from The Clash tried to explain it years and years ago, but I didn't understand what they were talking about." -- Jim Jarmusch, director
Most Americans are like Jarmusch, aware of cricket's existence on the periphery, but unable to explain any aspect of the sport other than stereotypes of starched whites, Victorian gentility and, of course, it's interminable length. Yes, test matches last five days! But so does watching Josh Beckett pitch for one inning.
With the 10th ICC Cricket World Cup under way, once again most of the world's sports attention, except in the United States, has turned to the South Asian subcontinent. But below the radar -- like British actors playing American superheroes -- cricket has crept into our mainstream pop culture in ways you'd never expect, from The Teenage Mutant Ninja Turtles to Anne Hathaway. So as the ball strikes the wicket, we present Page 2's Top 25 instances of cricket in pop culture.
1. Wolverine Gets Declawed: Even with an adamantium skeleton, Wolverine, aka Hugh Jackman, couldn't avoid getting hit in the groin by a nasty spinner thrown by Australian bowling legend Shane Warne during a TV segment in Melbourne, Australia. After Jackman winced in pain, Warne joked, "Don't rub 'em, count 'em."
[+] Enlarge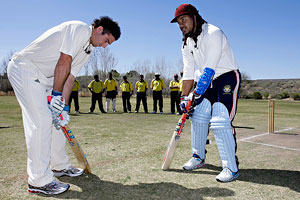 AP Photo/Paul ConnorsNo. 14: Manny Ramirez gets tips from Australian cricketer Shaun Marsh during spring training in 2009.
2. The Greatest Cricket Movie Ever: Who would have thought a Bollywood musical set in British colonial India would be the setting for one of the greatest sports movies ever made? "Lagaan", which translates to land tax, stars Indian movie star Amir Khan and a merry band of Indian villagers who must compete against oppressive British rulers in a game of cricket to cancel a levy of cruel taxes. The three-hour bonanza was nominated for an Oscar for Best Foreign Film in 2001.
3. "Rules of Engagement": The David Spade comedy on CBS featured cricket up close and personal in an episode last year. Spade's assistant on the show, Timmy, played by real-life cricket fanatic Adhir Kalyan, challenges Jeff (Patrick Warburton) to a cricket challenge when the latter questions the validity of the sport. Later in the episode, Kalyan and Wharburton square off in a cricketing duel and Spade becomes the unfortunate victim of a ball smashing into his googlies.
4. A Sport About Nothing: Jerry Seinfeld starred in a hilarious American Express commercial in the 1990s in which he tries to learn how to hit a wicket googly.
5. When the Babe met Bradman: It was a meeting of two sporting titans. In 1932, the Babe Ruth of cricket met the Don Bradman of baseball in New York at a Yankees game. Ruth told Bradman, cricket's greatest player, "Us little fellows could hit them harder than the big ones." In 1935, Ruth visited Bradman in England, where he played the sport with schoolchildren. "They tell me that $40 a week is top pay for cricket," Ruth said. "I think I will stick to baseball." At the time he was making $70,000 a year for the Yankees.
6. Teenage Mutant Ninja Cricketers: The 1991 "Teenage Mutant Ninja Turtles" movie provided one of the greatest cricket quotes ever. It happened when Casey Jones, the hockey-masked vigilante, grabs a cricket bat. Raphael chimes in. "Cricket? Nobody understands cricket. You gotta know what a crumpet is to understand cricket."
7. Anne Hathaway Knows how to Swing: Playing Jane Austen in the 2007 movie "Becoming Jane" allowed the sparkling American actress to showcase her cricket chops. She belted a long drive off actor James McAvoy's bowl.
[+] Enlarge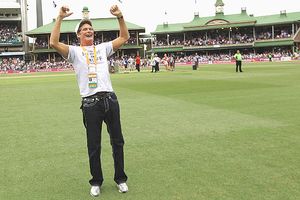 Hamish Blair/Getty ImagesNo. 8: David Hasselhoff, on the field at the tea break during the Fifth Ashes Test match between Australia and England in January, has become a big fan.
8. The Hoff Does Cricket: David Hasselhoff conquered Germany and he set his next sights on Australia, where he swung a cricket bat with Australian players and watched a few matches. The Hoff said he learned how to play in England while doing a reality show.
9. International Education: Hanley Ramirez and the Marlins learned the how-to's of cricket when the New Zealand cricket team visited them in 2010. The Kiwis were in town to play Sri Lanka in an international match.
10. Agent Smith and the "Bodyline": Hugo Weaving, the man who played Agent Smith in the "Matrix" trilogy, also played English captain Doug Jardine in a 10-part miniseries called "Bodyline" which chronicled the Ashes tournament in Australia in 1930s. Bodyline referred to controversial fielding position that many found intimidating and even caused a diplomatic split with the two countries.
11. The Cricket Network: Aaron Sorkin, the screenwriter of "The Social Network," seems to have a weird fascination with cricket. In each of his television shows from "Sports Night" to "The West Wing" to "Studio 60 on the Sunset Strip," characters drop dialogue about their fascination with the sport. "Now, I am an educated man Charlie," said President Barlett, "but when somebody tries to explain cricket to me, all I want to do is hit him in the head with a teapot."
12. "Slumdog Millionaire": The Oscar-winning movie opened with Jamal and his friends playing cricket on an airport tarmac.
13. Cricket's Great Gatsby:"Netherland," author Joseph O'Neill's tale of a Dutch expat living in post-9/11 New York who starts to play cricket, was a critical and commercial hit. Reviewers compared it to a modern-day "The Great Gatsby" and even President Barack Obama was seen reading it. Oprah's already bought the screen rights.
14. Manny's Other Sport: Lovable goofball Manny Ramirez donned his cricket flannels for a DirecTV commercial and hit some sixes while a member of the Los Angeles Dodgers.
15. Hail to the Cricket Chief: Our last two American presidents both had a rendezvous with international cricket. President George W. Bush spent time in Pakistan learning aspects of the game while President Obama got batting lessons from West Indies cricket legend Brian Lara.
16. Shane Warne and Elizabeth Hurley: Shane Warne, Australia's legendary bowler, is as well-known for his leg spin as he is for his notorious amorous adventures, including his much-publicized affair with actress Elizabeth Hurley which ended in her separation from her husband. A few months later, Hurley dumped him after it was disclosed Warne was sending salacious text messages to other women.
17. Bo Knows Cricket: One of the greatest sports commercials ever. We meet all of Bo Jackson's sporting personalities, including his cricketing self.
[+] Enlarge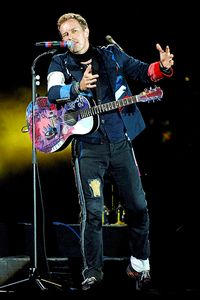 Shirlaine Forrest/WireImage/Getty ImagesNo. 18: Chris Martin and Coldplay, performing at Lancahire County Cricket Club in England, even helped sponsor a team in need.
18. Charitable Coldplay: Last year, the band Coldplay sponsored a local English cricket team, giving them funds for uniforms and equipment.
19. Wicket Zombies: In the cult classic "Shaun of the Dead," star Simon Pegg uses a cricket bat as a weapon to kill zombies.
20. All in the Family: Russell Crowe must have inherited his skill at throwing telephones from his two cousins, Martin and Jeff, who were both New Zealand cricket captains. Crowe also did some cricket commentary for the Ashes tournament.
21. Nothing but a Cricket Thang: Snoop Dogg was spotted in Australia playing cricket. He was there shooting a video and was seen hitting balls in a local park.
22. The Cricket Matrix: While filming a movie in England, Keanu Reeves fell in love with cricket. "I just like the way it quietly builds until that one event," he said in an interview.
23. Dynamic Duet: Shaq tries to rap, Oscar De La Hoya tries to croon, but only Australian bowler Brett Lee can claim to have sung a duet with one of the world's most prolific singers. Lee recorded a song with Indian playback singer Asha Bhosle. Just listen to the dulcet sounds.
24. Cricket Rock Star: Rolling Stones front man Mick Jagger has had many addictions in his life from booze to women, but cricket is up there as well. Jagger is known to watch cricket matches in his trailer. He even started his own company, Jagged Networks, to provide match updates and online commentary.
25. Harry Potter and the Deathly Wickets: Harry Potter star Daniel Radcliffe easily prefers cricket over quidditch any day of the year. Radcliffe effused his glee for the sport in an interview on "Inside the Actor's Studio." He also spent his 18th birthday watching a cricket match at Lords, the famous cricket grounds in London.
Amar Shah is a writer and producer living in Los Angeles. He's currently developing a romantic comedy screenplay set in the world of cricket. He can be reached at shahespn@gmail.com