Commentary
Running Donald Trump's golf empire
Originally Published:
February 23, 2011
By
Laura Lane
| Special to Page 2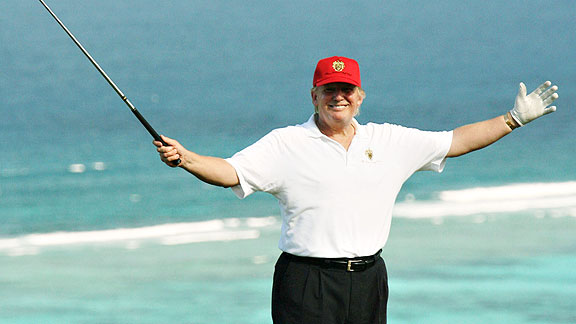 AP Photo/Mirek Towski
Whenever Donald Trump appears to be going back to strictly business, he somehow finds himself back in the conversation. Now Trump is in the headlines over speculation on two fronts -- that he may run for president (we've heard this before) and that he could purchase part of the New York Mets.
He has a way of making news last a few months. When asked about a bid for the White House, he told Page 2 last week by phone, "It's too early. I'll make a decision by June."
The same goes for a deal with the Mets. Originally, he stated he'd only be interested if he could purchase the entire team (which the owners, the Wilpon family, say isn't on the table), but now he's careful not to dismiss the potential of purchasing a portion from his close friend Jeff Wilpon.
"If I could help them, I'd love to help them, but at this moment, let's see what happens," Trump said. "I would say that's a long road."
It's hard to picture Trump in any other role but the face of a team, much like that of Mark Cuban with the Dallas Mavericks.
"Well, I like Mark Cuban very much," Trump said when asked how he would compare. "He's a guy that I have a lot of respect for and he has his own way of doing things, but I have a lot of respect. He's done a great job at Dallas. But, you know, everybody's different."
So what type of owner would Trump be?
"I think I'd be a good owner," said the ever-boastful Trump. "Everything I do, I go for quality. I get along with people so I would hope I'd be a good owner."
Meanwhile, when he's not considering a run to lead the free world, or the purchase of a baseball team, Trump has been working hard at cementing his legacy in the golf community with the help of his Golf Channel show, "Donald J. Trump's Fabulous World of Golf." The show, which is in its second season, has steered away from featuring celebrities going head-to-head, like in its first season, and is focusing more on the business side of Trump's running his 12 golf courses, with a 13th on the way in Scotland.
"People seem to like that formula even better," Trump said. "I hope [viewers] get some knowledge in business, and the golf business in particular. I only do really high-end and I think I have 12 of the best courses in the world. I think it's a way of showcasing those courses in addition to everything else."
While working to add "Trump" to golf's lexicon, Trump has maintained his support for golf's true household name, Tiger Woods. At the premiere of his golf reality show in 2009, Trump caused attention with his vehement public support of Tiger Woods surrounding the scandal. "Nobody remembers the Kobe incident anymore," Trump said by way of comparison.
When asked about Woods today, Trump maintains his stance, guaranteeing that Tiger will make his comeback.
"Tiger's going to be fine," Trump told Page 2. "He needs to have one victory and then he's going to blow people away."
It's a lesson Trump has learned many times before.
Laura Lane is a contributor to Page 2 and ESPN The Magazine.