Commentary
NBA vegetarians say diet helped them
Updated:
February 24, 2011, 5:02 PM ET
By
Wendell Maxey
| Special to Page 2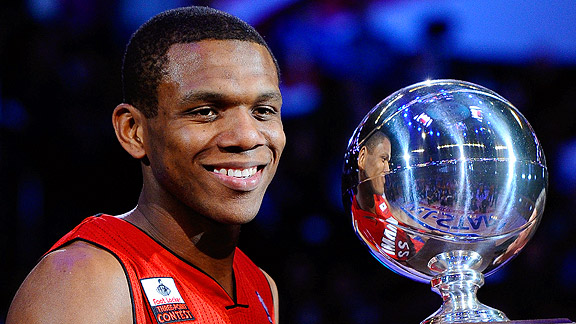 Kevork Djansezian/Getty ImagesJames Jones, who won this year's All-Star 3-point competition, became a vegetarian in 2007.
When James Jones goes on the road, he racks up a huge food bill.
But not for the reasons you're thinking.
"Room service is tough. The side dishes are the most overpriced thing on the menu," said Jones. "I'm ordering five side dishes of steamed broccoli, five dishes of steamed asparagus and a bowl of brown rice. My bill for that right there might be $70, but that's the trade-off if you want to eat right on the road."
That is, if you're a vegetarian. Jones, a reserve small forward with the Miami Heat who won the 3-point competition during this year's NBA All-Star weekend, described himself as a "very heavy meat-eater" before becoming a vegetarian in 2007. His go-to meal in the old days? Macaroni and cheese with barbecue chicken.
James said that becoming a vegetarian opened him up to lots of new grains, rices and oatmeal. And though it has closed him off to meat, he's not beyond knowing that everyone else loves a good meal piled high with animal protein.
So that's exactly what he made when he was a celebrity chef on Gordon Ramsay's Fox reality TV show "Kitchen Nightmares" last summer.
Along with members of the Miami Dolphins and Florida Panthers, James was faced with making the perfect pizza in three minutes. So what did Jones pile on?
Well, meat of course.
"But you see, I didn't eat the pizza. I'm the weird guy. I only eat pizza with straight sauce," said Jones, who became a vegetarian during the 2007 NBA playoffs when he was busy knocking down 3-pointers for the Phoenix Suns.
Making the change was as tough as getting a few minutes on the floor behind the Big Three. What with fast food, arena food and room service making up three of an NBA player's food groups, what's a vegetarian to do?
Ask John Salley. Now a vegan, Salley was 27 when he signed with the Heat (1992-95) and decided to become a vegetarian.
"For me, I was gaining weight and I was depressed. Everyone thinks that life in the NBA is the best life you can have, but then it's like baseball and you run into a slump," said Salley, who has launched John Salley Foods, an organic and vegan food company.
"That's the way it goes when everyone treats you well and you are having steak dinners at restaurants, and it's 'surf and turf,' and the manly thing is not to order a salad. I had to get out of that."
Both Salley and Jones made the decision to drop meat for health reasons. Salley saw family members struggle with food and their health while Jones is concerned about how his body will fare in the future.
But it's not easy.
"I'm by far the weirdest eater. I go straight to dessert first, and then I'll go for some side dishes," Jones said. "For me, I want to make sure I get the good foods in first -- baked potatoes, asparagus, broccoli -- and then if I'm still hungry, I'll do some beans. I might have some fish or substitute with some tofu."
Salley has found a unique way to spread his gospel of food -- the seven-day "John Salley New You Cruise," featuring Caribbean destinations, nutrition lectures and cooking classes. The cruise goes out of Fort Lauderdale on Sunday, and Salley will take the chance to pop into Miami.
"I'm planning to make a stop in Miami around then, and hopefully talk to Dwyane Wade," said Salley. "Because the reason he's having the problems with his legs is he's dehydrated and not getting anything to satisfy what his muscles do, and no one is telling him."
Wendell Maxey is a freelance writer for Sports Media Exchange, a national freelance writing network.