Commentary
Top 10 Wrigley announcer candidates
Originally Published:
March 1, 2011
By
Shane Igoe
| Special to Page 2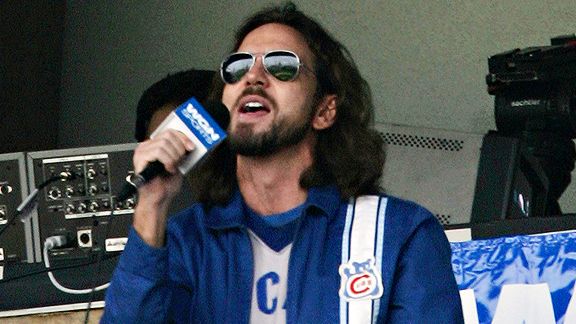 Jonathan Daniel/Getty ImagesPearl Jam's Eddie Vedder is a huge Cubs fan who grew up in Evanston, Ill.
The Chicago Cubs advertised an open casting call for their Public Address Announcer on careerbuilder.com on Monday.
While we at Page 2 quickly scrambled to put together our own audition tapes, we couldn't help but ponder the Top 10 leading Cubbie PA candidates.
1. Charlie Sheen: Since Sheen's schedule is wide open, not to mention the Cleveland fireballer of film fame is currently on fire, we feel Charlie makes a fine candidate. Armed with witticisms such as, "Battle-tested bayonets, bro," "winning" and "fire-breathing fists," we think the "Wild Thing" would certainly make life at Chicago's Friendly Confines that much more interesting. We can only imagine what a Charlie Sheen video application might look like (the challenge has been issued, YouTube mash-up makers). In our opinion, we think the self-proclaimed "F-18" would blow the competition away.
2. Steve Bartman: This might seem like it is from left field. After all, during the aftermath of the 2003 debacle, Bartman reportedly had to take a leave of absence from his job. What a better way to bring Bartman back into the fold than by inviting him back as a PA announcer. Plus, fans haven't heard the guy speak since he's been in hiding the past 8 years. The only stipulation would be that Bartman would have to agree to finally remove those headphones and show a little more situational awareness. The "Forgive Bartman" Facebook pages and petitions are already out there. Bartman just has to step up to the plate.
3. Ted Williams a.k.a. "Golden Voice Guy": Like Sheen, Williams has Ohio links and he has also battled his own addiction demons, but with recent job offers from the Cleveland Cavaliers among others we wouldn't be surprised if the Cubs came calling.
4. Bill Murray: Carl Spackler recently turned a 31-year-old dream into reality by winning the Pebble Beach Pro-Am last month. Maybe Murray, a Chicago native, can make another dream come true announcing the Cubs to their first World Series season in 103 years. Another added benefit of his services? Wrigley would be gopher free.
5. Steve Carell and Stephen Colbert: Seeing as Carell will soon be saying so long to Scranton, maybe the Second City alum can make Addison and Clark his new office. Colbert, a Northwestern alum who actually served as Carell's Second City stand-in, could fill in for Steve on off days.
6. William Peterson: The CSI star and former Idaho State football player hails from Evanston, Ill. While he's not busy at the microphone, perhaps Peterson can dust off his crime-fighting gear and help solve longstanding Wrigley mysteries such as "Murderer's Row: the Reoccurring Case of the Cubs' Missing Bats" or "Ron Cey: Penguin or just an odd duck?"
7. George Wendt: "Norm" can definitely keep a seat warm (part of the job description includes the "Ability to work outdoors during periods of extreme weather"). While he might seem like a better fit for Beantown, Wendt actually has Midwestern roots (Wendt was famously expelled from Notre Dame by registering a 0.0) and is known for his SNL "Da Bears/Mini Ditkas" skit.
8. John Cusack: The star of Black Sox scandal film "Eight Men Out" is actually a huge Northsider fan. Should he want to add any sound effects, he can always hold out a boom box from the booth.
9. Ronald Reagan: Yes, we know the Gipper is long gone, but given all the archival footage plus today's technology, we think Reagan's voice could be recreated . As it turns out, the Illinois native got his start in showbiz by recreating Cubs broadcasts for WHO radio in Des Moines, Iowa, back in the 1930s (you know, when the Cubs were last consistently good, winning three National League pennants).
10. Eddie Vedder : Can't find a better man for the job than the Pearl Jam frontman and Evanston, Ill., native. Vedder has sung "Take Me Out to the Ball Game" at Wrigley Field five times since 1998 and even recorded a song, "All the Way," at the special request of Mr. Cub , Ernie Banks, in 2008.
Honorable mention: Billy Corgan (Smashing Pumpkins singer would be a smashing success), espnW's own Sarah Spain (she had us with her Bartman video spoof), Rahm Emanuel (the new mayor can pull double duty), Jim Belushi, Pat Sajak (Can we buy a "W"?).
Shane Igoe got his start in the sports/media industry by selling programs outside of Wrigley Field. He currently serves as a competition producer for CBS' "Big Brother." He can be reached via his Twitter page.