Commentary
Cubs, PGA wives highlight 'Brunch'
Updated:
March 6, 2011, 9:38 AM ET
By
Jerry Greene
| Special to Page 2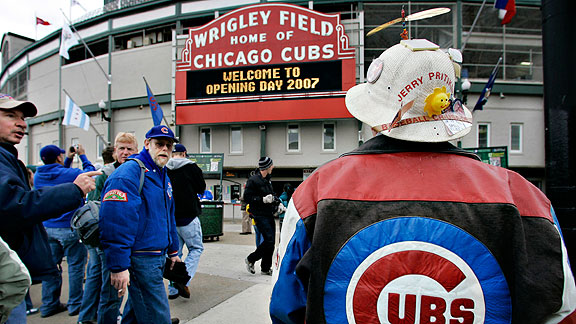 AP Photo/M. Spencer GreenWant this to be your office? We have the right job for you!
Even though our economy remains shakier on its feet than Chicago Bears quarterback Jay Cutler at halftime of a playoff game, there is good news in that job opportunities were popping up all over the world of sports this week.
Speaking of Chicago, the best job availability is with the Cubs, who are having a contest to find a new PA announcer for Wrigley Field. Hopeful Harry Carays must send audio or video examples of their work to here -- and Sunday Brunch can neither confirm nor deny that you must include you're delivery of "Wait 'til next year!"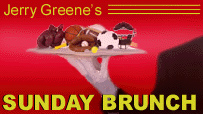 A much more specialized job opportunity is being pursued b a group of PGA Tour wives and girlfriends. They are taking about a reality show about their lives. Again we can not confirm nor deny that there will be a weekly scene in which one wife/girlfriend calls another and says: "I can't meet you at the club Saturday 'cause Joe missed the cut again and is coming home."
And then there is the next cast of "Dancing With The Stars," that includes Steelers WR Hines Ward, former boxing champ Sugar Ray Leonard and former wrestling champ Chris Jericho. No word on if Jericho is demanding that there must be one week when everyone dances in a steel cage.
And now a few more "power points" from this week while our cast of media chefs prepare the main courses for the Brunch:
• This statement from Phillies catcher Brian Schneider on why there isn't likely to be a work stoppage in baseball: "The owners are doing great, baseball is doing great, fans are coming, the numbers are up across the board. So it's kind of one of those things where you don't want to screw anything up" -- Rebuttal from either NFL owners or players? Hello? Anyone?
• And then we can hear the NFLPA's cheerleaders chanting: "David Doty, he's our man! If he can't do it, we're sunk!"
• The '14 Sochi Games chose three mascots by a national fan text-or-phone vote during a national TV show. The announced winners are a figure-skating bunny, a roly-poly bear and a snowboarding snow leopard. Mikhail Prokhorov actually had the most votes but was disqualified because he is not fuzzy.
• Hey, if you have a few extra bucks in your pocket, send them to the Mets.
• Speaking of cash, President Obama said he wouldn't interfere with the pending NFL work stoppage because men who deal with so much money should be able to handle things on their own. Uh, how's that health-care debate going?
• Sign of the Week provided by a George Washington University student standing outside the NFL's CBA mediation talks in Washingon, D.C. -- "Don't make me watch hockey."
And now the main courses from some of our finest literary chefs in today's Brunch:
• To start our NFL discussion, we journey South to the Fort Worth Star-Telegram where Jennifer Floyd Engle truly rants about the insanity of a work stoppage in these times. In fact Engle thinks this makes NFL owners and players crazier than Charlie Sheen.
• You want to bet on the work stoppage? Tim Sullivan of The San Diego Union-Tribune has found a Vegas gambling expert who says the players are two-touchdown 'dogs.
• We know, you hate this work-stoppage stuff. We turn to Mike Klis of The Denver Post for an actual football story about the life expectancy of the spread quarterback in a league where, according to Cleveland boss Mike Holmgren, big, fast men are trying to kill you.
• If we can't watch the NFL this year, what will we watch? Paola Boivin of The Arizona Republic says NASCAR could hardly have had a more attractive start than season-opening victories by unknown Trevor Payne and known Jeff Gordon.
• We can't go through the Brunch without mentioning the cooling Miami Heat and nobody better to comment than Greg Cote of the Miami Herald. In his "Random Evidence of a Cluttered Blog," he also touches on the decline of Ronald McDonald and car ashtrays. Really.
That's it. Have a great Sunday and a great week.