Commentary
Terrell Brandon home in his barbershop
Updated:
March 21, 2011, 5:10 PM ET
By
Wendell Maxey
| Special to Page 2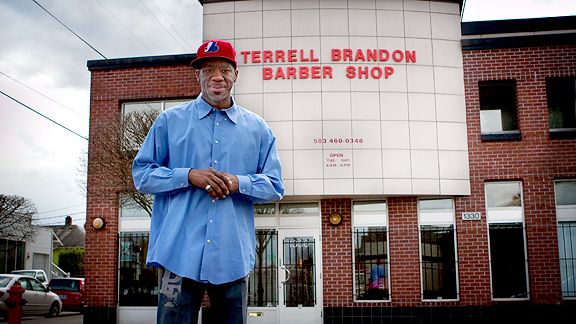 Patrick Ulch Former NBA All-Star Terrell Brandon opened his shop in his old neighborhood in Portland.
Take a peek into a barbershop in northeast Portland and you'll see an unlikely sight: Two-time NBA All-Star Terrell Brandon sweeping up hair clippings and taking out the trash.
Such is life when you own your own shop.
"A normal day for me, I'm usually in the barbershop chilling out and taking care of business just like any other barbershop," said Brandon, who spent 10 years with Cleveland, Milwaukee and Minnesota. "It makes people feel comfortable that they can come in and get a haircut -- and some people just want to come in and hang out.
"I like that atmosphere."
Brandon, 40, opened Terrell Brandon's Barbershop in a corner brick building on Alberta Street, in one of Portland's poorest and most racially diverse neighborhoods. The gathering place with the bright orange letters out front now anchors what has become a trendy neighborhood complete with wine bars.
It is one of several ventures, under the "Tee Bee Enterprises" umbrella, that includes a retail clothing store, Brandon's concert promotions and community outreach programs.
Brandon's desire to open a business started when he was at Harriet Tubman Middle School in northeast Portland, when he was trying to perfect his autograph.
"I used to write my name over and over again, and that led me to thinking about what I wanted to do with my life," he said. "I knew I wanted to own something of my own one day. It really is a dream come true."
From Grant High School to tearing up the Pac-10 at Oregon in the early '90s, Brandon always thought he'd open his barbershop in his old community of northeast Portland. And once Brandon arrived in the NBA after the Cavs drafted him 11th overall in 1991, customers soon followed.
"When I would see guys on the road ... I'd leave my card and I'd offer to have someone come and pick them up or have a barber come to their hotel," Brandon said. "Because back then, I understood time was limited with life on the road. A quick haircut is really great for an NBA player."
Brandon -- whom Sports Illustrated once called "the best point guard in the NBA" -- said the barbershop initially gained popularity by word of mouth from around the league.
But Brandon's dirty little secret is this: "I've never cut hair a day in my life," he said. "The first barber I hired was a friend of mine, and he used to cut my hair when I was in middle school when I was a little kid. I always joked with him that if I owned a barbershop one day, he would be the first person I'd hire. And sure enough, when I opened the shop, he went and got his barber license and he was the first barber I had in the shop."
Brandon spends five days a week at his shop, which he says reminds him of his days in the locker room.
"Guys can open up and say all types of things and walk straight out of the door and know it will not be repeated, no matter what," Brandon said. "That's how it is in the barbershop -- it's honest and guys can talk about sports, their ladies or politics. It's good to see people enjoying themselves and being able to get a haircut too, but it's the conversations we have that make me feel good."
Wendell Maxey is a freelance writer for Sports Media Exchange, a national freelance writing network.