Commentary
NBA, MLB, nope! Let's talk Olympics!
Updated:
April 10, 2011, 9:11 AM ET
By
Jerry Greene
| Special to Page 2
This time of year -- with the NBA regular season (finally!) ending and the baseball season just beginning, it's obvious what we're all thinking about: Olympic news!
Let's start with the 2014 Sochi Games. We'll take "Where in the World is Sochi?" for $200, Alex. That would be Russia, not where I would want to put the Olympics. And, unfortunately, the Sochi Games are $200 million short right now. That's a lot of car washes and bake sales.
Jumping ahead to the 2018 Games, three areas are bidding for them. Pyeongchang pledged $500 million to teach the world how to spell Pyeongchang, while Munich, Germany, promised "financial strength," and Annecy, France, promptly surrendered.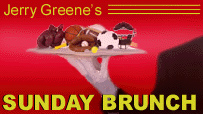 That's been your Olympic news. Now a few more assorted thoughts before we get to the main dishes in today's Brunch:
• Has "Fiesta Night" been canceled at the Pink Cabaret in Glendale?
• Apparently Ben Roethlisberger wanted the Pittsburgh Penguins' arena for his wedding reception but it was already booked by the WWE. Wait a second. Ben's wedding party and the WWE? Sounds like a match to me.
• This from Dave Letterman: "Folks, enjoying the baseball season? What could be more American then beer, hot dogs and human growth hormone?"
• Scene in the Fontainebleau Hotel garage: "I'm not bringing her car up, you do it." -- "C'mon, man, I got a family but you're single. You take it up."
• Summation of the closing remarks by the Barry Bonds' defense team: "That's all you got?"
• Closing note to Manny Ramirez: "See ya, Manny -- but not in Cooperstown."
And now let's dig into the main courses in today's Brunch, prepared by some of the best in the game. Enjoy.
• We open with three baseball stories that go well together. Mark Purdy of the Silicon Valley Mercury News gets us started by raising the intriguing question of how will the San Francisco Giants treat Barry Bonds once his trial is over? Hero? Outcast? It's a tough call.
• You think the Giants have problems? Next up, Dan Brickley of the Arizona Republic wonders whether Chicago is finally fed up with its lovable and losing Cubs after 103 years? Is it fair to say that it's about time?
• But things aren't tough all over. How about the Dayton Dragons of the Midwest League? Sean McClelland of the Dayton Daily News tells us that the Dragons plan on breaking the all-time home sellout record for all American pro sports of 814 sellouts this summer even though the Dragons lost 24 consecutive home games last year. Dayton either has great baseball fans or there really is nothing else to do there.
• The NBA playoffs will begin next weekend with Chicago and Boston prime contenders in the East. But did Chicago's Derrick Rose prove he owns Boston's Rajon Rondo in the Bulls' recent rout of the Celtics? Gary Washburn of the Boston Globe dares ask that question.
• Come on, you didn't think we would close without a little something about LeBron James' mom? Mike Berardino of the Fort Lauderdale Sun-Sentinel gives us a short list of troublesome sports parents. And he doesn't even mention Little League.
Have a Masterful day.