Commentary
MLS player taking on MS
Originally Published:
April 21, 2011
By
Kalani Simpson
| Special to Page 2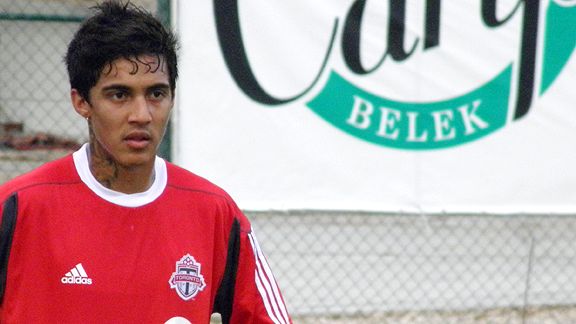 Toronto FC Toronto FC rookie Demitrius Omphroy optimistic about pro soccer career despite multiple sclerosis.
The first clues came in Portugal. Demitrius Omphroy remembers waking up that morning four years ago still so incredibly sleepy. Still rubbing his eyes through breakfast. That happens some mornings, doesn't it? But he just couldn't shake it.
He ambled onto the practice field, determined to rub away the haze. He'd sprint himself awake.
He was training with Sporting Club de Portugal Juniores -- Lisbon Juniors. He was a 17-year-old kid on a great adventure, thousands of miles from home. All signs were that he was on his way to signing a contract to play professional soccer. A dream come true.
Practice began that morning: drills, crossing the ball to each other, long, arcing kicks. The ball coming toward him ...
"And I just whiffed," Omphroy says.
Something was wrong. It hit him. At some point: "I can't see out of this eye."
Doctors were stumped. Upon repeated visits, the words "blindness" and "hereditary" came through the Portuguese. He got nervous. His parents, "They kind of freaked out," he says.
So it was back home to the Bay Area, in Alameda, Calif. Doctors there diagnosed a lesion on his optic nerve. Symptoms came and went, mostly depending on how hard he worked out. Eventually it mostly faded away.
Whew. Thank goodness that's over with.
Omphroy enrolled at Cal-Berkeley. He started as a junior and senior, and was named honorable mention on the Pac-10's All-Academic team.
But then one day when he was 20, he realized his foot had no feeling. And another day he rocked back and bent his neck and an electric shock shot through him. A pinched nerve? Gotta be, right? Except it never got better. And then his stepmom, a doctor, said: Let's get an MRI.
The neurologist said, "We're pretty sure you have multiple sclerosis." His heart dropped like a ride at Six Flags.
MS? All he knew was, there was no cure. All he knew was you could be in a wheelchair at 40. Who gets multiple sclerosis? In the stories you hear, it was always someone's cousin's uncle. It was always removed, somehow. It was always distant, not quite real.
This was not distant.
Multiple sclerosis is "a chronic, often disabling disease that attacks the central nervous system, which is made up of the brain, spinal cord and optic nerves," the National Multiple Sclerosis Society says.
This was real.
Omphroy couldn't think of anyone to point to, to say, "So-and-so has that. It's going to be OK."
He came to terms with having to give himself daily injections. He took his medicine, and it helped. He kept playing soccer for the Bears. He was fine. Right?
Except, if he doesn't get enough sleep, he feels it. One beer, and the electric shocks come back the next day.
His sister's tears shook him to the core, when she sat him down for a heart-to-heart. He needed to start taking this seriously. He needed to start thinking about taking care of himself for the long term. Since then, he has. And he's felt that, too.
He's living clean, eating right. He can't afford not to. He knows that now.
At the MLS combine, they go over your medical history with a fine-tooth comb. A sprained ankle in the last six months gets you a yellow Post-it Note in your file. A torn ACL gets you a pink one.
The doctors looked at Omphroy. Did he have any medical issues he needed to disclose?
Well ...
He got a pink.
Toronto FC took him in the second round of the 2011 MLS draft, 26th overall, the team's first pick. (The club would later say it didn't know he had MS when it took him. Maybe he needed a different color Post-it.)
So here he is, playing professional soccer with multiple sclerosis. In MLS, with MS.
He's still a rookie, on the bench. "I haven't debuted yet," he says, and he's frustrated about that.
But he has a platform, now. And he's thrown himself into advocacy for MS. He's energized by it. He'll talk to anyone.
Mostly, he wants to make sure no one else has to endure the fear, the confusion, the uncertainty he once felt. Mostly, he wants those diagnosed with MS to be able to say, "It's OK. That pro soccer guy has multiple sclerosis, too. It's going to be fine."
He's got that part down pat. Now, all he has to do is play.
"I'll get my chance," he says. You can hear it in his voice: The next electricity he feels shooting through his body will have nothing to do with MS.
Kalani Simpson is a freelance writer based in Omaha, Neb.