Commentary
Is reality TV bad for Lamar Odom?
Updated:
April 24, 2011, 9:15 AM ET
By
Jerry Greene
| Special to Page 2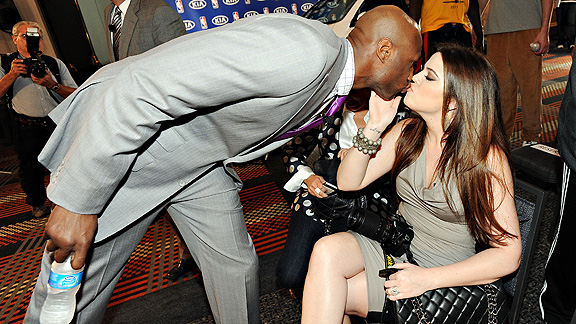 Andrew D. Bernstein/NBAE/Getty ImagesLamar Odom gives a kiss to Khloe Kardashian at the ceremony for the Sixth Man of the Year Award.
For some folks, image is everything. I don't give it much thought other than hoping the food stains on my shirt are not that noticeable. But image matters to a lot of you, whether it should or not.
Take Khloe Kardashian's husband. He's lucky enough to be on a reality TV show as Mr. Kardashian but apparently wonders whether it is bad for his image. All he should remember is that he needs to be on the show's set when Khloe needs him there -- and ditch those silly shorts he likes to wear.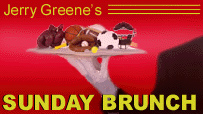 Then there's Cincinnati Reds pitcher Mike Leake, who was arrested for allegedly stealing $59.88 worth of T-shirts from a Macy's. Surely the Reds pay better than that? Probably just a misunderstanding and, of course, he can count on his teammates for support. Teammates such as Brandon Phillips who, after Leake picked up a victory, said: "It feels good for him to steal a win like that."
But our favorite misunderstood celebrity of the week is Harvey "Tree Killer" Updyke -- the man who made himself infamous by bragging on a radio show that he poisoned the tress at Toomer's Corner on the Auburn campus. Updyke returned to that show recently and said: "I don't want my legacy to be the Auburn tree-poisoner."
Just what other legacy did you have in mind, Harvey?
You made your image, so live with it. You're still getting off better than those trees.
Meanwhile, a few more tidbits from the week before we get to the juicy main courses in today's Easter Brunch.
• Latest partial endangered species list: Adriatic Salmon, Blond Titi Monkey, Fossil Shark and Florida Panther TV viewers. (Less that 3,000 homes on average watching the Panthers.)
• How many guys see that NBA talking basketball on TV and think, "Oh, man, I've got to stop drinking this stuff."
• ABC's Jimmy Kimmel: "Hines Ward of the Pittsburgh Steelers has emerged now as the front runner in the competition (on ABC's 'Dancing With The Stars). Not only did he get the top score last night, but he made an incredible catch on a very poorly thrown Kirstie Alley."
• Speaking of bad throws, a robot threw out the first pitch at a Phillies game and bounced it toward the plate, drawing boos from the crowd. In a statement later that day, Santa Claus said: "At last! Am I finally off the hook in that town?"
• Note to Fran McCourt -- Well, other than that, how did your week go?
[+] Enlarge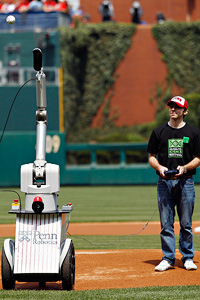 AP Photo/Matt SlocumA robot from the University of Pennsylvania throws out a ceremonial first pitch.
Enough. Let's get to some of the America's finest sports writing talent for the choicest literary eggs in our Easter basket:
• This is a must-read from nationally syndicated columnist Norman Chad, taken from the Washington Post. He gives us an imaginary day in the life of NFL Commissioner Roger Goodell. This is my favorite moment: "4:16: Confides to manicurist that 'personal seat licenses' are the greatest thing since the advent of the pay toilet." You want to read it all.
• In an entirely different approach, Bill Plaschke of the Los Angeles Times looks at baseball's seizure of the Dodgers and views it as a heroic rescue. Hardly an objective point of view but an impassioned one.
• No American story compares to the tension and potential for violence that surrounds Sunday's Scottish soccer showdown between Glasgow's top teams, the Rangers and Celtics. For the New York Times, John F. Burns and Ravi Somaiya detail the long-standing animosity that includes recent mail bombs. Not pretty at all.
• Writing with a lighter touch for NPR.org, Frank Deford looks at two sporting truisms -- that we learn from defeat and that winners wanted it more -- and finds both to be lacking in any truth at all.
• And we'd like to close with a story that seems right for our Easter Brunch. Darnell Mayberry of the Oklahoman tells us about Kevin Durant's newest reading material -- the Bible.
And with that, happy Easter and a glorious day to all.