Commentary
Roger Goodell, good guy or bad guy?
Updated:
May 1, 2011, 11:29 AM ET
By
Jerry Greene
| Special to Page 2
Let's have a little test:
"Roger Goodell."
Boo!!!
Wow, you guys never rest, do you?
But you have to admit that you still loved the NFL Draft even if you currently hate the NFL, right? My favorite part of the draft was the cameras backstage. We'd see a player come on stage to get his cap, jersey and mandatory bear hug from the Commissioner (Boo!!!), then go back stage to be grabbed by security guards, stripped of his cap and jersey, then thrown out the back door.
Kidding.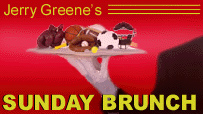 Meanwhile, the rest of the NFL players continue to participate in a version of "Simon Says," much like the "Simon Says" game we all played as kids. "Simon says go to camp." Then "Simon says go back home." Confusing.
But getting back to the Draft, all good things must end. And the Draft ended Saturday with the final pick of Mr. Irrelevant. Who's that, you say? Cheta Ozougwu, an exotically named defensive lineman from Rice?
Nah, we're talking about the real Mr. Irrelevant, 2011.
Roger Goodell.
Boo!!!
And here are a few more tidbits from the week that was before we get to the main courses in today's Brunch:
• WWE wrestler Chris Jericho was eliminated from ABC's "Dancing With The Stars," leaving Steelers WR Hines Ward as the last sports personality dancing. I would have paid good money to see Jericho take out each one of those irritating judges with a triple powerbomb. Put that to music.
[+] Enlarge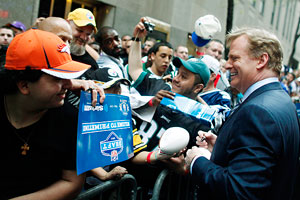 AP Photo/Jason DeCrowNFL commissioner Roger Goodell greets fans outside of Radio City Music Hall before the NFL draft.
• So St. Petersburg Mayor Bill Foster asks Tampa Mayor Bob Buckhorn to promise a new ballpark to the Rays in order to keep them in the area. And Buckhorn replies: "I'm not going to be the boyfriend in your divorce." -- We rarely get this kind of good stuff from a couple of mayors.
• CBS' David Letterman: "Ladies and gentlemen, sad news in the world of broadcasting right here. Katie Couric, who has been the anchor of the 'CBS Evening News' has announced she's stepping down. Well, that's only half of it. Insiders tell me that she was involved in dogfighting."
• Cleveland Browns RB Peyton Hillis clobbered Philadelphia Eagles QB Michael Vick in the fan vote for who gets on the cover of "Madden NFL 12." And in related good news, the Republican Party thinks it has found its next Presidential candidate.
• Suppose you are a Yankees season-ticket holder who also has an Apple iPhone? Wow, we know everything about you.
• And if the BCS is so powerful, how come it has to sit around and wait for the NFL to tell it when it can play its bowl games?
Enough of that. Let's get to the main courses of the Brunch, brought to you by the best of the best.
• Before we move on from the NFL Draft, you probably realize that first-round picks tend to have happier lives than everyone else. But you have no idea how much happier. Reed Albergotti and Aditi Kinkhabwala of the Wall Street Journal gives us the rest of the story.
• There's an NBA second-round series you may want to watch -- Boston vs. Miami. And Dan Le Batard of the Miami Herald says the Heat must remind the Celtics that they have become old and tired. Yes, it's Bulletin Board material.
• From the Boston Globe, Bob Ryan has a different view, saying "The Heat were a classic bully team. They were 40-5 against teams .500 or below and only 18-19 against teams above .500. That tells you something." Ouch. Someone is going to be wrong.
• While we're talking Big Guy basketball, Paul Coro of The Arizona Republic lists the top 5 and bottom 5 NBA trades of the season. Oklahoma City gets the top spot while Orlando is first and second in the Bottom 5. Nothing Magical about that.
• We close with the sad story of Tom Durkin, the well-known voice of the Triple Crown races, who stepped down because of severe performance anxiety. Joe Drape of the New York Times explains how the Kentucky Derby can be the most frightening two minutes in sports if it is your voice that gives it a place in history.
And that's the Brunch for another week.
"Roger Goodell."
Boo!!!
Just testing.