Commentary
Quiz: Do you remember the ABA?
Updated:
May 13, 2011, 12:29 PM ET
By
John Zoni
| Page 2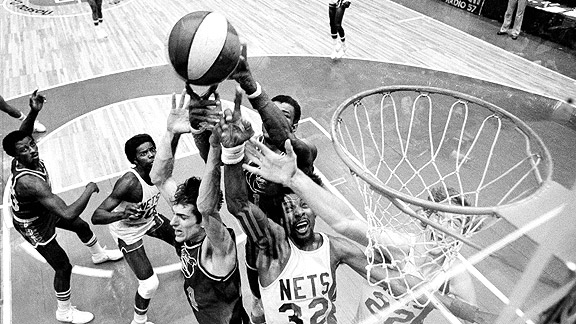 AP Photo/Richard DrewThe New York Nets' Julius Erving battles for the ball against the Nuggets during the final ABA game.
Friday marks the 35th anniversary of the final game ever played in the American Basketball Association -- Game 6 of the 1976 ABA Finals between the New York Nets and Denver Nuggets. Coincidentally, it was also a Friday the 13th, and the league's first regular-season games were played on Friday, Oct. 13, 1967.
To celebrate the occasion and to remember the league, Page 2 tests your knowledge of the old ABA.
1: While best known as coaches, Larry Brown and Doug Moe were players on which team in the ABA's first season (1967-68)?
A. Anaheim Amigos
B. Minnesota Muskies
C. New Orleans Buccaneers
D. Pittsburgh Pipers
2: Which of these former Kentucky Colonels was the ABA's all-time leading scorer?
A. Louie Dampier
B. Artis Gilmore
C. Dan Issel
D. Maurice Lucas
THE ABA IN PICTURES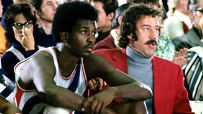 Check out some classic teams, stars and styles in this gallery of the American Basketball Association.
Gallery: The ABA

3: Which of these Long Island towns was NOT home to the New York Nets during their ABA tenure?
A. Commack
B. Great Neck
C. Uniondale
D. West Hempstead
4: Announcer Bob Costas was the play-by-play voice of which ABA team?
A. Memphis Sounds
B. Miami Floridians
C. San Diego Conquistadors
D. Spirits of St. Louis
5: Which of these Indiana Pacers players was the first two-time winner of the ABA MVP award?
A. Roger Brown
B. Mel Daniels
C. Darnell Hillman
D. George McGinnis
6: Hall of Famers Julius Erving and George Gervin were teammates during the 1972-73 ABA season on which team?
A. Carolina Cougars
B. New York Nets
C. San Antonio Spurs
D. Virginia Squires
7: From 1967-74, the Denver Nuggets went by which of these monikers?
A. Colorado Lark Buntings
B. Denver Rockets
C. Denver Gold
D. Rocky Mountain Miners
8: Hall of Famer Moses Malone made his pro debut at 19 years old with which ABA team?
A. Utah Stars
B. Houston Mavericks
C. Dallas Chaparrals
D. Baltimore Claws
9: ESPN NBA analyst Hubie Brown guided which team to the 1975 ABA Championship?
A. Denver Nuggets
B. Indiana Pacers
C. Kentucky Colonels
D. San Diego Conquistadors
10: Current Denver Nuggets head coach George Karl was a player for which ABA team?
A. Virginia Squires
B. San Antonio Spurs
C. Pittsburgh Condors
D. Oakland Oaks
11: Which of these former NBA head coaches was NEVER a player for the ABA Carolina Cougars?
A. Billy Cunningham
B. Dan Issel
C. Gene Littles
D. Doug Moe
12: How many current NBA markets once had an ABA team?
A. 15
B. 16
C. 17
D. 18
Answers
1: C

2: A

3: B. Nets played at Commack Arena in Commack, Island Garden in West Hempstead and Nassau Coliseum in Uniondale.
4: D

5: B

6: D

7: B

8: A

9: C

10: B
11: B. Issel played for Kentucky and Denver during his ABA career.
12: A. Charlotte, Dallas, Denver, Houston, Indiana, Los Angeles, Memphis, Miami, Minnesota, New York-New Jersey area, New Orleans, San Antonio, Oakland-San Francisco Bay area, Utah and Washington are the NBA markets that once had ABA teams.
John Zoni is a researcher with ESPN Production Research.