Commentary
Said something on Twitter you regret?
Updated:
May 15, 2011, 10:41 AM ET
By
Jerry Greene
| Special to Page 2
You know what we need?
TA -- Twitter Anonymous.
"Hi, my name is Jerry and I can't stop tweeting."
"Hi, Jerry."
Of course the short conversation above was done by text message.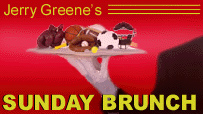 If you missed it, Mets catcher Josh Thole has deleted his Twitter account. "I thought this was supposed to be fun," Thole said. "They're ruthless on there."
I'm sympathetic but Josh does need to remember one thing: He's a Met. "Ruthless" comes with the uniform.
Here are a few actual tweets from the last week:
• Boston Globe's Pete Abraham: "Gus Johnson is funny for the last few mins of a close college hoop game. He would be an abomination on baseball. Please, Fox, no." -- Abomination, Pete? Strong word for announcing a ball game.
• NBC NFL analyst Cris Collinsworth: "I can't believe I have 7,040 Twitter mates after 3 days. This is like dating. People like me more when they can't see me." -- Nice to see someone taking a tweetshot at himself.
• Comedian George Lopez: "Obama said that the raid on Bin Laden was the longest 40 minutes of his life. I guess he didn't watch the Pacquiao fight on Saturday." -- Comedians get a free pass. They don't even have to be funny.
Yes, I know I left myself open there for some shots at the amount of humor found in the Sunday Brunch. Regardless, we will press on with a few bon mots before the pros show up with the main dishes in today's Brunch.
• LSU said it will erect a 900-pound statue of Shaquille O'Neal. In other words -- lifesized. (I've been waiting all week to use that.)
• Big hit song this December: "I Saw Albert Pujols Hugging Santa Claus." But will it be a hit in St. Louis or Chicago?
• Miami Dolphins issued pay cuts to team employees. Oddly, they didn't start with the quarterbacks.
• Urgent memo to Bernard Hopkins: "Shut up."
• NBC's Jay Leno: "Welcome to L.A., which stands for 'Lakers Annihilated.' People here in L.A. still reeling because the Lakers got swept in the playoffs. In fact, it was such a humiliating defeat, I heard today the team was asking Pakistan for a place to hide."
• The following statement appeared in an edition of the Indianapolis Star: "Malori Wampler, 27, Indianapolis, was fired last November when a fan sent in pictures that showed her posing in what resembled a painted-on bikini. Her private parts were covered." -- Seriously, Indianapolis Star -- "private parts?"
• Latest fad in Oregon -- the Napkin Diet, really low carbs.
• Dwyane Wade will have a fantasy basketball camp at the Fontainebleau Hotel in Miami Beach for guys 35 or older -- and it costs $12,500. But it will be just like being a member of the Miami Heat. Chris Bosh will make your breakfast and you have the option of having Bosh give you a foot rub or a manicure.
• And speaking of the Heat, their playoff series with Chicago will begin Sunday instead of Monday -- Oprah willin' and the creek don't rise.
And now let's dig in with some of the best Brunch chefs in the country:
• Monte Burke of Forbes starts us off with a fascinating story about what may be the greatest sports deal ever. It's a tale of incredible riches that have gone to a small group of men because they failed to own an NBA team. And they are getting those riches each year from the folks who do own NBA teams. Read on.
• Dallas has two highly noticeable sports owners in the Cowboys' Jerry Jones and the Mavericks' Mark Cuban. Currently Cuban is being surprisingly low-profile while his Mavs make an NBA playoff run. Randy Galloway of the Fort Worth Star-Telegram suggests that Mr. Jones might take a silent cue from Mr. Cuban.
• We joked earlier about the uproar because Albert Pujols hugged the Chicago Cubs GM. Bernie Miklasz of the St. Louis Post-Dispatch tries to reassure his town that there is no way Albert is going to be the next Mr. Cub. Feel better, St. Louis?
• While talking about the Cards, Manager Tony La Russa has shingles, which can be extremely painful. The Cincinnati Enquirer reports that a Cincinnati radio station is holding a "La Russa shingles contest," offering listeners the chance to win some shingles of their own provided by a roofing company. Nothing says "good taste" more than a radio sports promotion.
• We love notes and Mike Bianchi of the Orlando Sentinel has one of the most biting notes columns you can find. Try this one, where he starts by scoffing at the idea Tiger Woods can do better than Jack Nicklaus. In fact, Bianchi wonders if Tiger can top Jack Nicholson. Check it out.