Commentary
Jeremy Shockey seeks out his roots
Updated:
May 16, 2011, 4:44 PM ET
By
Kelley Carter
| Special to Page 2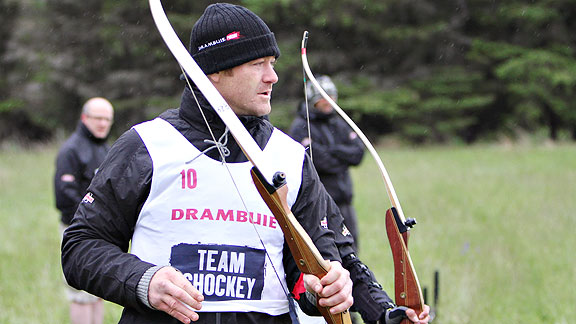 Kelley L. Carter Jeremy Shockey decided the Drambuie Pursuit was the best way to spend the lockout.
Jeremy Shockey grunts and snarls a bit when he hears the first results.
"Third place?" he asks when he's told how his team fared in the first leg of the Drambuie Pursuit 2011 race through the Scottish Highlands, "that's not good. We have to come stronger tomorrow."
Shockey -- and if you know anything about the tight end, then you're aware that archery isn't exactly his sport -- is as competitive off the gridiron as he is on it. In the wake of the NFL lockout, the Super Bowl champ signed up to lead Team USA through the 100-mile race that retraces the journey of Bonnie Prince Charlie across Scotland as he escaped British government forces in 1745. The race included a number of competitions, like white-water rafting, kayaking (Shockey capsized a couple of times), mountain climbing (he sat that one out considering that he doesn't have health insurance right now) and dune buggy racing. In addition to leading the team, Shockey forked over $10,000 to benefit the the Heath Evans Foundation, as part of his participation.
Legend has it that as a present for hiding him, Bonnie Prince Charlie left the only thing he had to his name -- the secret recipe for Drambuie, which to this day is still kept under lock and key.
Shockey can relate. He's doing a bit of escaping himself. Now that his recreation of the Highland Games are over -- Team Shockey finished fourth out of 10 teams (a team of young guns from the Netherlands repeated and won it all) -- he and his trainer T.J. Prunty are exploring Ireland to discover a bit about Shockey's roots.
"I'm Scotch-Irish. A lot of my family members have been over to this country and to Ireland and I had never been," he says after finishing driving his dune buggy over a gritty terrain course. "I've been working hard in this offseason, so ... I wanted to come over here, see Ireland and Scotland and see where my bloodline comes from and see relatives. And see if I can get my EU card."
He laughs about that last bit, but gets serious when talking about the lockout. When he finished the entire race with his team (teammates Steven Fonrigrnao, Jeff Odell and Shane Duffy -- all distance runners from Texas) he was met by a group of American football fans. Their favorite team is the Philadephia Eagles, but they came armed with Shockey jerseys, hoping to get him to sign them.
The young guys hoped that the lockout didn't delay the start of the NFL season -- they all play American football and say they have to drive hours in Scotland to find a group of kids to play competitively with them.
"This football lockout, to be honest with you, it's not very good for the business of our game. But a lot of people like myself and a lot of other smart people don't have offseason workout bonuses. The owners knew what they did when the CBA expired, when they signed the TV deal, so as players we wanna go back to work," Shockey said. "That's the whole point. We understand the fans are probably ... aggravated by hearing it all the time. I just want the fans to know that there will be a football season, but as far as the players taking an 18 percent pay cut and adding two games and the health insurance is not as what it should be in the most dangerous sport there is in the world? That's not gonna happen.
"We're just not doing this for us right now, we're doing this for older players that's played before us, we're doing this for players that play ahead of us. Right now it's the attorneys that's making all the money and that's a shame. We need to really get the players in one room, as Mike Vrabel said, and the owners in one room and get it solved, because the longer it waits, the worse it looks for free agency."
Shockey acknowledges that he lucked out, considering that he got released from the New Orleans Saints and signed to play this upcoming season with the Carolina Panthers right before the lockout.
"I'm ready to work with my new teammates. I got my playbook -- I studied it here in Scotland. I'm fortunate enough in that aspect, but a lot of guys aren't," he said. "It's a sad situation about the NFL and the lockout, but it is business and I'm sure both sides will be coming to an agreement. If not, I will have to stay here in Scotland and keep doing cool events like this all around my Scottish-Irish ancestors."
And as far as the Panthers go?
"I'm feeling great. I called it intriguing for a reason and I didn't really elaborate on that, because my tight end coach and my offensive coordinator in college, Rob Chudzinski, is there and he's the offensive coordinator. Cam Newton is gonna be a great addition. I'm very familiar with some of the guys on the team on defense -- University of Miami guys. So it's going to be fun," he says. "It's gonna be a challenge for me -- I've really never been in a place for more than a couple of years, besides New York, and I knew it was about time for me to leave New Orleans. I had done everything I wanted, to go back to the Super Bowl and did more by winning it and made some great friendships and gave the city a lot of hope. I'm going to bring experience to Carolina. The experience of winning. Everywhere I've went, it's proven fact. In college, high school, any team I've played for I've won a championship. So that's my next desire."
And while he's not counting on adding archery or white-water rafting to any of his training, he did pick something up in the Scottish Highlands that he wants to incorporate in his game.
"I did a favor for a person just not too long ago and he goes, 'I love you like a dog,'" Shockey says laughing. "So I'll be using that one. As we're leaving the field back home, I'll go: 'I love you ... like a dog.'"
Kelley L. Carter is a Los Angeles-based entertainment freelancer.