Commentary
Rhett Miller enjoying Mavericks' ride
Updated:
May 16, 2011, 3:04 PM ET
By
Patrick Dorsey
| Special to Page 2
Rhett Miller stood onstage March 20, before the Dallas Mavericks were to play Golden State.
The Mavs had lost five of eight. Much of the energy from their early season surge had fizzled. Still, Miller -- the 40-year-old vocalist for the acclaimed alt-country band Old 97's and also a successful solo singer-songwriter -- made a declaration to the pregame concert crowd: "We're going to start a winning streak today."
They did. Five in a row. Now Dallas is on a 12-2 tear that put it in the Western Conference finals.
[+] Enlarge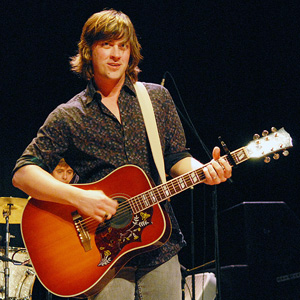 Chris McKay/Getty ImagesRhett Miller's Dallas die-hard fandom for Dallas sports is a family tradition.
"I'm not going to take credit for it ... [but] they've been great ever since," Miller said.
OK, so he's not really serious. Plus, Dallas did lose four straight in the time after Old 97's -- whose album "The Grand Theatre Vol. 2" drops July 5 -- performed for fans at American Airlines Center (followed by Miller singing the national anthem).
The point is, Miller loves his Mavs. And all Dallas sports (even with his musician-like anti-jock look). He lives in New York and spent some time in Los Angeles, but the Metroplex -- and its teams -- occupy his heart.
After all, they're in his blood. Except not in the most brag-about-it way.
His grandfather, Giles Miller, owned the area's first NFL franchise, the Dallas Texans. But not the Texans who later became the Kansas City Chiefs. No, the Millers' Texans folded before the 1952 season ended.
"I was born into a family that would have been wealthy," Miller said, "had it not been for the failure of a Dallas football franchise."
Not that he's bitter. He's had quite the career -- in music, of course, but also in sports.
While in L.A., he sang the anthem at several Lakers games during the team's three-peat -- a gig complete with courtside seats and his own dressing room ("I was living like Jack Nicholson," he said).
He also has performed for his beloved Stars, and the Old 97's even recorded an in-stadium song for power plays.
When it comes to the Mavs, he'll keep professing his love (like on sports-minded comedians Randy and Jason Sklar's weekly podcast, or at an early May L.A. show to an indifferent-to-sports crowd). He doesn't expect to sing for them in these playoffs, but he hopes it'll happen in the future.
As for the past -- namely that Mavs game in late March -- Miller had quite the experience. And not just because the team started winning.
After the game, the band presented Dirk Nowitzki with an Old 97's/Mavs custom guitar, and even jammed a bit with the German 7-footer.
Was he any good?
"We just noodled around," Miller said. "He's at a point ... where it's more about chords and not about ripping through a bunch of songs or anything."
Ah, well. Ripping through the playoffs -- with Miller watching every step -- will have to do for now.