Commentary
Reasons your baseball team is broke
Originally Published:
June 9, 2011
By
Jerry Greene
| Special to Page 2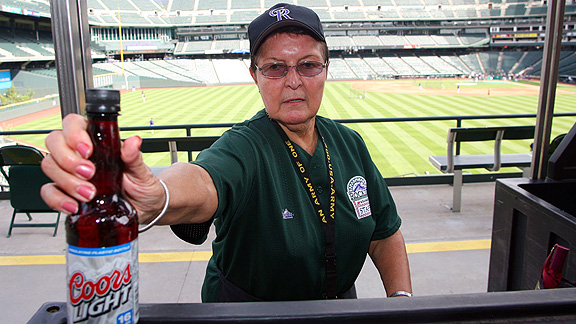 AP Photo/David Zalubowski"You hold 'Free Beer Night' and don't sell out," said Ben M. of Peoria, Ill.
Outstanding work this week by you. Clearly many of you are bothered by the shaky financial shape of numerous major league baseball teams. We asked for suggestions on how to create a list of "Top 10 Tips Your Baseball Team Is Broke," and you replied in great numbers and strong wit.
Granted, there may have been some "borrowing" going on. Either that or many of you had a psychic experience by simultaneously suggesting either "The Bobblehead giveaway is a superball wedged onto a spork" or "Players' uniforms have 'Chico's Bail Bonds' stitched on the back.'"
Beyond that, we had far more than 10 worthy tips, so I apologize to all those who are not included here. Blame me. Now let's get to the list -- and Dodgers, Cubs, Mets, et al should really pay attention 'cause you might want to adopt some of these:
Top 10 Tips Your Baseball Team Is Broke
10. "Your bullpen cart is repossessed," said Chris N. of Bellmawr, N.J.
9. "You hold 'Free Beer Night' and don't sell out," said Ben M. of Peoria, Ill.
8. "Your manager has a tip jar on his desk," said Dave H. of Gainesville, Fla.
7. "Max Bialystock hatches a plot involving selling shares of your team," said John R. of St. Petersburg, Fla. (You've got to love "The Producers" to get this one. I love "The Producers.")
6. "Even Pete Rose wouldn't bet on your team," said Joe A. of Greeley, Colo.
5. "Your new marketing campaign: 'Total Field Access for every home game! Just show up four hours before game time with a bag of lime and an adventurous spirit!'" said Doug E. of Altamonte Springs, Fla.
4. "Your team is so broke that you removed the 'P' from your nickname to save money on printing. Now you are the 'Irates,' just like your fans," said Lisa A. of Benson, N.C.
3. "Your farm teams actually work on farms," said Rayshaun M. of Chicago.
2. "Your postgame concert is by Hootie -- but you couldn't afford the Blowfish," said Gabe S. of Tampa, Fla.
1. "Your new stadium was built by Habitat for Humanity," said Matt L. of Arlington, Va.
Eat your heart out, David Letterman. Note that four of our Top 10 came from readers in Florida -- home state of the Marlins and Rays. Coincidence? I think not.
Because your taste won't be exactly (or perhaps even remotely) the same as my taste, here are a few more that just missed the cut:
• "You confiscate food at the game and then re-sell it at your concession stands," said Hartley A. of Richmond Hill, Ontario, Canada.
• "You fine your players for sliding into second because it increases the laundry bill," said Robert C. of Pequannock, N.J.
• "Postgame team buffet replaced by 'Take a Player to Denny's!' promotion," said Paul S. of Berkeley Lake, Ga.
• "Your best slugger decides to go to Ohio State for the better pay," said Matt M. of Paramus, N.J.
A lot of good entries from New Jersey. Not entirely sure why. Baseball may be broke but it also can be funny.