Commentary
'Goatbusters': Cubs try to snap curse
Updated:
June 19, 2011, 10:40 AM ET
By
Jerry Greene
| Special to Page 2
Take the Chicago Cubs. Please. If you are a Chicago Cub, how do you explain being worse than mediocre once again? You could just admit that, comparatively speaking with real major league teams and not counting Houston, you're just not any good. But where's the fun in that? Besides, if you did admit you are simply lousy, those hard-hearted administrators might not want to pay you, and where's the fun in that?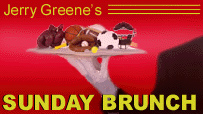 So you need an excuse. And your favorite is a great one: The goat did it.
Blaming ineptitude on a billy goat goes back to the World Series of 1945. If it's the same goat, he must be pretty old by now. But several Cubbies brought him back earlier this past week by wearing T-shirts that showed a cartoon goat on the front and read "[Expletive] the Goat" on the back.
If it's all the same to the Cubs, I'll pass on that.
But I do have a great idea for anyone who owns some goats. Put your goats in T-shirts that show cartoon Cubs on one side and read "[Expletive] the Cubs" on the other. Trust me, you'll be in all the papers.
Meanwhile, let's review other news from the week that was while waiting for the main dishes in this Father's Day Brunch:
• Here's a suggestion for the Miami Herald: Run an advertisement that congratulates the Dolphins on winning the last Super Bowl, similar to the ad you ran congratulating the Heat for winning the NBA title. Call it "feel good" advertising.
• Meanwhile, do we admire or pity Darren O'Donnell -- who is currently in the midst of a 10,500-mile bike journey to every ballpark where major league baseball is played? The only problem is nobody can figure out why he's got South Florida on his schedule.
• Did you hear what Ohio State AD Gene Smith said? Here's Gene: "The reality is I wake up every morning and I look in the mirror and I say to myself I do things right and I do things with integrity." Good for you, Gene. I look in the mirror every morning and wonder that if I fly somewhere, will they charge me extra for those bags under my eyes.
• Come to beautiful Vancouver for the summer -- just leave your car and valuables at home.
• New phrase of the week: "I'm as worried as a Dodger on payday."
Hear that? It's the dinner bell, letting us know that our literary chefs have prepared their Father's Day Brunch. Enjoy.
• Let's start with the kind of story that dads always love -- the legendary tale that can never be proved or denied. This is a classic -- did Babe Ruth really call his shot against the goat-bitten Cubs? Joe Cowley breaks it down for the Chicago Sun-Times and indicates it's at least as likely as the Loch Ness Monster.
• Before we move on from the NBA Finals, here's a report from the Dallas Morning News about how Hall of Famer Rick Barry thinks the Heat should have swept the Mavs, and gave away the crown. As you might guess, the folks who comment at the bottom of the story are not a happy lot.
• While we're talking championships, Michael Hunt of the Milwaukee Journal-Sentinel gives us details about those title rings that the Green Bay Packers just got. There's a gigantic photo of one of them, too, that raises the question: "Can you say an NFL title ring is gaudy?"
• Everyone loves notes and Mike Bianchi of the Orlando Sentinel provides a bunch, starting with the observation that Rory McIlroy has turned the U.S. Open into the U.S. Closed. He also reminds us that Monday is National LeBron James Day, meaning that all of us get off work 12 minutes early. Bada bing.
• We close by going to Parade magazine for great advice some notable folks received from their notable dads, including Jack Nicklaus. And they throw in two top-10 lists of best and worse TV dads. We love their pick for all-time worst but resent that they chose anyone other than Sheriff Andy Taylor as the best.
The Brunch is closed. If your dad is within hugging distance, hug him. If he's within calling distance, call him. No matter where he is, love him.