Commentary
David Haye no match for me in 'Brunch'
Updated:
July 10, 2011, 12:56 AM ET
By
Jerry Greene
| Special to Page 2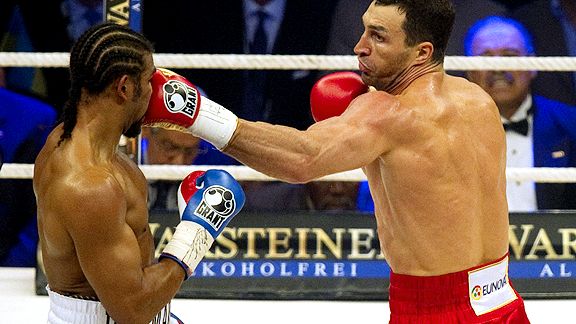 Odd Andersen/Getty ImagesWladimir Klitschko did all the boxing, while David Haye did all the standing around.
We like to point out overlooked but important news stories from the week that just expired but sometimes we don't have those stories. Sometimes we have news such as heavyweight boxer David Haye threatening to retire.
Oh the humanity.
You remember Haye, don't you? The guy who lost a 12-round unanimous decision to Wladimir Klitschko in a championship match so boring and worthless that the girl who walks around announcing each round retired after the sixth round to enter a monastery and put a little excitement into her life.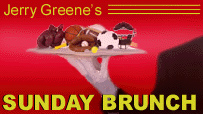 Well, Haye has been talking about retiring in October. Now he says he will stick to that plan -- unless Klitschko gives him a rematch. Yeah, that's what we want. It will be mildly amusing to listen to Haye as we get closer to his Oct. 13 threatened retirement date: "OK, Wladimir, what's it gonna be? I'm almost out the door, Wladimir. I mean it! If my phone doesn't ring right now, that's it! Wladimir? Wladimir!"
Hey, Wladimir, do us all a favor. Don't call.
While Wladimir ponders his decision, we'll note a few other things from the week that was as some of the best writers in the business put the final touches on our main courses in this Sunday Brunch.
• I watched every second of Japan's 1-0 extra-time upset of Germany in the Women's World Cup. My fantasy football friends are planning an intervention.
• So what's attendance going to be for the rest of the World Cup matches in Germany?
• Want to do NASCAR a big favor? Let's accept that Dale Earnhardt Jr. really isn't a great driver and praise him for doing as well as he does. You know, he's "competitive."
• And in 20 years we will be singing: "Where have you gone, Derek Jeter?
A nation turns its lonely eyes to you (Woo, woo, woo)
What's that you say, Mrs. Robinson?
Dashin' Derek has left and gone away
(Hey, hey, hey ... hey, hey, hey)"
• OK, we know the Heat definitely did not win the NBA title. So can we go back to hating Dallas for being a conceited city that thinks it's better than the rest of us?
• And this from NBC's Jay Leno: "Prince William and Kate will be coming to Los Angeles, very exciting. While they are here, they announced they are going to visit skid row. So apparently they are going to a Dodgers game. ... Man, was it hot outside waiting in line? I was sweating like Roger Clemens swearing to tell the truth."
• Kyle Busch won NASCAR's inaugural race in Kentucky Saturday night and we know what you're thinking: "Is that the bad one or the bland one?"
Brunch time! Our chefs are ready with some tasty dishes, so enjoy:
• We must open with a salute to Jeter and this is a great one: The story of how many pet owners have named their dogs (or even their cats) "Jeter." Jorge Castillo has the report for The New York Times and refrains from wondering whether anyone has named their dog "Vick."
• The British Open (or just "The Open" as they like to say) is this week, making this a perfect time to wonder what has happened to American golfers? John Paul Newport makes a compelling argument for The Wall Street Journal that other nations simply care more about golfing dominance than the United States.
• We haven't forgotten the NFL even if they have forsaken us. Justin Terranova of the New York Post blogs that San Diego GM A.J. Smith is still angry at Eli Manning for not embracing the idea of life as a Charger. Move on, dude.
• Barry Bremen recently died and his name may not ring a bell. But The Baltimore Sun gives us AP's Jeff Karoub's reminder that Bremen was known in the '80's as "The Great Imposter." Bremen pulled countless stunts such as shooting baskets before an NBA All-Star Game with the stars or posing as a Yankee at an MLB All-Star Game. This guy thought the whole world was his participant sport.
• We close with a special treat. Jaime Uribarri of the New York Daily News lets us know that model Larissa Riquelme once again has pledged to take off all her clothes (and she doesn't wear much) if Paraguay wins the Copa America tournament. And, guys, this link includes a video. So get out there and root for Paraguay.
That's it. Have a great week even if you are not from Paraguay.