Page 2
It's a simple idea: Page 2 writers compile a list that in some way summarizes the year. The form is freestyle. Here's what we came up with.
Favorite Surprises
By Eric Neel
Yes, favorites usually cover and yes, you can bet the farm that certain familiar story lines will repeat ad nauseam (wonder what TO's up to today?), but when it's all said and done, we follow sports because they do manage to surprise us, because things you never could have predicted happen every year.
My 10 favorite surprises of 2006: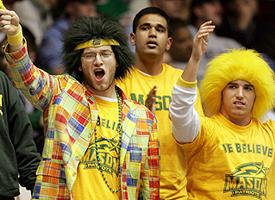 We all joined the George Mason bandwagon back in March.
1. George Mason makes the Final Four. The winningest losers in the history of the tournament. There are big-time cultural divides in this country -- left and right, rich and poor, religious and secular -- but the Patriots united us. If you have a pulse, you were pulling for George Mason.
2. Vince Young leads the Titans to eight wins, including six in a row. So, um, can we now officially scrap the Wonderlic?
3. The Saints have a legit shot at the Super Bowl. At the beginning of the season, given all that's happened to New Orleans since Katrina, our hopes were modest: "Dear Football Gods, please don't let Reggie Bush flop or blow out his ACL or some such badness. Pleeeease." But what's happening now -- the way Bush and Brees are tearing it up, the way the rest of the NFC is falling down -- this is too much to hope for, this is just ridiculously fine and just and sweet.
4. The Tigers play in the World Series. Such a shock, such a thrill, they had to share it, one spraying bottle of champagne at a time, with ecstatic fans who crowded the dugouts at Comerica. The party was genuine and frantic, and it trumped every clubhouse celebration you'll ever see.
5. David Eckstein dominates the World Series and wins the MVP award. Is "The David Eckstein Story" in production yet? Is anyone bold enough to write the preposterous script?
6. Rutgers University football goes 11-2 and wins a bowl game. And as if that's not enough, the Scarlet Knights coach, courted by big-time programs including Miami, says he wants to stay put, and keeps his word.
7. The Heat win the NBA title in six games. I was certain it would be a four-game series. I was absolutely convinced Dallas would wipe the floor with them. I had no doubts it would be a yawner of a series. Dwyane Wade had other ideas.
8. Kobe Bryant scores 81. I don't care if he shot too much. I don't care if it came against the lowly Raptors. The night was historic, more impressive than Wilt's 100, and though we knew he was great, we had no idea he could put up a number like that. In regulation? On jump shots? Insane. Beautiful.
9. Zinedine Zidane head-butts Marco Materazzi. I know it's bad, and I know if I were a French soccer fan it would be beyond bad, but I swear it makes me laugh every time I see it.
10. Allen Iverson ends up happy. Wearing powder blue, no less.
2006 Goes Pop
By Mary Buckheit
A sorry excuse for me to break down my very favorite songs of 2006 in almost no particular order ...
"TONY THE BEAT" by THE SOUNDS goes out to a certain QB in Dallas and the subsequent RoMania that ensued.
To the suffering Arizona Cardinals, I offer the so-poppy-it's-cathartic "CONSOLATION PRIZES" by the band PHOENIX.
The soundtrack to Tiger's world domination is provided by the YEAH YEAH YEAHS with their single "PHENOMENA."
To the struggling Lefty Mickelson (who played like a self-proclaimed idiot in '06), goes the concertedly optimistic tune "I DON'T FEEL LIKE DANCIN'" by the SCISSOR SISTERS.
To Eli in his not-so-Giant junior effort, I ship out the sympathetic "CAN'T GET IT RIGHT TODAY" by JOE PURDY.
For Barbaro, the Kentucky Derby winner who enchanted a nation, I lead the chorus of "I won't let them take you, hell no, oh no," in "ALIVE WITH THE GLORY OF LOVE," a passionate power chord concoction from SAY ANYTHING.
Kurt Snibbe
"THE SECRET'S IN THE TELLING," my favorite from DASHBOARD CONFESSIONAL this summer, is dedicated to Barry by the Bay.
San Francisco's other Barry and his hefty new contract warrants the sexy smash "OOH LA LA" from GOLDFRAPP.
To the Philadelphia 76ers, who couldn't capitalize on the sexiest skill set in the NBA, I blast TIGA's "YOU GONNA WANT ME" like Lloyd Dobler standing outside your arena holding a boombox over my head.
To Sid The Kid Crosby goes THE KILLERS hit "WHEN YOU WERE YOUNG" belted out by baby-faced frontman Brandon Flowers himself.
To ever-resilient Tom Brady, on the cusp of his breakup with Bridg, I send out "YOU ARE WHAT YOU LOVE" by JENNY LEWIS AND THE WATSON TWINS. (Ms. Moynahan, this "MANEATER" is for you, by NELLY FURTADO.)
"BELIEVE THE LIE" by UMPHREY'S MCGEE goes out to cycling fraud Floyd Landis and his B-side sample.
To French head-butting soccer star Zinedine Zidane and his trash-talking Italian counterpart Marco Materazzi, I offer BEN HARPER's electrically escalating single "(I BELIEVE IN A) BETTER WAY."
For the long ride home from the poor showings in world competition, I can only hope America's athletes had THE RED PAINTINGS' manic track "MAD WORLD" on those hanging head(phone)s.
"SUNSHINE" by Huntington Beach's own MATT COSTA goes out to Misty May-Treanor and Kerry Walsh-Jennings, who together continue to dominate the sands of pro beach volleyball.
To the St. Louis Cardinals, who quickly extinguished the Tigers' World Series hopes, I offer you "TURN OUT THE LIGHT" by THE NEW AMSTERDAMS.
And for Detroit, here's "SAD SAD CITY" by GHOSTLAND OBSERVATORY.
"BREATHE ME" by SIA goes to darts player Robbie "Kong" Green, who drug tests allege has been "inhaling" on quite a regular basis this year.
To Big Ben, who has had a rough road since driving The Bus and his Steelers to a Super Bowl in 2006, I send out the somber "HYPNOTIZED" from ANI DIFRANCO.
To my boy Bode Miller, who I can't help but heart, I dedicate a confused YO LA TENGO's "SOMETIMES I DON'T GET YOU."
Finally, I dub "INDESTRUCTIBLE" from MATISYAHU the title track of NBA Finals MVP Dwyane Wade, who remains the pillar of class in a league that had a less than classy year.
(Check out Mary's Mega Mix '06 at the iTunes music store.)
The List to End All Lists
By Patrick Hruby
In no particular order, here are my top nine lists of 2006: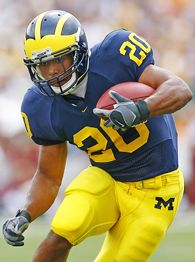 Leon Halip/WireImage.com
Admit it: Without the BCS rankings, college football would be a lot less fun.
1. The BCS Rankings
Quasi-objective data. Utterly subjective conclusions. Fodder for endless, impassioned and ultimately futile debate. Simply put, the BCS rankings have everything a good sports list needs. Kudos, greedy major conferences. You've outdone yourselves. Yet again.
2. The 79 Recommendations of the Iraq Study Group
In the immortal words of Micheal Ray Richardson, the ship be sinking. Yet somehow, if we can just hit every bullet point on a 79-item checklist, we might make it to dry dock. Sweet! And no worries: If there's one thing the current administration is good at, it's executing complex plans in competent, effective fashion.
3. League Standings
Without them, the games would be meaningless. Er, more meaningless. Whatever.
4. WHATEVER IS ON E! RIGHT NOW!
50 Most Shocking Celebrity Oops! Moments. 100 Hottest Hotties. You have to hand it to the folks at E! Not only are they cheerfully redundant but they've also cracked basic cable's Da Vinci code. Take reams of B-roll red carpet and movie junket footage you already own the rights to. Add snooty British-sounding narration, or maybe some will-work-for-exposure D-list comedians. Break into tiny chunks, the better to soothe itchy remote control fingers. Set intelligence level to functionally illiterate. Voilà! It's the natural devolution of Ken Burns' Civil War documentary, a programming template that costs peanuts to produce, can be broadcast over and over and still generates oodles of advertising revenue. List TV is like List Literature: cheap, easy and oddly irresistible.
5. Weekly Box Office Numbers
Finally: definitive proof that the only thing worse than paying to see "Snakes on a Plane" is finding out that most of America wasn't dumb enough to join you.
6. The New York Times Best-Seller List
Of the top five hardcover advice tomes, three are cookbooks. The other is a diet manual. Oh, and another one of Mitch Albom's Great American Hallmark Cards leads the fiction list. This is ourrrrr country!
7. Binary Code
Essentially, a list of zeros and ones, without which our high-tech, iPod-addled society would collapse. The InterWeb was big this year, right?
8. TV Guide
Essentially, a list of scheduled television programming. How a magazine like that manages to keep on truckin' in an era of on-screen program schedules -- like, for instance, the TV Guide Channel -- is simply astonishing, a true wonder of the modern world.
9. Blogs
Essentially, lists of half-developed ideas, usually commenting on someone else's actual work.
Best Digested With a Glass of Milk
By Paul Lukas
My topic: 10 Best Hydroxes.
The concept: Remember Hydrox cookies? They were almost exactly like Oreos, but just a little bit different and a whole lot better. Life is full of such pairings, where there's a slightly off-center item that's a whole lot better than its very similar and more popular counterpart.
For example:
1. Odd numbers are better than even numbers.
2. New Zealand is better than Australia.
3. Chuck Berry is better than Elvis.
4. Silver is better than gold.
5. A menu that lists "shrimps" is better than a menu that lists "shrimp."
6. White Castle is better than McDonald's.
7. Waffles with lots of little dimples are better than waffles with a few huge dimples.
8. Pipes are better than cigars.
9. White roses are better than red roses.
10. Left-handedness is better than right-handedness.
The Ins and Outs of 2006
By Gregg Easterbrook
| | |
| --- | --- |
| OUT | IN |
| Spiking | Spitting |
| "Your Honor, it wasn't me" | "Your Honor, it's me again" |
| Breathe Right on nose | Wristbands on elbows |
| Randy Moss | Chad Johnson |
| Brief, dignified retirement announcement | Six-month farewells |
| Quarterback sneak | The flip play |
| Eli Manning | Tony Romo |
| Matt Millen | Anyone chosen at random from the Detroit phone book |
| Coaching at Alabama | Coaching in high school |
| ESPN phones | ESPN HD |
| Brett Favre | Brett Favre? |
| Sports Illustrated curse | Madden curse |
| All-black alternate uniforms | The New Zealand All Blacks |
| Running up the score | Style points |
| Hummers in the players' lot | Priuses in the players' lot |
| Aging Brits sing at Super Bowl | Kanye West at Super Bowl |
| Hoodies on sideline | Suits on sideline |
| "American Idol" | "Friday Night Lights" |
| Pittsburgh Steelers | San Diego Chargers |
&nbsp:
Simply the Best
By Jim Caple
The best of the best of 2006: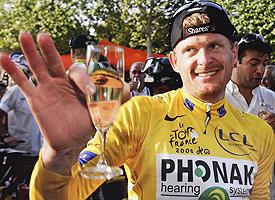 Andy Lyons/Getty Images
No matter the accusations, Floyd Landis should be toasted for his Tour de France performance.
Top performance: Floyd Landis coming back from his epic bonk in Stage 16 to win Stage 17 of the Tour de France. Frankly, I don't care whether he was on something. But although I'm not naive, I do wonder how a guy could test clean one day, test positive for performance enhancers the next, then be back to normal the very next day.
Most inspiring performance: Joey Cheek donating his Olympic gold and silver medal bonuses to Right to Play. At first I wondered why he donated all $40,000 of his Olympic medal bonuses to a charity. After covering his visit to Zambia and seeing the need firsthand, I wonder why the rest of us don't do something. (By the way, you can donate to the charity yourself here.
Best game: No. 11 seed George Mason beats No. 1 seed UConn in OT to reach Final Four. And it was especially rewarding to see after the way my Washington Huskies got hosed the previous game against UConn.
Most overhyped performance: Barry Bonds as he ever so slowly passed Babe Ruth for second place on the home run list. A friend of mine came back from covering the war in Iraq and was assigned to cover the Bonds chase. Halfway through the ordeal, he decided to go back to Iraq.
Funniest performance: The glare Italy's Barbara Fusar Poli gave Maurizio Margaglio when he dropped her with seconds remaining in their ice dance routine at the winter Olympics. I think all husbands have seen that look at some point.
Best inning: The Dodgers hitting back-to-back-to-back-to-back home runs to tie the score in the ninth. Even as a longtime Giants fan, I wish I had been at that game.
Best movie: "Talladega Nights." It's uneven and nowhere near as good as Will Ferrell's "Old School," but amid a flood of "inspiring" sports movies, this was a breath of fresh air. (Best non-sports movie: "Little Miss Sunshine," easily the best in what might have been the worst year ever for movies.)
Best book: "Game of Shadows." And to think, authors Mark Fainaru-Wada and Lance Williams might go to jail for it. (Runner-up: "Berlin Games," by Guy Walters.)
Best Books
By Tim Keown "The Road" by Cormac McCarthy
McCarthy's latest masterpiece ranks among the finest novels of the past 25 years. Spare, intense, searing, the story of a nameless father and son navigating a postapocalyptic landscape somehow manages to be uplifting. In a book where amoral cannibals threaten on nearly every page, uplifting is tough to pull off. With every novel, McCarthy stakes his claim as one of America's greatest novelists.
"The Lay of the Land" by Richard Ford
The concluding book in Ford's trilogy depicting the life of sportswriter-turned-real estate agent Frank Bascombe is perfectly imperfect. Some reviewers have criticized Ford for the sprawling, bloated nature of this novel. But that's the point: Life is sprawling and bloated and mostly disjointed. We could all use a good editor. But as Bascombe ages, he has fewer answers and more questions, and this book reflects what he calls The Permanent Period -- another term for Pre-Death Period -- in all its wandering, uncertain poignancy.
"In Persuasion Nation" by George Saunders
Just because nobody else alive writes sentences like, "Then the GrandeChickenBoatCombo beats its wings and its sails and floats up around Lincoln's head, ramming his tophat off, spraying him with salsa from its Mini-Salsa Cannons."
"Black Swan Green" by David Mitchell
Thirteen months in the life of 13-year-old Brit Jason Taylor. Mitchell has a gift shared by a select few novelists, guys like Ian McEwan, Russell Banks and the late Wallace Stegner. He pulls you into a common life in a common setting and makes you see an aspect of the world -- in this case, adolescence -- in a completely different way.
"The Blind Side" by Michael Lewis
It's always amazing to see how well the pieces manage to fit in a Lewis tale, and there are some moments of divine intervention here as well. Still, even if you have trouble with some of the smaller stories -- such as the time high school offensive tackle Michael Oher picked up a large defensive lineman and drove him off the field and toward the team bus -- you have to be impressed with the larger one. And whether Lewis intended the remarkable story of the care and feeding of a football prodigy to be an indictment of the whole student-athlete system, it served the purpose well.
"The Body of Il Duce: Mussolini's Corpse and the Fortunes of Italy" by Sergio Luzzatto
OK, here's the deal: After Mussolini's death, his body was stolen and exhibited throughout the country like a circus sideshow. People took turns throwing stuff at it and spitting on it. This weird national purge, as Luzzatto points out, had a deep impact on Italy's recovery from World War II. But even without the social significance, the general weirdness of the whole episode makes it worth reading. Technically not published in '06 -- Luzzatto's work was published in Italy in 1998 but not translated till late '05 -- it was the oddest good book I read this year.
"The Places in Between" by Rory Stewart
Dude walks across Afghanistan, in winter, a few months after the fall of the Taliban. Lives to write about it.
The List Bowl
By Thomas Neumann
Page 2 is disappointed that only 32 college football bowl games will be contested this season. That means only 64 of the 119 Division I-A teams (a mere 54 percent) get to enjoy the binge-drinking opportunities and free swag that bowls offer. So we propose adding these soon-to-be-classic games.
AP Photo/Gerry Broome
It's about time Duke football gets rewarded with a bowl game.
No Team Left Behind Bowl
At Nassau, Bahamas
Duke (0-12) vs. Florida International (0-12)
By being staged in the Bahamas, legal on-site betting on this game would not only be allowed, but encouraged. Because why else would anyone watch?
Odor-Eaters Fresh Start Bowl
At Cincinnati
Stanford (1-11) vs. North Texas (3-9)
Both of these schools have recently hired new coaches, and Page 2 says they deserve a chance to plug in their new schemes right away. This would give Jim Harbaugh and Todd Dodge a head start for next season, and obviously they could use it. Cincinnati, already accustomed to giving athletes a fresh start, plays host to the inaugural game.
Deadflataverage.com Bowl
At Normal, Ill.
Kansas (6-6) vs. Arizona (6-6)
Rules were changed this season, and one result is that 6-6 teams can get into bowls. Florida State, Iowa, Miami, Minnesota, Oklahoma State, Alabama and New Mexico all got bowl berths with a .500 record, so why not these schools, too? Our apologies go out to Pittsburgh (6-6), Wyoming (6-6), Southern Methodist (6-6), Kent State (6-6), Louisiana-Lafayette (6-6) and Arkansas State (6-6), who were passed over. Blame the BCS.
Dissed by Dennis Erickson Bowl, presented by Ericsson
First half in Pullman, second half in Moscow
Washington State (6-6) vs. Idaho (4-8)
These two schools, separated by only about 10 miles, share the distinction of being brushed aside by Erickson when a better opportunity came along. Oregon State wanted a berth in this game. But Idaho gets the nod instead, having been abandoned by Erickson twice.
Back to the Future Bowl
At Hill Valley, Calif.
Army (3-9) vs. Florida Atlantic (5-7)
It's a matchup of two former national championship coaches, Bobby Ross and Howard Schnellenberger, trying to build programs from the ground up. Don't miss Huey Lewis and the News' halftime performance and the presentation of the Marty McFly MVP trophy.
Jack Daniel's Punch Bowl
At Lynchburg, Tenn.
San Diego State (3-9) vs. Colorado (2-10)
This game might not settle much on the field, but we're pretty sure the parties afterward will determine who gets the top spot in the party school rankings. Jack Daniel's serves as title sponsor, as the Aztecs and Buffs were sour-mashed with regularity this season.
The Best of James Brown
By Bomani Jones
May he rest in funk ...
1. "The Payback." Check this lyric. "Don't do me no dern favors/I don't know karate, but I know ka-razor/yes he do!" Nope, James wasn't the one to mess with.
2. "Doin' It to Death" (live version from "When We Were Kings"). Incredible bass line.
3. "It's a Man's Man's Man's World." But it wouldn't be nothin' without a woman or a girl.
4. "Papa's Got a Brand New Bag." One of the first funk records ever.
5. "Get Up (I Feel Like Being A) Sex Machine." "The way I like it is the way it is/I got mine and don't worry 'bout his." Amen.
6. "Down and Out in New York City." Poignant portrait of poverty.
7. " Give It Up or Turn It Loose" (live version from "Sex Machine"). Chuck D's dead on -- this is one of the blueprints of hip-hop.
8. " I Got You (I Feel Good)." Still dope, even though it's been played to death.
9. "The Boss." "Lock, Stock and Two Smoking Barrels" wouldn't be as good without it.
10. "Woman." Longer on passion than insight. But long on passion.
Ten Things That Irked Me
By LZ Granderson
When Texas beat USC in the Rose Bowl, I knew 2006 was going to be full of colossal upsets. What I didn't know was just how many of these disappointments would come from the world of pop culture. I'm not just talking about the celebrity splits and "Snakes on a Plane" (though I totally didn't see the Lance Armstrong/Sheryl Crow thing coming). But for some reason, this year just felt like it had more unforeseen pop culture bummers than in years past. Anyway, here are the 10 that irked me most:
10. "Crash" wins Best Picture Oscar
It's not so much that "Brokeback Mountain" didn't win as much as that this mind-numbing-hey-let's-make-this-scene-slow-motion-so-the-audience-knows-they-are-supposed-to-feel-something-here film won. I hadn't felt this dissatisfied by a result since W got in in 2000.
9. O.J.'s book
Although it's disturbing the book was even written, the real rub is that deep down inside we all know it would have topped the NYT best-seller list had it been released.
8. "The Wire" goes another year without an Emmy.
Is it because no one on the show is hot enough? Is it too raw? Is it because you can't figure out who the bad guys are? Is it because it's too original? Seriously, what is it?
7. The retardation of Janet Jackson
All those magazine covers and TV appearances to promote a new album that sounded a lot like your previous four. You're still hot boo, but instead of competing against younger sex kittens mimicking your old shtick, why don't you come up with a new one for them to follow?
6. Michael Richards kills Kramer
I haven't seen a "Seinfeld" episode since the rant, and I can't even say "yadda, yadda, yadda" without getting nauseous.
5. Timbaland is not nominated for Producer of the Year Grammy.
He brought Nelly Furtado back from the dead with "Promiscuous" and solidified Justin's place in pop with "SexyBack". Don't front, you know those beats were the year's best.
4. Speaking of snubs, how did this track not get a nod?
3. Mel Gibson's "Apocalypto" opens at No. 1.
I guess in a year where Trent Lott can ascend back into power, I shouldn't be that surprised.
2. Katie Couric moves; CBS spends $15M a year for old news.
Attention gray suits: It doesn't matter who is reading the teleprompter at 6 p.m. The fact is anyone who wants up-to-the-minute news is either logged on somewhere, out capturing it on their video phones or too busy pulling a double. The rest of us don't care.
1. Weird Al declares hip-hop is dead
"White and Nerdy" was supposed to be a parody, not better than the original. But when the bar is set so low, it doesn't take much to jump over it. And if that isn't enough to convince you that hip-hop is following in disco's footsteps, take a look at this year's top video on the Great American Country channel.
The Top 10 Movies
By Daniel Dodd
(Note: Daniel works for SportsNation, not Page 2, but he is ESPN.com's resident movie critic.)
1. "The Queen": Helen Mirren is a lock for Best Actress Oscar.
2. "49 Up": We met the characters when they were 7, and now they are 49. Growing up sucks.
3. "The Departed": This flick makes Jack Nicholson even cooler than before. Was that even possible?
4. "United 93": A fitting tribute to those who lost their lives trying to thwart terrorism.
5. "Neil Young -- Heart of Gold": If only we could all have our favorite artist captured on film this way.
6. "13 Tzameti": For weeks, every time you see a lightbulb turn on, you will think of this movie.
7. "51 Birch Street": Just how well do you know your parents? How well do you want to know them?
8. "Half Nelson": Will bring back memories of your favorite teacher who was flying high on crack while trying to widen your horizons.
9. "Heart of the Game": Bypass the Hollywood sports recyclables and seek out this documentary about a real-life basketball drama.
10. "Little Miss Sunshine": Greg Kinnear is really underrated. Yeah, I said it.
The Numbers Don't Lie
By Kurt Snibbe
My top 10 most notable statistics of 2006:
(10) Barry Bonds hit-by-pitch total for 2006. He was intentionally walked 38 times.
(9) Shaquille O'Neal's point total in Game 6 of the NBA Finals -- enough to win him his fourth ring.
(8:08) The gap between Floyd Landis and the overall Tour de France leader before stage 17.
(7-70) The Seattle Seahawks' penalties in Super Bowl XL.
(66) Total aces for 2006 U.S. Open champion Roger Federer during the tournament. Runner-up Andy Roddick had 102 in the event.
(5) Number of Cuban batters Daisuke Matsuzaka struck out in four innings of the World Baseball Classic final.
(4.65) Average number of birdies per round for Tiger Woods, best in the world.
(3) Vince Young's rushing touchdowns in the BCS Championship Game against USC.
(2) Kobe Bryant's assist total in his 81-point game against the Toronto Raptors.
(1) The number of red cards given in the World Cup final between Italy and France.
Best of 2006
By Scoop Jackson
Music (tie): Christina Aguilera, "Back To Basics" (Disc 1); Lupe Fiasco, "Food & Liquor"
Book: "Mandela: The Authorized Portrait" by Mac Maharaj and Ahmed Kathrada
Film: "When The Levees Broke" (HBO)
Movie: "The Departed"
TV: "The Wire"
Model: Jaime Cloud
Performance (film): Sophie Okonedo and Chiwetel Ejiofor ("Tsunami: The Aftermath")
Performance (movie): Jennifer Hudson, "Dreamgirls"
Performance (television): Julito McCullum, Tristan Wilds, Maestro Harrell, Jermaine Crawford ("The Wire")
Watch: Chanel J12 Superleggera (white face)
Tech: Samsung Blackjack (Cingular)
Writer: Barack Obama
City: Dubai
Trend: Divorce
News Article/Story (tie): "50 Bullets, One Dead, and Many Questions" (New York Times, Dec. 11); "Open Wounds," Day 1, Chicago Tribune special report, Aug. 13
Health: Naked juice
Shoe: Zoom Lebron IV NYC graffiti edition LE (Nike)
DVD: "The Thundercats"
Whip/Car: Lexus GS 450H
Interview: Dustin Hoffman on "Inside the Actors Studio"
Cologne: Royal Bain de Champagne (Caron)
Woman: Nancy Pelosi
Man: Spike Lee
Song: "I Understand" by Smokie Norful