Philip Ozersky works the same job he did back in 1998 when he caught Mark McGwire's 70th home run ball.
Michael Lasky, the founder of the Psychic Friends Network, was so rolling in cash in September 1996 that he paid a $280,000 annuity to the fan who caught Eddie Murray's 500th home run ball.
At least Ozersky pocketed $2.7 million and purchased a bigger home in the St. Louis suburb where he lives.
WHAT THEY WENT FOR
Some sale prices for famous home run balls:

Mark McGwire's 70th from 1998
$3 million

Hank Aaron's 755th
$650,000

Barry Bonds' 73rd from 2001
$517,500

Eddie Murray's 500th
$280,000

Barry Bonds' 715th
$220,100

Sammy Sosa's 66th from 1998
$150,000

Mickey Mantle's 500th
$144,000 (sold last week)

Babe Ruth, first homer hit at Yankee Stadium
$126,500

Barry Bonds' 70th from 2001
$14,400 (sold last week)

Mark McGwire's 62nd from 1998
$0 (ball given to McGwire)

Ken Griffey Jr.'s 500th
$0 (ball given to Griffey for other memorabilia)

Alex Rodriguez's 500th
Up for sale ... estimates range from $50,000 to $100,000

Lasky's company went bankrupt in 1998 and the Murray ball -- not exactly a hot collector's item in the first place -- now sits in the Babe Ruth Museum in Baltimore.
The moral of the story? Well … there's a sucker born every minute, isn't there? If you're the fan who catches Bonds' 756th home run ball, remember this: 757 becomes the new record. Sell. Quickly.
A look at the stories behind some famous home run baseballs.
Hank Aaron's 755th: Sold for $650,000
No story beats the tale of Aaron's final home run. When Aaron homered off Dick Drago of the California Angels at Milwaukee's County Stadium on July 20, 1976, nobody knew it would be the final homer of his career; after all, there were two months left in the season. Aaron would play 23 more games but go homerless.
A part-time Brewers groundskeeper named Richard Arndt retrieved the ball and agreed to hand it over if he could meet Aaron. Told that Aaron was busy packing for a road trip, Arndt turned down the club's offer of an Aaron bat and a signed baseball.
The next day Arndt was fired -- for not returning club property. He was even docked $5 on his final paycheck.
Arndt would keep the ball for over 20 years before finally selling it at auction in 1999 for $650,000 to Andrew J. Knuth, a money manager from Westport, Conn. Knuth has said he'll keep the ball in his family or give it to the Hall of Fame. (Click here for more to this strange story.)
Mark McGwire's 70th: Sold for $3 million
Ozersky was a 26-year-old research scientist attending the final game of the 1998 season with co-workers from Washington University. After he caught the ball, the Cardinals tried to persuade Ozersky to give the ball to McGwire. According to Ozersky, he wanted to meet McGwire, but the Cardinals refused to negotiate. Unlike groundskeeper Tim Forneris, who had retrieved Big Mac's 62nd homer that broke Roger Maris' record and simply handed the ball over to McGwire, Ozersky put the ball up for sale.
Smart move. A few months later, Todd McFarlane, creator of the Spawn comic book franchise and avid sports fan, paid $3 million for the ball. Bidding had started at $400,000 and quickly rocketed past the expected $1 million price. After the $300,000 commission, Ozersky was $2.7 million richer.
McFarlane also owns McGwire's 67th, 68th and 69th home run balls. He paid $50,000 for No. 67 and $55,000 for No. 68. McFarlane would later have his collection of balls, which included several Sammy Sosa balls from the historic 1998 home run chase, tour the country to raise money for charity.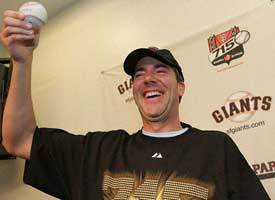 AP Photo/Tony Avelar
Andrew Morbitzer would cash in on Bonds' 715th home run for $220,000 -- minus the peanuts.
At the same auction where McFarlane purchased No. 70, Sosa's 66th home run ball from '98 (his final homer of the season), was sold for $150,000 to Irwin Sternberg, who owned a neckwear manufacturing company.
As for Ozersky, he still works at Washington University and eventually married the girlfriend he went to the game with back in '98.
Barry Bonds' 73rd: Sold for $517,500
Ozersky's cash-in helped create a mad fight of greed when Bonds slugged his final home run of 2001 at San Francisco's Pac Bell Park. Fans Patrick Hayashi and Alex Popov famously fought and litigated over ownership of the ball. In December 2002, after a 14-day trial, Superior Court Judge Kevin McCarthy ruled the ball must be sold with proceeds split equally.
SOME OTHER BALLS
The Bartman ball
$113,000. Grant DePorter, the managing partner of Harry Caray's restaurant, purchased the ball at auction from a lawyer who ended up with it. The restaurant then famously exploded the ball in an attempt to rid the Cubs of their curse.

The Buckner ball
Actor Charlie Sheen once paid $93,000 for the ball, although it now belongs to collector Seth Swirsky.

Ball autographed by Babe Ruth and Roger Maris
$60,000

Red Sox win World Series ball
First baseman Doug Mientkiewicz caught the final out of the 2004 World Series and said the ball belonged to him. The Red Sox claimed it as theirs. In April 2006, the two reached a settlement and the ball is now in the Hall of Fame.

White Sox win World Series ball
First baseman Paul Konerko caught the final out for the White Sox, ending their even longer World Series drought. He gave the ball to team chairman Jerry Reinsdorf.

The Shot Heard 'Round the World
Lost to history ...
In June of 2003, the ball finally went up for auction (televised live on "SportsCenter") -- and McFarlane swooped in again, although the purchase price fell far below the $1-2 million pre-auction estimation. Hayashi and Popov split $450,00 after the commission -- but considering their legal bills, it was unclear whether the two actually ended up profiting from their experience.
Barry Bonds' 715th: Sold for $220,100
Giants fan Andrew Morbitzer had the best trip to the concession stand in baseball history. On May 28, 2006, despite Bonds coming up and being on the brink of passing Babe Ruth for second place on the all-time home run list, Morbitzer left his seat in the center-field bleachers to get some peanuts.
Bonds blasted his home run, and the ball bounced off a couple fans, down the concourse and into the concession area, where Morbitzer picked up his lucky ball. That August, he put the ball up for sale on eBay, where it was purchased by Symbolic Collection, an exotic automotive and collectibles business.
The ball was put back on eBay last month, with a reserve bid of $375,000. The high bid was only $26,100.
Eddie Murray's 500th: Sold for $280,000
Finally, we get to the story of Murray's 500th home run, which he hit in September 1996, before the McGwire/Sosa home run craze sent the sale prices of balls into the stratosphere.
Michael Lasky, a Baltimore businessman who had started the Psychic Friends Network (and also operated as a syndicated handicapper under the name of Mike Warren), paid fan Dan Jones $280,000 into an annuity that would be paid out over 20 years (making it worth as much $500,000 to Jones).
Apparently, none of Lasky's psychic friends told him what his future foretold. Not only had he drastically overpaid for a ball that was simply a milestone home run by an unpopular player (at the time, no ball had ever sold for near that amount), his wealth would take a huge hit over the next two years. His company went bankrupt in 1998.
So, there you have it. If you're the lucky fan who catches 756, may you have a Michael Lasky in your future.
756: BONDS PASSES AARON

Barry Bonds passed Hank Aaron to become Major League Baseball's new all-time home run leader when he belted No. 756 off Washington's Mike Bacsik.

NEWS
• Steroid talk kept Aaron away
• Bonds' No. 756 ball fetches over $750K in auction
• Mark Kreidler: No. 756 ball: Going, going... sold?
• Bids begin for Bonds' No. 755 and 756 HR balls
• Bonds handed key to city in San Francisco tribute
• Fan putting 756 ball up for auction
• Bonds hits No. 756
• Photo gallery of No. 756
• Diamond Daily: Ascending the throne
• New York man catches ball
• Bush called to congratulate Bonds
• Sadaharu Oh congratulates Bonds
• Selig meets with Mitchell instead
• Attorney keeping Bonds apprised of BALCO
• Action figures ready to hit shelves
• Aaron might "eventually" speak to Bonds
• Bonds gear goes on display at Hall
• Record-tying ball set for auction block


ANALYSIS
• Rob Neyer: Who's chasing Bonds?


• Keith Law: Up-and-coming sluggers


• Buster Olney: No comparing Bonds


• Rob Neyer: Don't forget Aaron's greatness


• Jim Caple's Off Base: Simply regret-a-ball
• Eric Karabell: Bonds' fantasy value


• Jim Caple: Aaron passes torch to Bonds
• Gene Wojciechowski: Barry has broken record
• Experts: Bonds as the new HR king
• Amy Nelson: How much will the record ball fetch?
• What they're saying about Bonds
• Tim Kurkjian: What if ...
• Jim Caple: Joining the masses in hopes of 756
• Eric Neel: Long-awaited No. 755 is one to savor
• Debate: Who's the greatest slugger of all time
• Imagine Sports: How would Aaron fare today?

SPORTSNATION
• Rank: Who could break Bonds' record?
• Poll: Do you consider Bonds the real HR champ?
• Rank: Is it the most respected sports record?
• Rank: Who are the greatest all-time HR hitters

VIDEO


• Watch Bonds hit No. 756
• Bonds on finally hitting No. 756
• Bonds still has more baseball in him
• Mike Bacsik on giving up No. 756
• Kirk Rueter on Bonds' achievement
• Hall of Fame case for Bonds
• Baseball Tonight breaks down No. 756
• Dusty Baker talks about Bonds
• Bonds speaks after breaking record
• Bonds: "The hardest part is over"
• Baseball Tonight: Is an asterisk needed?

AUDIO


• Baseball Today: Giants GM Brian Sabean
• Pedro Gomez: Bonds' record chase
• Mike Bascik Jr./Sr: Father, son on No. 756

• Buster Olney: Bonds is greatest of his time

• Bob Costas: Record handled with class

• Peter Gammons: Selig's eerie message

• Fay Vincent: Bonds' record was exciting

• Ernie Harwell: Accept Bonds as the new king


SPECIAL FEATURES
• Beyond 756 page: Everything on Bonds
• Milestone Meter: From 756 to 300 to 3,000
• ESPN.com: The Best On Bonds
• Slideshow: Reliving Hank Aaron's No. 715

PRE-755 CONTENT
• Jerry Crasnick: Ready to make the call
• Jayson Stark: Kuiper's the anti-Bonds
• Jim Caple: Bonds feeling no pressure
• Tim Kurkjian: Victims of landmark home runs
• Bonds' Town Hall: Did Bonds use steroids?


• Bonds' Town Hall: Did anyone know?


• Bonds' Town Hall: Media witch hunt


• Brokaw: The Long Winter of Henry Aaron

• Beyond 756: Chat with Amy Nelson
ESPN Top Headlines