Commentary
Watching sports for 72 hours straight
Like St. Patrick's Day for drinkers, Super Bowl Sunday is for amateur football fans. Millions of people who think Drew Brees is a rum cocktail will nevertheless spend the whole day eating, drinking and yelling at the TV.
For gridiron connoisseurs, though, the Super Bowl is an anticlimax. It's a five-hour stream of commercials occasionally interrupted by a football game -- a last gasp of fun before a long off-season.
The real party comes weeks earlier on New Year's Day, when broadcasters take advantage of a captive and mostly hungover audience to show a 14-hour orgy of bowl games. That's why, each New Year's Day at ESPN Zone restaurants around the country, the Worldwide Leader celebrates the spectacular lethargy upon which it was built with the Ultimate Couch Potato contest.
The UCP is a TV-watching marathon. Duh. The winners get a prize package worth about $4,000, including a flat-screen TV, a custom recliner, and free satellite or cable for a year. Again, duh.
[+] Enlarge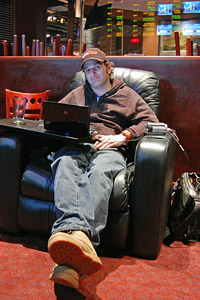 Brian Hanover / ESPN ZoneWatching sports on the big screen all day sounds great. But try doing it for 72 hours straight.
The rules are simple. Contestants must sit in their big, cushy recliners in front of the ESPN Zone's main bank of televisions. That's a 13-by-16-foot projection HD screen complemented by a dozen 42-inch HD plasma screens, six on each side. Contestants must stay awake and must watch TV -- no reading, texting or talking on the phone. They get all the free food and drink they want (except alcohol) and a legally mandated five-minute stretch each hour. Bathroom breaks come a sadistic eight hours apart.
Therein lies the cruel irony of the UCP. On maybe the best sports-watching day of the year, contestants can't have the slightest bit of fun if they hope to win. ESPN Zones have world-class video games, but contestants can't get up and play them. There is a full bar, but like Tantalus of Greek myth, they are denied a single beer. They can order unlimited free food and drink but can't indulge, or they'll never last between bathroom breaks. Torturous, I know.
And before you ask, the answer's no: They can't use any bedpans or adult diapers. Contest rules are uncomfortably explicit about waste disposal. They include a ban on "external devices" and the reassuring news that "contestants may not soil themselves."
None of these rules, however, applied to me. The folks at ESPN Zone Chicago saved a recliner for me next to the four contestants, and I resolved to stay awake with them as long as possible. Since I was ineligible, though, I wasn't bound by contest rules. I could get up; walk around; play video games; eat and drink whatever I wanted (including alcohol); and, most important, use the bathroom whenever.
These unusual conditions made my participation in the UCP less like an endurance contest and more like a voyage of self-discovery, a spiritual quest. This journey, this voluntary confinement within the best man-cave ever devised, would seek to answer an almost existential question:
Is there such a thing as too much food, drink and football?
After hours of "reporting," I can safely say no, there is not.
Let the games begin
Far too early in the morning on Jan. 1, we met the four UCP finalists. Jerzy Jaworski is a genial safety instructor at O'Hare Airport. Juan Hernandez, a warehouse supervisor, is built like a bulldog. Josh London, tall and boisterous, works as an ad sales executive. Jeff Miller is a real estate investor and the two-time defending UCP champ.
Yes, they all have had girlfriends. No, none live in Mom's basement.
Two hours in, an old friend, Jeff Moberg, arrives. (Bewitched by the giant screen and coddled by free food and drink, Moberg will be sucked into our testosterone-laced lotus land for nearly 14 hours, leaving only after 473 angry phone calls from his wife.) West Virginia and Florida State kick off the Gator Bowl, which also kicks off three hours of weepy hype about Bobby Bowden's last game. The delicious irony is that Penn State versus LSU starts at the same time, vividly demonstrating who won the decades-long "most wins" war between Bowden and Joe Paterno.
With eight minutes left in the NHL's Winter Classic, Dennis Leary comes to center ice. Oh, good. We don't get enough Leary from his TV series, movies and truck ads. Leary tries leading the Fenway crowd in the Red Sox sing-along "Sweet Caroline." The crowd, about half Flyers fans, couldn't care less. Many boo. Major FAIL. Good times.
Florida State wins. It's official -- there are no more Bowdens in major college football. At the postgame news conference, Ann and Bobby Bowden kiss on the lips. In digital HD on a giant screen, the sight is gruesome, yet bizarrely compelling. My eyes burn as if I were staring at the sun, yet it's impossible to look away.
To get the full UCP experience, I've been holding it for the first official bathroom break. With 20 minutes to go, this proves excruciating, and I'm deeply regretting the two beers I had. Watching the last seconds count down, my whole body is clenched. I'm biting my lower lip, legs clamped, knees jiggling madly. The feeling of relief, when it finally comes, is one of the most deeply pleasurable sensory experiences of my whole life. I never want to do it again.
The disappointing Rose Bowl starts. My friend Chris and I spend most of the game arguing whether Oregon's uniforms make the players look more like extras from "Rollerball" or extras from "Logan's Run." Also, Ohio State wins.
Then comes The Hour of Tim Tebow. So much hype over one person masquerading as Sugar Bowl coverage. For a national audience, Tebow's faith makes for an interesting backstory. For ESPN Zoners, who've heard the same angle for years, sitting through the hagiography of this moderately gifted college quarterback -- Tommie Frazier with dimples -- is like a visit to the dentist.
Luke Wilson again. Did his agent not inform him that those AT&T ads would run 4.9 million times a day, thus engendering resentment and anger even among those who once admired his work? Apparently not.
The Tebow Cam? The freaking Tebow Cam?! LeBron James doesn't get his own camera. Peyton Manning doesn't get his own camera. President Obama doesn't even get his own camera. But America needs to watch Tim Tebow walk the sidelines and scratch himself? The filter between my brain and mouth having shut off hours before, I yell, "At least when this is over, we never have to hear the name 'Tebow' ever again!"
"Until the combine," Moberg says. "And then the draft." I groan, because it's true.
[+] Enlarge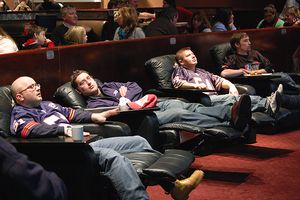 Brian Hanover / ESPN ZoneFree food, free drink -- freaking crazy. One of these men, Jeff Miller, watched an awe-inspiring three straight days of sports coverage.
The contestants' friends and family are filtering in and out. Hernandez has a huge crew. Jaworski and London have friends stop by. Jeff Miller's girlfriend is, surprisingly, hot. Do chicks dig couch potatoes? Are there UCP groupies? If so, yet another reason to fear for the Republic.
Urban Meyer, who begged for attention by announcing he was quitting, then not quitting, then taking a indefinite sabbatical, all within 48 hours, just got snippy when a reporter dared to ask about his coaching future. Classy guy, that Urban Meyer.
OK, we're 16 hours in. Time for the contestants' second bathroom break. There to report, of course, I follow them into the men's room. Here, while asking four grown men how it feels to finally pee, it occurs to me that my career may have taken a wrong turn somewhere.
Twenty hours in. London, shoes off, is leaning way back in his chair. Bad idea. As his eyelids droop, there's a surge of awareness among the other contestants. They share nods and sidelong glances, as no one wants to move much and rouse him. Finally, London drops off long enough for a judge to come over and tap his knee. Without much argument, he calls a ride, shakes everyone's hand and goes home to bed. Lucky man.
After live sports are done for the day, the Zone's production coordinator, George Atsaves, switches the main screen to the NFL Network. They are running the 2006 Patriots-Giants game in which the Pats, going for 16-0, played their starters. Gee, wonder why.
Then Atsaves gets cruelly innovative. They show us MLB Network reruns of last year's ALDS. First, the extra-inning game between the Twins and Yankees -- the horror of Chip Caray in the booth -- followed by Angels-Red Sox, Game 2. He picked baseball, frankly, because it's slow and he wanted to torture us.
Sometime near dawn, a stunner. Jaworski stands and announces he's done. He walks briskly to the bathroom, likely doomed by the single cup of coffee he had hours before. Now, only an invigorated Miller and Hernandez remain. And finally, we have something fresh to watch: pregame coverage for the next day's bowl games.
Twenty-four hours in, and things get foggy for me. Probably because I started drinking again.
I know the day started with a Texas Longhorns basketball game. I remember wondering why the team looked so small and all had long hair. Midway through the first half, I realized it was the Texas women's team. The day ended with Texas Tech's winning the "Pay for Mike Leach's Settlement Bowl."
Everything in between was a blur. Oklahoma State, Connecticut and East Carolina all seemed to play on the same field, and I'm pretty sure Rick Pitino and John Calipari were coaching.
The Zone cleared out for the night, turning spooky. George tells us the overnight programming will be the 2003 World Series of Poker. (Spoiler alert: Chris Moneymaker wins.) Sometime after Norman Chad's umpteenth compulsive pun, my mind started to drift. Fighting off sleep became a physical struggle, like clinging to a rock to keep from being swept over a waterfall.
Suddenly, there's a burst of adrenaline, and I feel as though I could run a mile.
Miller calls it "a very wave-like experience."
"You get your super-highs, where your energy is totally normal, and you feel great," he says. "Then you get these rock-bottom lows, where you have to expend energy just to get through without crashing."
After poker, we're forced to watch a pair of infomercials, a clear violation of the Geneva Conventions. First, an ad for a waterproof men's electric razor. Next, a faux-blonde in her late 40s raves about the life-changing properties of a countertop oven while her paid audience gasps in wonder at the sight of a roast chicken. This journey through the dark heart of American hucksterism, this colonoscopy of the American dream, was a profoundly traumatic experience. We endured, but emerged wounded, feeling violated and emotionally scarred for life.
It's important to note this isn't like watching TV at home. The screen and speakers are massive, battering the brain with Orwellian intensity. You can't look away -- like the opening of "Robot Chicken" or the scene in "Clockwork Orange" in which Alex gets the Ludovico treatment. That sensory overload coupled with sleep deprivation creates wild mood swings. Eventually, a half-hallucinatory state sets in complete with auditory and visual distortions.
I kept thinking my cell phone was ringing when it wasn't and hearing my name when no one had said anything. The room would change shape, seeming to elongate and contract. For a few minutes, I was convinced that a paramedic on duty was giving me sinister looks. He was definitely a spy, or maybe an alien.
As NFL pregame coverage began, the Zone filled again. Like a flipped switch, we get a rush of life. At 10 a.m., having eclipsed 48 hours, we hit euphoria.
Hernandez is grinning and dreamy-eyed. "Right now, I'm feeling on cloud nine," he says. "My perception of things is way off. Things don't seem real at all."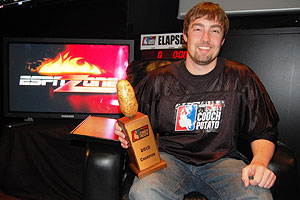 Brian Hanover / ESPN ZoneJeff Miller won his third straight UCP by watching 72 consecutive hours of sports television.
Since Miller won last year after holding out for "only" 39 hours, no one expected the contest to go a third day. With the second wave of NFL games gearing up, it was time to leave Chicago, contest or not. After travel and a few hours' rest, I awoke to learn that Hernandez, despite a champion's heart, fell asleep at 4:21 a.m. on Monday.
Miller lasted all the way to 10 a.m. -- 72 straight hours of watching TV, setting a new world record and retiring a three-time, undefeated Ultimate Couch Potato champ.
"The challenge is way more mental than physical," he says. "Just the sleep-deprivation alone. A lot of people, they just can't handle that kind of craziness."
Hampton Stevens is a contributor to Page 2 and ESPN The Magazine. He also has written for Playboy.com, Maxim, Atlantic Online, the Kansas City Star and many more publications. He lives in Kansas City, Mo., with his girlfriend and two dogs.