The nickname bracket, Round 1
Originally Published:
March 16, 2010
Page 2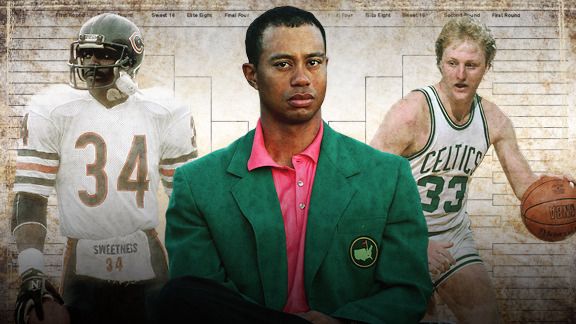 ESPN.com Illustration
After introducing the Field of 64, we now bring the first-round results of our nickname bracket.
We tried to be as arbitrary and illogical as possible.
(Winners in bold)
Baseball Region
First Round
(1) Stan "The Man" Musial
vs. (16) Pepper Martin, "Wild Horse of the Osage"
Any time your nickname has more words than your real name you lose.
(8) Hugh "Losing Pitcher" Mulcahy vs. (9) Ted Williams, "The Splendid Splinter"
Hugh only got the higher seed so he can claim at least one victory -- then Ted freezes him out.
(5) Ron Cey, "The Penguin" vs. (12) Ty Cobb, "The Georgia Peach"
Do your homework, there was nothing peachy about Ty.
(4) Ryan Braun, "The Hebrew Hammer" vs. (13) Bob Ferguson, "Death to Flying Things"
Sorry, Bob. Your nickname has all the panache of a really bad stammered comeback.
(6) Mike Hargrove, "The Human Rain Delay" vs. (11) Babe Ruth, "The Sultan of Swat"
Since he also has "Colossus of Clout," "The Bambino," a youth league and a candy bar -- the Babe moves on.
(3) Reggie Jackson, "Mr. October" vs. (14) Dennis Martinez, "El Presidente"
Who has more juice: a month or a president? Sorry, Reggie -- oh, and your candy bar really looked nasty.
(7) Pete Rose, "Charlie Hustle" vs. (10) Joe Page, "The Gay Reliever"
We're going with Joe after we saw all the action in Vegas on Charlie.
(2) Mordecai "Three Finger" Brown vs. (15) Jimmy Wynn, "The Toy Cannon"
You know what is intimidating about a toy cannon? Exactly.
Basketball Region
First Round
(1) Earvin "Magic" Johnson
vs. (16) Marvin Webster, "The Human Eraser"
Magic makes The Human Eraser disappear. Sorry about that line. We thought we were making bad signs to try to get on TV.
(8) Darryl Dawkins, "Chocolate Thunder" vs. (9) Earl "The Pearl" Monroe
Any name that evokes Homer Simpson's "Mmmm ... " always has an edge.
(5) Dominique Wilkins, "The Human Highlight Film" vs. (12) "Pistol Pete" Maravich
Ooh! Done in by some really fine alliteration. Tough break, 'Nique.
(4) Charles Barkley, "The Round Mound of Rebound" vs. (13) Karl Malone, "The Mailman"
Karl might have won, but Scottie Pippen famously declaring, "The Mailman doesn't deliver on Sunday," after a weekend loss in the NBA Finals really killed his chances.
(6) "Dr. J," Julius Erving vs. (11) John Wooden, "The Wizard of Westwood"
Now, if John Wooden had made a "trust me, I'm a wizard" commercial like Julius did he might have fared better here.
(3) Michael "Air" Jordan vs. (14) Rafer Alston, "Skip to My Lou"
Let's just say skip to my no and move on.
(7) Vinnie Johnson, "The Microwave" vs. (10) Larry Bird, "The Hick from French Lick"
Vinnie once got knocked out cold being The Microwave in Game 7 of the 1987 Eastern Conference finals -- that's dedication.
(2) Jerry West, "The Logo" vs. (15) George Gervin, "The Iceman"
Until there is a National Fingerroll League, Jerry takes this one over George.
Football Region
First Round
(1) "Sweetness," Walter Payton
vs. (16) Rod Smart, "He Hate Me"
He hate going up against the likes of Sweetness and this one was over before halftime ... not really sure what that means here.
(8) Jevon "The Freak" Kearse vs. (9) Elroy "Crazy Legs" Hirsch
Let's go to the JumboTron ... Jevon would probably get a Rick James song, Elroy something by MC Hammer. It was close, but Jevon wins.
(5) O.J. Simpson, "The Juice" vs. (12) "Ironhead" Craig Heyward
Still afraid to bet against Orenthal? Yup, so are we.
(4) "Broadway" Joe Namath vs. (13) Ed "Too Tall" Jones
Sorry, Ed ... but thanks again for hooking me up with some car insurance.
(6) Paul "Bear" Bryant vs. (11) Billy "White Shoes" Johnson
Animal vs. clothing? Have you ever seen what a dog can do to slippers, let alone a bear?
(3) "Mean" Joe Greene vs. (14) Eugene "Mercury" Morris
Put away the champagne, Eugene, you are no longer undefeated.
(7) Chad Ochocinco vs. (10) Johnny "Blood" McNally
You've heard it a million times -- legally changing to your nickname is tough to beat.
(2) Dick "Night Train" Lane vs. (15) Lester "The Molester" Hayes
Night Train is a mean wine and a Guns 'N' Roses song. Molester? Exactly, let's move on.
Miscellaneous Region
First Round
(1) Eldrick "Tiger" Woods
vs. (16) Steve "The Puck Goes Inski" Buzinski
This is where we remind you the first two round of the Masters are on ESPN! And Steve, you should have pushed for "Buzzsaw."
(8) Stu "The Grim Reaper" Grimson vs. (9) "Iron" Mike Tyson
It has nothing to do with this, but the guy tattooed his face on purpose. So let's give him this one.
(5) Dave "Cementhead" Semenko vs. (12) Georges Vezina, "The Chicoutimi Cucumber"
Any name involving a fruit that most people think is a vegetable? Yup, you win, Dave.
(4) Robert Craig "Evel" Knievel vs. (13) Roberto "Hand of Stone" Duran
Hey, Roberto! Ever have a sweet pair of pants made in your honor? Until then, you lose.
(6) Chuck "The Bayonne Bleeder" Wepner vs. (11) Shaun "Flying Tomato" White
Shaun has a couple of gold medals; Chuck inspired Sly Stallone to go home and write "Rocky" in three days. Advantage: Chuck.
(3) Eric "Butterbean" Esch vs. (14) Wayne Gretzky, "The Great One"
Great? That's all you could come up with? Come on Canada, you're better than that.
(7) James "Bonecrusher" Smith vs. (10) Rudolph "Minnesota Fats" Wanderone
When you help shape the life rules of Coach Finstock you win.
(2) Dale "The Intimidator" Earnhardt vs. (15) Usain "Lightning" Bolt
When you're a sprinter and your last name is Bolt, adding the "Lightning" part is like saying "wait for the beep" on your voice mail.