The nickname bracket, Round 3
Originally Published:
March 17, 2010
Page 2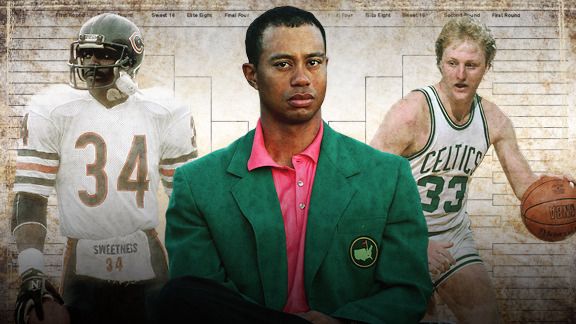 ESPN.com Illustration
We won't take up any more of your time explaining this; we all know you have games to watch work to do.
How we got here:
• Field of 64
• Round 1
• Round 2
(Winners in bold)
Baseball Region
Third Round
(1) Stan "The Man" Musial
vs. (4) Ryan Braun, "The Hebrew Hammer"
Does anyone ever say "Stan" and leave out "The Man"? No. Sorry, Ryan -- the party is over.
(14) Dennis Martinez, "El Presidente" vs. (2) Mordecai "Three Finger" Brown
Before Dennis Haysbert was The President on "24", Martinez had the title for decades. Not sure what that means, but the dude with three fingers is starting to creep us all out.
Basketball Region
Third Round
(8) Darryl Dawkins, "Chocolate Thunder"
vs. (4) Charles Barkley, "The Round Mound of Rebound"
If Sir Charles had
named his moves
(or said he was from Lovetron) he might have won this.
(6) "Dr. J," Julius Erving vs. (7) Vinnie Johnson, "The Microwave"
Stay away from your microwave, it can kill you ... and that's the doctor's orders.
Football Region
Third Round
(1) "Sweetness," Walter Payton
vs. (4) "Broadway" Joe Namath
Actually, when Joe was around the Jets played at Shea Stadium, so shouldn't he be "Flushing" Joe?
(6) Paul "Bear" Bryant vs. (2) Dick "Night Train" Lane
Bryant is often referred to with a "the" in front of his nickname. That definitely adds a little panache. Try it, put "the" in front of anyone you know -- see, you just made them cooler.
Miscellaneous Region
Third Round
(1) Eldrick "Tiger" Woods
vs. (5) Dave "Cementhead" Semenko
With Tiger you don't even need the Eldrick part. With Cementhead, you probably will still introduce yourself as Dave.
(3) Eric "Butterbean" Esch vs. (2) Dale "The Intimidator" Earnhardt
When you intimidate people by driving them off the road at 200 mph, that's cooler than looking like King Hippo from Punch Out.