Texas Rangers: Bush league
Updated:
September 29, 2010, 1:30 AM ET
Page 2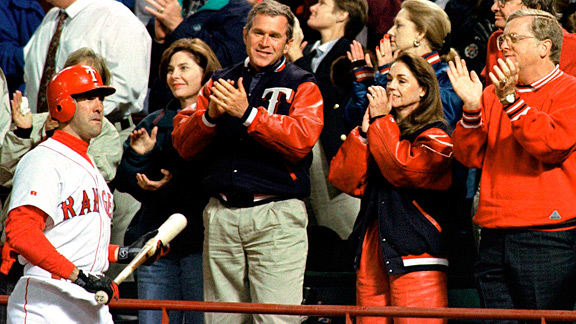 AP Photo/Linda KayeBefore he moved into politics, George W. Bush cheered on Will Clark as part-owner.
One thing about the Rangers: They've had colorful owners through the years. Original owner Bob Short initially served as his own general manager. He sold the team to Brad Corbett, who had made millions in the oil business selling PVC piping, and eventually became known in the media as "Chuckles the Clown." He once broke into tears after a defeat, saying "I'm selling this team because it's killing me. They're dogs on the field and they're dogs off the field." He would storm into the locker room after games. He admitted he once turned down a Toby Harrah-for-Graig Nettles trade proposal on advice from his 14-year-old son.
Corbett kept losing money, so he sold out to Eddie Chiles, another millionaire oilman. When he purchased the team in 1980, Chiles was known for his anti-government radio commercials -- as Time magazine pointed out, even though his company had accepted $108 million in federal loan guarantees to build offshore drilling rigs. One of Chiles' first public statements was to immediately rant against free agent contracts (like the one the team had given to Richie Zisk). He said that he "bought the team as a general civic duty. We have to improve the quality of life here." Not surprisingly, the Rangers soon returned to their losing ways.
Chiles sold out in 1989 to a group that included the son of President George H.W. Bush. All George W. Bush (who would one day say he dreamed of being Willie Mays, not president) did was borrow $500,000 to purchase a small stake in the new ownership group, become the public face of the team, help secure a new ballpark, get elected governor of Texas, and receive $14.9 million when the team was sold in 1998.
But he never realized his dream of being Willie Mays.
---
1 | 2 | 3 | 4 | 5 | 6 | 7 | 8 | 9 | 10 | 11 | 12 | 13 | 14 | 15 | 16 | 17 | 18 | 19 | 20 | 21 | NEXT IMAGE >>