Texas Rangers: Park factor
Updated:
September 29, 2010, 1:34 AM ET
Page 2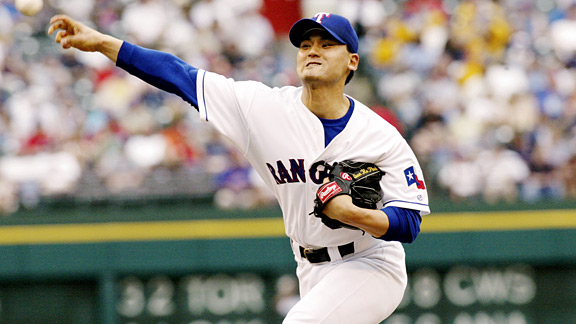 Ronald Martinez/Getty ImagesChan Ho Park finished 22-23 with a 5.79 ERA in his Rangers career.
The Rangers of the early aughts were plagued by some of the worst pitching ever to disgrace the mounds of the major leagues. In 2001, the club posted a 5.71 ERA. We won't embarrass anybody by naming the culprits from that year. But we will call out Chan Ho Park, the symbol of the Rangers' futile attempts to build pitching staffs through the years.
In 2002, the Rangers signed Park (another Scott Boras client) to a five-year, $65 million contract, even though his numbers were good-not-great and helped by pitching in Dodger Stadium. The contract made him one of the 10 highest-paid players in the American League from '02 through '05. The team's ERA fell to 5.15 in '02, but no thanks to Park, who went 9-8 with a 5.75 ERA. In 2003, the team posted a 5.67 ERA as Park went 1-3 with a 7.58 ERA. Park would win just 22 games for the Rangers.
You know, forget it ... let's name some of the other culprits from the decade of misery.
2000: 974 runs allowed, 5.52 ERA (Darren Oliver: 2-9, 7.42 in 21 starts)
2001: 968 runs, 5.71 ERA (Rob Bell: 5-5, 7.18 in 18 starts)
2002: 882 runs, 5.15 ERA (Hideki Irabu: 5.7 ERA as team's closer)
2003: 969 runs, 5.67 ERA (Colby Lewis: 10-9, 7.30 in 26 starts)
2004: 794 runs, 4.53 ERA (Park: 4-7, 5.46, 22 HRs in 95 IP)
2005: 858 runs, 4.96 ERA (Ryan Drese: 4-6, 6.46 in 12 starts)
2006: 784 runs, 4.60 ERA (John Koronka: 7-7, 5.69 in 23 starts)
2007: 844 runs, 4.75 ERA (Robinson Tejeda: 5-9, 6.61 in 19 starts)
2008: 967 runs, 5.37 ERA (Luis Mendoza: 3-8, 8.67 in 11 starts)
2009: 740 runs, 4.38 ERA (Derek Holland: 8-13, 6.12 in 21 starts)
(Sorry, Rangers fans.)
---
1 | 2 | 3 | 4 | 5 | 6 | 7 | 8 | 9 | 10 | 11 | 12 | 13 | 14 | 15 | 16 | 17 | 18 | 19 | 20 | 21 | NEXT IMAGE >>