Texas Rangers: Beer goggles
Updated:
September 29, 2010, 1:28 AM ET
Page 2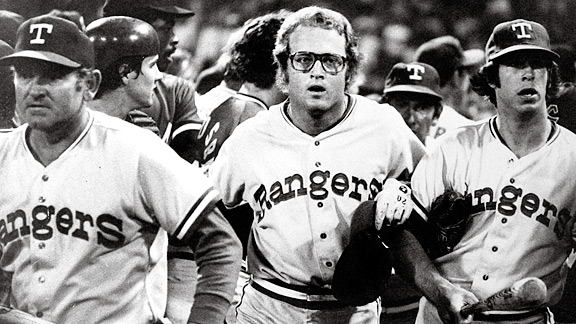 AP Photo/Cleveland Press, Paul TepleyAfter a fan in Cleveland went after Jeff Burroughs (in glasses), a near-riot erupted.
On June 4, 1974, the Rangers were in Cleveland. The Indians thought it would be a clever idea to hold 10-cent beer night -- a promotion the Rangers themselves had actually held without incident earlier in the season. One problem: Six days earlier, the teams had engaged in a big brawl in Arlington. The "fans" were out for revenge.
As the photo above suggests, things got ugly, as the 25,000 fans indulged themselves freely in the cut-rate hops. At one point, a heavyset woman ran onto the field and bared her breasts. Manager Billy Martin ran on the field to argue a call and had plastic cups of beer thrown at him. A fan threw a firecracker into the Texas bullpen. Finally, after a fan ran after outfielder Jeff Burroughs in the ninth inning, the Rangers had seen enough. They rushed the field to protect their teammate, which led to a larger riot of fans storming the field, beer getting tossed, chairs being hurled and the Indians forfeiting the game.
As for Burroughs, he became the first example of a problem that would plague the Texas franchise for the next 35 years: Something always goes wrong. Burroughs won the AL MVP award in 1974, hitting .301 with 25 homers and 118 RBIs. Just 23, he looked like he'd be a perennial All-Star. Unfortunately, it would be the best year of his career. After hitting .226 and .237 the next two seasons, the Rangers traded him to Atlanta for five bench players and $250,000.
Maybe they used that $250,000 to purchase more artificial orange goop for the ballpark nachos.
---
1 | 2 | 3 | 4 | 5 | 6 | 7 | 8 | 9 | 10 | 11 | 12 | 13 | 14 | 15 | 16 | 17 | 18 | 19 | 20 | 21 | NEXT IMAGE >>