Commentary
Acting to ice hockey: Battimo tells all
Originally Published:
January 12, 2010
By
Mark Simon
| Special to Page 2
College hockey official Max Battimo was officiating a game not long ago when he skated over to the University of Denver bench to explain a series of penalty calls to the head coach.
Battimo was expecting some kind of retort, or an attempt by the coach to get into his head, so that the next call would be more favorable.
Instead, coach George Gwozdecky just smiled and said, "'Saved by the Bell,' huh?"
You never know who the ref might be at your next collegiate hockey game. It might be Battimo, a former child actor, who spent a year on the popular children's television show before it became this generation's "The Brady Bunch."
But unlike Mario Lopez, Mark-Paul Gosselaar and Tiffani-Amber Thiessen, who became successful Hollywood personalities as adults, Battimo went a different route. And he doesn't have a tell-all about the show's success like Dustin Diamond, aka "Screech," does with the recent release of his tawdry autobiography.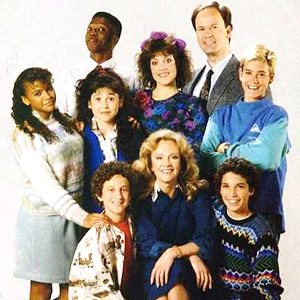 DisneyBattimo, bottom right, appeared on "Good Morning Miss Bliss," a precursor to "Saved by the Bell."
Battimo was on the show in its first year when it aired on The Disney Channel and was known as "Good Morning, Miss Bliss." He played the curly-haired Mikey Gonzalez, a classmate of Zack Morris and his friend Screech.
Most of the young cast was still in its preadolescent stage. It was long before the stories of sex and drug use that Diamond claims happened (though his fellow cast members deny) in his book. There is no tell-all factor to Battimo's stories.
"We were all so young and innocent at the time," Battimo said. "It was right around the age [when boys become interested in girls] but we weren't there yet. I don't think there was any sort of extracurricular activity. We would sneak to other sets. I can remember that the set of the soap 'Santa Barbara' was adjacent to our studio. One day, we went missing and snuck onto that set, playing with the cameras. But they didn't scold us too much for that."
This was prior to Lopez's and Thiessen's arrival. In fact, the show switched from Disney to NBC after its first season, but the contracts of Battimo and actress Heather Hopper (who played Zack's frequent rival, Nikki Coleman) did not go with it. Battimo didn't like the rejection. The kid who'd gone up to Billy Crystal at one audition to tell him "You look mahvelous!" decided he wanted to try something new.
"I was so hurt," Battimo said. "I told my parents I didn't want to be in acting anymore."
Not long after, Wayne Gretzky was traded by the Oilers to the Kings, which marked a turning point in Battimo's life. He recalls being a hyperactive, sometimes disruptive kid -- so he found a way to channel his energy into hockey.
"I decided I wanted to be a professional hockey player," said Battimo.
Growing up just outside Hollywood, there aren't many places to learn hockey. Battimo remembers buying a "Friday the 13th" mask so he could play goalie. He and his friends used tree branches for sticks and a crushed tin can for a puck until they got real equipment.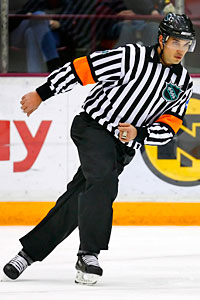 Max BattimoHockey coaches occasionally mock Battimo for his child acting career.
The goal of becoming the next Gretzky went unfulfilled, but after learning both roller and ice hockey, Battimo found another way to stay in the game -- as an official. Battimo started officiating in 1996 and, at age 26, turned pro in 2000. Battimo toured the minor leagues and the major junior circuit, working in, among others, the ECHL, WCHL, WHL and AHL before switching to the college game. He's in his third season in the Western Collegiate Hockey Association, which takes him to Minnesota, Colorado and even Alaska.
Battimo, certified internationally and headed to Mexico for some referee assignments in March, aspires to someday work at the highest levels of amateur hockey. That would be the World Junior Championships, or even -- a dream scenario -- the Olympics.
"Saved by the Bell" comes up every so often, like when a coach mentions it midgame. A group of fans on one college hockey message board started a section about referee taunting, and suggested fans yell out "A.C. Slater" whenever Battimo calls a penalty they don't like, but that doesn't seem to have stuck.
"I don't mind," Battimo said of the occasional recognition, noting that he gets a lot of Facebook friend requests from people who know his name. "It's not like I'm walking down the street and people yell out, 'Hey, Mikey!'"
To fill his downtime, Battimo works in property management and lives right by Sunset Boulevard in Brentwood, Calif. One day, a car stopped at the light by one of his properties, and a host of paparazzi swarmed the car. Turned out Britney Spears was inside. Battimo watched as, at the next light, it happened again.
"Sometimes I wonder if I'd [have been] a starving actor. If I'd have my face down in a gutter somewhere, or if I'd be successful," Battimo said. "Acting was my life, but when hockey happened here, it exploded."
Battimo saw the other side of things when he recently bumped into Dennis Haskins, who played school principal Mr. Belding, at a karaoke bar. The two reminisced about their time on the show, and Haskins said he'd had trouble finding work for years because he's typecast as a bumbling administrator. Battimo hasn't had to deal with any such issues.
"I went to hockey," Battimo said. "And I never looked back."
Mark Simon is a researcher for ESPN's "Baseball Tonight."