1980s
The Lakers and Celtics combined for eight NBA titles, with the Pistons taking over at decade's end. The 49ers won four Super Bowls, in an era that also included some dominant Bears, Giants and Redskins teams. The Islanders and Oilers reeled off back-to-back dynasties, keeping the Stanley Cup on Long Island and in Alberta for nearly the entire decade. Baseball lacked a true dynasty, with the Dodgers the only team with multiple World Series wins in the decade.
Pros: Dynasties create villains, and fans of three of the four major team sports had teams they could love to hate in the '80s. The NBA ruled for sources of hatred: Celtics fans hated the Lakers, Lakers fans hated the Celtics, and everyone else hated both of 'em. Some of the '80s dynasties also changed the face of their sports. The Oilers boasted the best offensive teams ever seen in the NHL, while the Lakers brought Showtime to the NBA, running the fast break like no team had in years -- maybe ever.
Cons: If you like parity, this wasn't the decade for you. For all of Bud Selig's misguided, present-day "hope and faith" speeches about parity and payroll disparity, fans of most basketball, football and hockey teams went into each season in the '80s knowing their team had no chance because their teams were outclassed by unbeatable championship-winning robots. Or at least that's what it must have felt like, going up against Magic's Lakers, Montana's Niners and Gretzky's Oilers.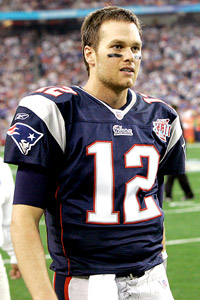 Stephan Savoia/AP Photo
Brady's Patriots are the closest thing we have to a dynasty right now.
Today
The Patriots are the team of the decade, with three Super Bowl wins. The Red Sox aren't quite a true dynasty, but two World Series titles in four years and a shot at a third in five years make it a possibility. The NBA looks dynastic again, with the Lakers and Spurs trading championships for most of the decade. Another Lakers win this season would raise the dynasty meter to near-'80s levels. Parity has returned in earnest to the NHL.
Pros: Each of the four major team sports can claim more parity now than in the '80s, unless the Red Sox reel off a few more World Series wins or the young Lakers run roughshod over the NBA. The team that may have the best claim on a dynasty, the Patriots, are delightfully hateable, an intelligently built team that evolved into the 18-1 SpyGaters that everyone outside New England wanted to see lose.
Cons: Dynasties tend to give sports a historic feel. With fewer of them now, this sports decade might lose a lot of its luster over time. Even the losing dynasties aren't as accomplished as they were in the '80s. You can't beat the sad-sack Clippers in their heyday, not to mention the sack-wearing Saints fans of yore.
VERDICT: The '80s. Of all the categories we're covering, this is the one where the '80s dominates the most. People fondly remember the Celtics, Lakers and Oilers of the '80s. Will you remember the Marlins, Hurricanes and Buccaneers of this decade?
Jonah Keri is a regular contributor to Page 2 and the editor and co-author of "Baseball Between the Numbers." You can contact him here.
2008 NBA FINALS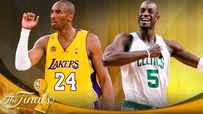 And then there were two -- the Lakers and Celtics. Who will win the NBA Finals? Let the games begin.
Finals schedule | Playoff bracket | Playoff home
Daily Dime
•
Celtics win 17th championship title
•
Did C's lose Regret Game?
•
A little help from Kobe's friends
•
Time for L.A. to go small
•
The Finals Can't Shake Donaghy Mess
•
Unlikely Game 4 comeback gives C's 3-1 lead
•
Rondo's ankle could change L.A.'s game plan
•
Kobe leads Lakers to Game 3 win
•
Lakers need to attack the paint
•
Lakers learn Powe's name in Game 2
•
Time for Gasol to step up
•
Lakers need better defense in Game 2
•
Pierce sparks Celtics in Game 1 victory
•
Expert predictions, clutch stats
•
Pierce loves playing Lakers
•
Celtics to meet L.A. in the Finals
Lakers vs. Celtics
•
Stein: Q&A after six-game "sweep"
•
MacMullan: Pierce's long road to greatness
•
Hollinger: From camp to champs
•
Stein: Boston's big three shine
•
Adande: Questions loom over Lakers' future
•
Hollinger: Celtics commit to defense
•
Scouts Inc.: Game 6 breakdown
•
Hollinger: Farmer steps up in Game 5
•
Sheridan: Late-game letdown for Celtics
•
Stein: Lakers ready to make history?
•
Adande: Greatness eluding Phil and Kobe
•
MacMullan: Doc adheres to dad's lessons
•
Jackson: Time for L.A.'s concession speech?
•
Stein: Game 4 not Kobe's finest hour
•
Adande: KG dominates Gasol again
•
Hollinger: Rivers makes all the right moves
•
Hill: Kobe's Laker legacy on the line
•
Hollinger: Vujacic lends helping hand in Game 3
•
Jackson: Jump shot Jesus has returned
•
Stein: Lakers need to earn sympathy
•
Adande: Lakers feel foul over whistle disparity
•
Jackson: Leading role suits Pierce
•
Adande: Kobe turns away from the pass late
•
Stein: Pierce's knee key to rest of series
•
Finals factor 1: Kobe Bryant
•
Finals factor 2: Celtics Defense
•
Finals factor 3: Paul Pierce
•
Finals factor 4: Home-court advantage
•
Finals factor 5: Battle of the benches
•
Hollinger: Lakers offense vs. Celtics defense
•
Broussard: Turning back the clock

•
Adande: How did Kobe get here?
•
Scouts Inc. breakdown: Lakers vs. Celtics
•
Coaching comparison: Red vs. Phil
•
Smith: Kobe's moving forward
•
Scoop: Fiendin' for a ring
•
Top 10 moments of Lakers-Celtics rivalry
•
ESPN Classic schedule: Relive the rivalry
TrueHoop
•
TrueHoop: Finals reflections
•
TrueHoop: Doc Rivers' redemption
•
TrueHoop: Lakers got Rondo'd
•
Tough night for Allen
•
Game 5 live blogging
•
Laker nation vs. NBA refs
•
Pierce and the evaporating knee story
•
Game 2 live blogging
•
Coaxing Kobe Bryant into hero mode
•
Game 1 live blogging
•
Today's game isn't so different
Simmons
•
Notes from the C's winning night
•
Boston's X factors
•
Game 4 running diary
•
Time for NBA Finals answers
•
The C's and city both look good
•
The Truth comes out in Game 1
•
NBA Finals forecast
•
Chat: NBA Finals preview
•
Simmons: You want a piece of Kobe, Boston?
ESPN The Magazine
•
Sporting Equivalency: NBA Finals meets hip hop
•
Broussard: Reporting from the NBA Finals
Fantasy
•
Join the fun of NBA Finals: Playcaller
Audio
•
Dish: NBA Finals recap
•
Wyc Grossbeck on C's championship
•
Ray Allen on how the Celtics evolved
•
Bob Ryan compares '86 C's to current one
•
Jon Barry credits Tom Thibodeau's team defense
•
Game 4 reactions
•
Rajon Rondo on Pierce, Game 2 plans
•
Bill Walton on Celtics-Lakers history
•
Dr. J on Finals, '80s hoops
ESPN Top Headlines