No, you haven't gone for a ride in a time machine back to the 1980s. The Los Angeles Lakers and the Boston Celtics are poised to do battle once again in the NBA Finals, right here in 2008.
But does the new-school Lakers-Celtics rivalry trump the Magic versus Bird edition? And, taking a larger look, was the sports world a better place back in the '80s, or are we better off today?
The Page 2 staff answers those questions below.
LAKERS VS. CELTICS
1980s
The Lakers-Celtics battles defined not just a decade of sports but rather an entire era. A love/hate between the teams oozed through television sets and the voices of Johnny Most and Chick Hearn. Both franchises built teams specifically to go against and defeat the other. DJ was brought in to stifle Magic; Coop was picked up to lasso Bird. Both teams spent money on players who weren't worth the cost of green copper to stop someone on the other's squad. It was high-stakes athletic chess season after season. A precedent was set. Established early by Russell and Wilt, West and Havlicek, and solidified by McHale and Worthy, Bird and Magic.
Pros: Everything about this rivalry was a contrast: geographic regions, styles of play, lifestyles, races, fan bases, weather, arenas, approaches, attitudes, team colors, neighborhoods, ownership, coaches. Everything was the exact and extreme opposite of what the other was about. It was something no other rivalry in sports could replicate.
Cons: The Celtics always seemed to have a nemesis in the East that challenged them, whereas the Lakers always seemed to breeze through the West. The "green interruptus" came from the 76ers or the Pistons throughout the decade. The Lakers seemed to wax their Western comp year after year after year.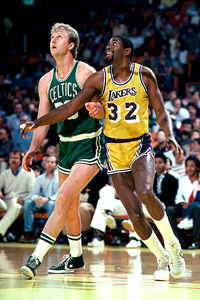 Andrew D. Bernstein/NBAE/Getty Images
Talk about an epic battle.
Today
The leprechauns were real. The Lakers Girls were realer. Even L.A.'s most faux people seemed authentic when Bird's flock visited the Lake Show in the '80s. But now, thangs done changed. No one but ABC cares whether Cameron Diaz or Denzel Washington is at the game, because the Celts-Lakers remix is about nothing else save for what happens on the court. The fact that both teams had fallen off the radar recently makes their return to prominence special. The fact that, just last summer, Kobe and Paul Pierce were in Pauley Pavilion joking about which one of them was going to be traded first indicates just how far both these teams have come in a short period of time. And it's the outcome of this series that will determine how this new-school rivalry will go. If the Celtics lose, they will begin to retool their roster with the sole purpose of beating the Lakers next June; if the Lakers lose, they will begin to revamp their roster with the sole mission of beating the Celtics next June. The loser will be back in the Finals next year, guaranteed. Waiting. Hungrier than it's ever been.
Pros: The trenches that both franchises had fallen into were real. The fact that both the Lakers and Celtics have been "slumming" the past few years gives them a non-elitist quality that neither has ever had in the history of their NBA membership. Yes, the franchises are storied -- but now they're also sullied, teams that have been through the grind, the struggle. If nothing else, America loves a comeback story. And rarely do they have two to cheer simultaneously.
Cons: No hatred. There are no players on either team that breed the type of hate Danny Ainge generated (at least not yet). Yes, Ronny Turiaf has become the modern-day equivalent of M.L. Carr, but he's still not despised.
VERDICT: The '80s takes it. Because of the one factor that existed then but doesn't now: race. The black versus white element of the rivalry in the '80s was just as important as anything geographical or basketball-related. That's what made a sports event transcend athletics and enter into America's social structure. Race -- built on the Bird/Magic non-basketball dynamic -- was the core reason we all were galvanized and fascinated. And though many would consider this a hindrance to what the rivalry was about, in truth it essentially made the rivalry beautiful. It made each race respect the other, forty-eight minutes at a time.
Scoop Jackson is a columnist for Page 2.
2008 NBA FINALS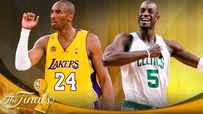 And then there were two -- the Lakers and Celtics. Who will win the NBA Finals? Let the games begin.
Finals schedule | Playoff bracket | Playoff home
Daily Dime
•
Celtics win 17th championship title
•
Did C's lose Regret Game?
•
A little help from Kobe's friends
•
Time for L.A. to go small
•
The Finals Can't Shake Donaghy Mess
•
Unlikely Game 4 comeback gives C's 3-1 lead
•
Rondo's ankle could change L.A.'s game plan
•
Kobe leads Lakers to Game 3 win
•
Lakers need to attack the paint
•
Lakers learn Powe's name in Game 2
•
Time for Gasol to step up
•
Lakers need better defense in Game 2
•
Pierce sparks Celtics in Game 1 victory
•
Expert predictions, clutch stats
•
Pierce loves playing Lakers
•
Celtics to meet L.A. in the Finals
Lakers vs. Celtics
•
Stein: Q&A after six-game "sweep"
•
MacMullan: Pierce's long road to greatness
•
Hollinger: From camp to champs
•
Stein: Boston's big three shine
•
Adande: Questions loom over Lakers' future
•
Hollinger: Celtics commit to defense
•
Scouts Inc.: Game 6 breakdown
•
Hollinger: Farmer steps up in Game 5
•
Sheridan: Late-game letdown for Celtics
•
Stein: Lakers ready to make history?
•
Adande: Greatness eluding Phil and Kobe
•
MacMullan: Doc adheres to dad's lessons
•
Jackson: Time for L.A.'s concession speech?
•
Stein: Game 4 not Kobe's finest hour
•
Adande: KG dominates Gasol again
•
Hollinger: Rivers makes all the right moves
•
Hill: Kobe's Laker legacy on the line
•
Hollinger: Vujacic lends helping hand in Game 3
•
Jackson: Jump shot Jesus has returned
•
Stein: Lakers need to earn sympathy
•
Adande: Lakers feel foul over whistle disparity
•
Jackson: Leading role suits Pierce
•
Adande: Kobe turns away from the pass late
•
Stein: Pierce's knee key to rest of series
•
Finals factor 1: Kobe Bryant
•
Finals factor 2: Celtics Defense
•
Finals factor 3: Paul Pierce
•
Finals factor 4: Home-court advantage
•
Finals factor 5: Battle of the benches
•
Hollinger: Lakers offense vs. Celtics defense
•
Broussard: Turning back the clock

•
Adande: How did Kobe get here?
•
Scouts Inc. breakdown: Lakers vs. Celtics
•
Coaching comparison: Red vs. Phil
•
Smith: Kobe's moving forward
•
Scoop: Fiendin' for a ring
•
Top 10 moments of Lakers-Celtics rivalry
•
ESPN Classic schedule: Relive the rivalry
TrueHoop
•
TrueHoop: Finals reflections
•
TrueHoop: Doc Rivers' redemption
•
TrueHoop: Lakers got Rondo'd
•
Tough night for Allen
•
Game 5 live blogging
•
Laker nation vs. NBA refs
•
Pierce and the evaporating knee story
•
Game 2 live blogging
•
Coaxing Kobe Bryant into hero mode
•
Game 1 live blogging
•
Today's game isn't so different
Simmons
•
Notes from the C's winning night
•
Boston's X factors
•
Game 4 running diary
•
Time for NBA Finals answers
•
The C's and city both look good
•
The Truth comes out in Game 1
•
NBA Finals forecast
•
Chat: NBA Finals preview
•
Simmons: You want a piece of Kobe, Boston?
ESPN The Magazine
•
Sporting Equivalency: NBA Finals meets hip hop
•
Broussard: Reporting from the NBA Finals
Fantasy
•
Join the fun of NBA Finals: Playcaller
Audio
•
Dish: NBA Finals recap
•
Wyc Grossbeck on C's championship
•
Ray Allen on how the Celtics evolved
•
Bob Ryan compares '86 C's to current one
•
Jon Barry credits Tom Thibodeau's team defense
•
Game 4 reactions
•
Rajon Rondo on Pierce, Game 2 plans
•
Bill Walton on Celtics-Lakers history
•
Dr. J on Finals, '80s hoops
ESPN Top Headlines