1980s
You can argue that the expanding reach of sports media caused the explosion in sports' popularity, attendance and franchise values that occurred in the 1980s. But the players had a lot to do with it, too. Wayne Gretzky and Mario Lemieux were at the height of their powers in the NHL, Montana-to-Rice was the best pitch-and-catch duo in NFL history, Lawrence Taylor produced
the most cringe-worthy hits ever seen
, Cal Ripken Jr., Mike Schmidt, Wade Boggs, Rickey Henderson and Tony Gwynn dominated baseball … and we haven't even touched on Magic versus Bird, the single-greatest
mano a mano
duel in sports history, or the launching point of the incomparable career of Michael Jordan.
Pros: You've got the greatest quarterback of all time (Montana), the greatest NFL defensive player of all time (Taylor), the greatest hockey player (Gretzky) and the greatest basketball player/greatest athlete ever (Jordan), all competing at the same time. With apologies to Kobe and KG, a huge chunk of the excitement over this year's NBA Finals stems from what Bird and Magic did a quarter-century ago. Plus, when superstar athletes played against each other in the '80s, there was often real hatred between them -- you knew these guys cared.
Cons: The legacies of some of these players have been tainted. As great as Roger Clemens and Barry Bonds were, they're more readily linked with Mindy McCready and flaxseed oil today. Taylor has been linked to cocaine use and other unsavory practices. Most shocking of all was the "Saturday Night Live" revelation of what Joe Montana does in the privacy of his own room.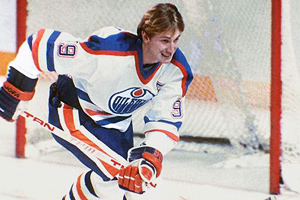 AP Photo
There's no one quite like Gretzky these days. At least not yet.
Today
A convergence of better scouting, better training routines and natural selection has given us the biggest, strongest, fastest athletes in sports history. Kobe and LeBron, Tom Brady, Peyton Manning and LaDainian Tomlinson, Sid the Kid, A-Rod, Pujols … it's a murderer's row of talent.
Pros: Many of today's best players resemble evolutionary versions of yesterday's stars. LeBron was an NBA-ready hybrid of Jordan and Magic before his senior prom. A-Rod is what Mike Schmidt would have been had he hit for average. Tiger Woods has all the rise-to-the-occasion swagger that Jack Nicklaus had, plus athletic ability that no other golfer can match. In some cases the jury's still out on whether today's superstars are actually better than their predecessors. But the raw talent is in many cases simply staggering -- and unprecedented.
Cons: You can talk about raw talent forever, but sports are measured by results, and some of today's brightest stars don't have any championships to cement their legacies. There always have been great players who never won the big one, of course (Charles Barkley), and it took some of the biggest all-time winners a long while before they won a championship (Jordan). But some of the biggest stars of this generation are ringless.
VERDICT: Though The Onion totally disagrees, it's the '80s, by a hair. Judging a player's greatness based on the number of championships he's won is a bit of a chicken-or-the-egg proposition: Did he win because he was great, or did winning confirm his greatness? There are also the matters of team support (without great teammates, it's really hard to win it all) and expansion (more teams makes it tougher to win the big one). With that said, Bird, Magic, Montana and Gretzky were the symbols of the '80s, and their mantles are jam-packed; A-Rod and LeBron are two of today's best athletes, but neither has a ring. Of course, LeBron's only 23. And Tiger Woods may end up laying claim to Jordan's title of "best athlete of all time" by the time he's done.
Jonah Keri is a regular contributor to Page 2 and the editor and co-author of "Baseball Between the Numbers." You can contact him here.
2008 NBA FINALS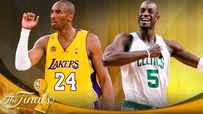 And then there were two -- the Lakers and Celtics. Who will win the NBA Finals? Let the games begin.
Finals schedule | Playoff bracket | Playoff home
Daily Dime
•
Celtics win 17th championship title
•
Did C's lose Regret Game?
•
A little help from Kobe's friends
•
Time for L.A. to go small
•
The Finals Can't Shake Donaghy Mess
•
Unlikely Game 4 comeback gives C's 3-1 lead
•
Rondo's ankle could change L.A.'s game plan
•
Kobe leads Lakers to Game 3 win
•
Lakers need to attack the paint
•
Lakers learn Powe's name in Game 2
•
Time for Gasol to step up
•
Lakers need better defense in Game 2
•
Pierce sparks Celtics in Game 1 victory
•
Expert predictions, clutch stats
•
Pierce loves playing Lakers
•
Celtics to meet L.A. in the Finals
Lakers vs. Celtics
•
Stein: Q&A after six-game "sweep"
•
MacMullan: Pierce's long road to greatness
•
Hollinger: From camp to champs
•
Stein: Boston's big three shine
•
Adande: Questions loom over Lakers' future
•
Hollinger: Celtics commit to defense
•
Scouts Inc.: Game 6 breakdown
•
Hollinger: Farmer steps up in Game 5
•
Sheridan: Late-game letdown for Celtics
•
Stein: Lakers ready to make history?
•
Adande: Greatness eluding Phil and Kobe
•
MacMullan: Doc adheres to dad's lessons
•
Jackson: Time for L.A.'s concession speech?
•
Stein: Game 4 not Kobe's finest hour
•
Adande: KG dominates Gasol again
•
Hollinger: Rivers makes all the right moves
•
Hill: Kobe's Laker legacy on the line
•
Hollinger: Vujacic lends helping hand in Game 3
•
Jackson: Jump shot Jesus has returned
•
Stein: Lakers need to earn sympathy
•
Adande: Lakers feel foul over whistle disparity
•
Jackson: Leading role suits Pierce
•
Adande: Kobe turns away from the pass late
•
Stein: Pierce's knee key to rest of series
•
Finals factor 1: Kobe Bryant
•
Finals factor 2: Celtics Defense
•
Finals factor 3: Paul Pierce
•
Finals factor 4: Home-court advantage
•
Finals factor 5: Battle of the benches
•
Hollinger: Lakers offense vs. Celtics defense
•
Broussard: Turning back the clock

•
Adande: How did Kobe get here?
•
Scouts Inc. breakdown: Lakers vs. Celtics
•
Coaching comparison: Red vs. Phil
•
Smith: Kobe's moving forward
•
Scoop: Fiendin' for a ring
•
Top 10 moments of Lakers-Celtics rivalry
•
ESPN Classic schedule: Relive the rivalry
TrueHoop
•
TrueHoop: Finals reflections
•
TrueHoop: Doc Rivers' redemption
•
TrueHoop: Lakers got Rondo'd
•
Tough night for Allen
•
Game 5 live blogging
•
Laker nation vs. NBA refs
•
Pierce and the evaporating knee story
•
Game 2 live blogging
•
Coaxing Kobe Bryant into hero mode
•
Game 1 live blogging
•
Today's game isn't so different
Simmons
•
Notes from the C's winning night
•
Boston's X factors
•
Game 4 running diary
•
Time for NBA Finals answers
•
The C's and city both look good
•
The Truth comes out in Game 1
•
NBA Finals forecast
•
Chat: NBA Finals preview
•
Simmons: You want a piece of Kobe, Boston?
ESPN The Magazine
•
Sporting Equivalency: NBA Finals meets hip hop
•
Broussard: Reporting from the NBA Finals
Fantasy
•
Join the fun of NBA Finals: Playcaller
Audio
•
Dish: NBA Finals recap
•
Wyc Grossbeck on C's championship
•
Ray Allen on how the Celtics evolved
•
Bob Ryan compares '86 C's to current one
•
Jon Barry credits Tom Thibodeau's team defense
•
Game 4 reactions
•
Rajon Rondo on Pierce, Game 2 plans
•
Bill Walton on Celtics-Lakers history
•
Dr. J on Finals, '80s hoops
ESPN Top Headlines