1980s
A nation gawked. School librarians harrumphed. And me? I looked forward to the "Sports Illustrated" swimsuit issue the way Internet nerds eagerly await leaked Decepticon scale-model pics from the set of "Transformers 2." This was a big deal (largely because I was just hitting puberty). A really big deal (mostly because I would not interact with an actual real-life semi-naked woman for years to come). A mark-the-calendar, check-the-mail, sit-through-27-minutes-of-"Entertainment Tonight"-teases-until-they-finally-show-the-"making-of-the-issue"-clip big deal. (This changed dramatically when a buddy figured out the Playboy Channel descrambling trick.)
Pros: Christie Brinkley, Elle Macpherson, Paulina Porizkova. Oh, babes of yore! In my mind, you'll forever be frolicking on the beaches of Maui. Zowie!
Cons: Models wore genuine swimsuits -- semi-sensible one-piece suits, even! -- as opposed to bikinis made of South American coins and strategically-placed palm fronds. Also, too many (read: anything more than zero) annoying athlete profiles and game summaries. What is this supposed to be, a sports magazine?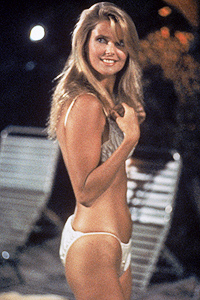 Warner Bros/Fotos International/Getty Images
Christie Brinkley was the star of many a swimsuit issue.
Today
Bigger, splashier and waaaay more commercial (and yes, such a thing is possible), chock-full of celebrity guest-model photo shoots, ads made to look like photo shoots, and the occasional smidgen of Roger Clemens' chest hair.
Pros: Clichéd, unintentionally humorous outraged letters to the editor remain a staple (and ought to be compiled into a book); greater model ethnic diversity; smaller/nonexistent bikinis; tedious sports stories split off into separate issue; two words: body paint.
Cons: Utterly devoid of original ideas -- another all-sand bikini? Pushin' the envelope! -- for whatever that's worth; did we mention Clemens?
VERDICT: Viva the '80s. Maybe -- probably -- it's just gauzy nostalgia, but the old-school swimsuit issue felt like a genuine cultural event, whereas the current iteration feels … tired. Played out. Like a living fossil -- or perhaps a shambling cheesecake zombie, slouching toward irrelevance, propelled by past momentum and sheer advertising want-to. Blame Maxim magazine. Blame Maxim's 1,001 imitators. Blame Google search. In the here and now, the swimsuit issue is just another face in the scantily clad crowd. Did I grow up? Sure. But so did the world around me.
Patrick Hruby is a columnist for Page 2. Sound off to Patrick here.
2008 NBA FINALS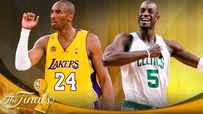 And then there were two -- the Lakers and Celtics. Who will win the NBA Finals? Let the games begin.
Finals schedule | Playoff bracket | Playoff home
Daily Dime
•
Celtics win 17th championship title
•
Did C's lose Regret Game?
•
A little help from Kobe's friends
•
Time for L.A. to go small
•
The Finals Can't Shake Donaghy Mess
•
Unlikely Game 4 comeback gives C's 3-1 lead
•
Rondo's ankle could change L.A.'s game plan
•
Kobe leads Lakers to Game 3 win
•
Lakers need to attack the paint
•
Lakers learn Powe's name in Game 2
•
Time for Gasol to step up
•
Lakers need better defense in Game 2
•
Pierce sparks Celtics in Game 1 victory
•
Expert predictions, clutch stats
•
Pierce loves playing Lakers
•
Celtics to meet L.A. in the Finals
Lakers vs. Celtics
•
Stein: Q&A after six-game "sweep"
•
MacMullan: Pierce's long road to greatness
•
Hollinger: From camp to champs
•
Stein: Boston's big three shine
•
Adande: Questions loom over Lakers' future
•
Hollinger: Celtics commit to defense
•
Scouts Inc.: Game 6 breakdown
•
Hollinger: Farmer steps up in Game 5
•
Sheridan: Late-game letdown for Celtics
•
Stein: Lakers ready to make history?
•
Adande: Greatness eluding Phil and Kobe
•
MacMullan: Doc adheres to dad's lessons
•
Jackson: Time for L.A.'s concession speech?
•
Stein: Game 4 not Kobe's finest hour
•
Adande: KG dominates Gasol again
•
Hollinger: Rivers makes all the right moves
•
Hill: Kobe's Laker legacy on the line
•
Hollinger: Vujacic lends helping hand in Game 3
•
Jackson: Jump shot Jesus has returned
•
Stein: Lakers need to earn sympathy
•
Adande: Lakers feel foul over whistle disparity
•
Jackson: Leading role suits Pierce
•
Adande: Kobe turns away from the pass late
•
Stein: Pierce's knee key to rest of series
•
Finals factor 1: Kobe Bryant
•
Finals factor 2: Celtics Defense
•
Finals factor 3: Paul Pierce
•
Finals factor 4: Home-court advantage
•
Finals factor 5: Battle of the benches
•
Hollinger: Lakers offense vs. Celtics defense
•
Broussard: Turning back the clock

•
Adande: How did Kobe get here?
•
Scouts Inc. breakdown: Lakers vs. Celtics
•
Coaching comparison: Red vs. Phil
•
Smith: Kobe's moving forward
•
Scoop: Fiendin' for a ring
•
Top 10 moments of Lakers-Celtics rivalry
•
ESPN Classic schedule: Relive the rivalry
TrueHoop
•
TrueHoop: Finals reflections
•
TrueHoop: Doc Rivers' redemption
•
TrueHoop: Lakers got Rondo'd
•
Tough night for Allen
•
Game 5 live blogging
•
Laker nation vs. NBA refs
•
Pierce and the evaporating knee story
•
Game 2 live blogging
•
Coaxing Kobe Bryant into hero mode
•
Game 1 live blogging
•
Today's game isn't so different
Simmons
•
Notes from the C's winning night
•
Boston's X factors
•
Game 4 running diary
•
Time for NBA Finals answers
•
The C's and city both look good
•
The Truth comes out in Game 1
•
NBA Finals forecast
•
Chat: NBA Finals preview
•
Simmons: You want a piece of Kobe, Boston?
ESPN The Magazine
•
Sporting Equivalency: NBA Finals meets hip hop
•
Broussard: Reporting from the NBA Finals
Fantasy
•
Join the fun of NBA Finals: Playcaller
Audio
•
Dish: NBA Finals recap
•
Wyc Grossbeck on C's championship
•
Ray Allen on how the Celtics evolved
•
Bob Ryan compares '86 C's to current one
•
Jon Barry credits Tom Thibodeau's team defense
•
Game 4 reactions
•
Rajon Rondo on Pierce, Game 2 plans
•
Bill Walton on Celtics-Lakers history
•
Dr. J on Finals, '80s hoops
ESPN Top Headlines