1980s
In the beginning, there was "Pong" … and then, a great swirling vortex of sports video game suckage. Early '80s home consoles simply weren't powerful enough to produce decent sports sims ("Pole Position" being the lone exception; Atari's blob football doesn't count). Enter Nintendo. Beyond saving the video game industry from a massive crash, the NES rescued sports gaming. Titles like "Double Dribble," "Blades of Steel," "RBI Baseball" and the still-enjoyable "Tecmo Bowl" paved the way for the "Madden" games of today.
Pros: Rather than sweat the proper software shader for Kobe Bryant's shoes, game makers focused on addictive, uncomplicated experiences. Sure, "Tecmo Bowl" had only four plays -- but with Bo Jackson in the backfield, how many did you really need?
Cons: Games looked like flickering, Technicolored vomit; cheats and money plays were rampant; no online play. Oh, and realistic statistics? Ahahahahaha!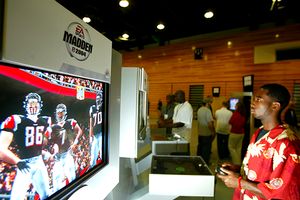 AP Photo/Eric Risberg
"Madden" changed the sports video game landscape forever.
Today
Zoom in, and you can count the pores on Jerry Rice's virtual nose. "Madden" playbooks require weeks of study. Digital LeBron shoots and dunks just like his real-life counterpart. Sports games have never been more detailed and true to life. And that's without mentioning the ability to set beer prices in franchise-owner mode.
Pros: Love USC football? You can playact as quarterback (on the field), offensive coordinator (in playbook practice mode), even athletic director (dynasty mode recruiting) -- all from the comfort of your couch. A whole make-believe sports universe is just a control pad away.
Cons: Call it the curse of raised expectations -- the same level of detail that engrosses also frustrates, because as games seem more real, every unreal thing stands out. In "Tecmo Bowl," the lack of a chain gang was irrelevant; in "Madden," it rankles.
VERDICT: Tie. On one hand, today's games are deeper, more sophisticated and better looking than their predecessors. On the other hand, they're far less accessible, and arguably not as fun. Which is probably why "Wii Sports" -- easy to pick up and play, hard to master, decidedly old-school in its gaming ethos -- is so popular.
Patrick Hruby is a columnist for Page 2. Sound off to Patrick here.
2008 NBA FINALS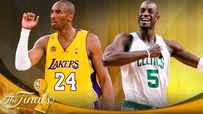 And then there were two -- the Lakers and Celtics. Who will win the NBA Finals? Let the games begin.
Finals schedule | Playoff bracket | Playoff home
Daily Dime
•
Celtics win 17th championship title
•
Did C's lose Regret Game?
•
A little help from Kobe's friends
•
Time for L.A. to go small
•
The Finals Can't Shake Donaghy Mess
•
Unlikely Game 4 comeback gives C's 3-1 lead
•
Rondo's ankle could change L.A.'s game plan
•
Kobe leads Lakers to Game 3 win
•
Lakers need to attack the paint
•
Lakers learn Powe's name in Game 2
•
Time for Gasol to step up
•
Lakers need better defense in Game 2
•
Pierce sparks Celtics in Game 1 victory
•
Expert predictions, clutch stats
•
Pierce loves playing Lakers
•
Celtics to meet L.A. in the Finals
Lakers vs. Celtics
•
Stein: Q&A after six-game "sweep"
•
MacMullan: Pierce's long road to greatness
•
Hollinger: From camp to champs
•
Stein: Boston's big three shine
•
Adande: Questions loom over Lakers' future
•
Hollinger: Celtics commit to defense
•
Scouts Inc.: Game 6 breakdown
•
Hollinger: Farmer steps up in Game 5
•
Sheridan: Late-game letdown for Celtics
•
Stein: Lakers ready to make history?
•
Adande: Greatness eluding Phil and Kobe
•
MacMullan: Doc adheres to dad's lessons
•
Jackson: Time for L.A.'s concession speech?
•
Stein: Game 4 not Kobe's finest hour
•
Adande: KG dominates Gasol again
•
Hollinger: Rivers makes all the right moves
•
Hill: Kobe's Laker legacy on the line
•
Hollinger: Vujacic lends helping hand in Game 3
•
Jackson: Jump shot Jesus has returned
•
Stein: Lakers need to earn sympathy
•
Adande: Lakers feel foul over whistle disparity
•
Jackson: Leading role suits Pierce
•
Adande: Kobe turns away from the pass late
•
Stein: Pierce's knee key to rest of series
•
Finals factor 1: Kobe Bryant
•
Finals factor 2: Celtics Defense
•
Finals factor 3: Paul Pierce
•
Finals factor 4: Home-court advantage
•
Finals factor 5: Battle of the benches
•
Hollinger: Lakers offense vs. Celtics defense
•
Broussard: Turning back the clock

•
Adande: How did Kobe get here?
•
Scouts Inc. breakdown: Lakers vs. Celtics
•
Coaching comparison: Red vs. Phil
•
Smith: Kobe's moving forward
•
Scoop: Fiendin' for a ring
•
Top 10 moments of Lakers-Celtics rivalry
•
ESPN Classic schedule: Relive the rivalry
TrueHoop
•
TrueHoop: Finals reflections
•
TrueHoop: Doc Rivers' redemption
•
TrueHoop: Lakers got Rondo'd
•
Tough night for Allen
•
Game 5 live blogging
•
Laker nation vs. NBA refs
•
Pierce and the evaporating knee story
•
Game 2 live blogging
•
Coaxing Kobe Bryant into hero mode
•
Game 1 live blogging
•
Today's game isn't so different
Simmons
•
Notes from the C's winning night
•
Boston's X factors
•
Game 4 running diary
•
Time for NBA Finals answers
•
The C's and city both look good
•
The Truth comes out in Game 1
•
NBA Finals forecast
•
Chat: NBA Finals preview
•
Simmons: You want a piece of Kobe, Boston?
ESPN The Magazine
•
Sporting Equivalency: NBA Finals meets hip hop
•
Broussard: Reporting from the NBA Finals
Fantasy
•
Join the fun of NBA Finals: Playcaller
Audio
•
Dish: NBA Finals recap
•
Wyc Grossbeck on C's championship
•
Ray Allen on how the Celtics evolved
•
Bob Ryan compares '86 C's to current one
•
Jon Barry credits Tom Thibodeau's team defense
•
Game 4 reactions
•
Rajon Rondo on Pierce, Game 2 plans
•
Bill Walton on Celtics-Lakers history
•
Dr. J on Finals, '80s hoops
ESPN Top Headlines