By Greg Garber
Special to Page 2
Editor's note: "Friday Night Lights," the book and movie, tells the story of the 1988 Odessa (Texas) Permian High School football season. Ten years later, in 1998, ESPN.com's Greg Garber took a fresh look at Mojo football and caught up with some of the key folks from the book.
ODESSA, Texas -- Lloyd Hill, brown eyes flashing and jaw muscles bulging, is screaming. "Man, what the f--- are you doing out there?" he asks his little brother, Roy Williams, on the sideline.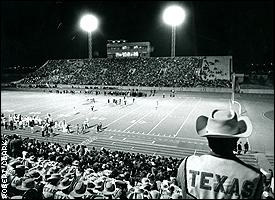 Ratliff Stadium seated almost 20,000 fans.
This is the biggest game of the season for the most famous high school football team in the state of Texas, maybe America. Permian High School is on the wrong end of a 14-0 score during this late October night at Midland's Lee High School. Williams was, inexplicably, standing in the back of the end zone when the arch-rival Rebels' Cedric Benson scored from seven yards out.
Hill, the star wide receiver of the 1988 and 1989 Permian Panthers, rips into Williams, a junior who happens to be the best wide receiver in District 4-AAAAA and, quite probably, this entire, big-ass state. The more things change, it seems, the more they stay the same.
A decade ago, Permian and Odessa's fanatical devotion to West Texas "Mojo" football was thrust into the bright lights of national celebrity. "Friday Night Lights," by H.G. "Buzz" Bissinger, followed the 1988 team from the opening practice in mid-August to the mid-December loss in the state semifinals to Carter High School of Dallas.
The Friday night lights were a symbol of hope, a slim ray of self-esteem in a broken city that went bust right along with the price of crude oil in the early 1980s. Four state championships in 20 seasons was a comfortably numbing shot of Jack Daniels in a place that Larry McMurtry's "Texasville" described as "the worst town on earth." Ratliff Stadium and its 19,800 seats, a pretty fair college facility in some parts of this country, was the town's monument to itself. Sitting there on a Friday night, you could almost forget that Odessa had the highest murder rate in the U.S. during 1982.
Bissinger, a Pulitzer Prize-winning reporter for the Chicago Tribune and Philadelphia Inquirer, left newspapers for a year and moved his wife and 5-year-old twin boys to Odessa. He wrote a book less about sports than the complex sociology of a community dependent on high school football. Bissinger says he could have written the book about hockey in Minnesota, basketball in Indiana or baseball in California, but he was drawn, for many reasons, to Odessa.
But when the book appeared in 1990, this version of "Friday Night Lights" left deep, deep scars.
WHAT IS MOJO FOOTBALL?
Back behind Permian High School, looming over the sprawling practice fields, stands the monument to Mojo football.

The white sign, about 50 feet long, is the resume of four decades of Permian football: six Texas 5-A titles, 11 championship games, more District titles than you can count. It is at once intimidating and a potent challenge for the players who wear the black and white of Mojo.

The derivation of "Mojo" comes from a Permian game against Abilene Cooper in the mid '60s. The version most people embrace is that old alumni from Permian who were attending the game started cheering "Go Joe, Go Joe, Go Joe" as a Permian player ran down the field. But the slurred version that came out sounded more like "Mojo, Mojo, Mojo."

There are some, however, who believe that the Permian cheerleaders learned a cheer at summer camp containing the phrase "Mojo" and unveiled it at the same game.

Either way, the word "Mojo" permeates everything that is Permian football.

Roy Williams, Permian's star wide receiver -- he averages an astounding 30 yards a catch -- watched his brother, Lloyd Hill, tear up Permian opponents 10 years ago. Now, he may be the best wide receiver in the state, which is to say, perhaps the country.

"I've been waiting for it ever since I was in junior high," he said. "That's when my brother got that national championship up there."

Williams, kneeling on the practice field, pointed to the sign that celebrates Permian's 1989 mythical national championship.

"That's kind of boosted me up," Williams says. "You know, 'I want to be a Permian football player. I want to wear (his brother's) No. 18.' Now, I got my own number (No. 26), and I see little kids walking around with jerseys, No. 26, and that makes me kind of happy."

It makes the town of Odessa happy, too. Ratliff Stadium, which cost $6 million to build back in the early '80s, when that was some kind of big money, seats nearly 20,000, and that doesn't count the lawn space in the end zones.

"The town is 100,000, and you get 25,000 people in there," says Brian Chavez, the starting tight end in 1988 and now a lawyer in Odessa. "I mean, that's a quarter of the town. If you did that in Dallas, the stadium would have to fit two million people.

"You are Permian football out there, and it's just like a drug and it just takes you over. It's addictive, and you don't look toward anything else. The only thing you look forward to, the only thing that's in your head, is Permian football."

-- Greg Garber
The town Bissinger described practiced a casual racism, and the immense tail that is football often wagged the academic dog. The book was a national best-seller and ultimately more than 400,000 copies were sold. Today, a decade later, HarperCollins Publishers moves 25,000 a year, and it is required reading in a number of college courses.
Odessa, 350 miles west of Dallas and 300 miles east of El Paso, is less than a two-hour drive from the New Mexico border. It sits 20 miles from its well-heeled sister city, oil-rich Midland. That vast white space to the south and east in the atlas is, essentially, sand.
The dry-heaving pumpjacks, the ones still operating, suck up just enough oil to keep operating in this scorched land. Oil, or "awwl," as they drawl it here, is scarce these days. The economy that was reeling in 1988 has, after a fashion, found an equilibrium. Which is to say the bleeding has stopped. The population has dropped to 94,000 from 100,000. Even two more state titles for Permian and a mythical national championship in 1989 can't keep them in Odessa any more.
The Odessa of today has all the physical trappings you might expect: tornado warnings, rattlesnakes, tumbleweeds that actually tumble, cowboy hats and big belt buckles. But the image you carry away from the place is the rusting oil machinery, lined up in rows along Route 385. It is the metaphor of a rotting culture that is past and passed over. Why is football so important here? Because, quite simply, there is nothing else to do. Oh, sure, there's a movie theater, a Red Lobster and a quaint branch of the University of Texas. But the Permian Panthers are the only thing in town that really matters.
In 1998, expectations are high. If this year's team can reach the state semifinals like the 1988 team, it will get all the people off coach Randy Mayes' back who wanted him fired after last year's 3-6 record. It might help take the sting out of the two times Permian was banned from the playoffs -- in 1990 for holding early supervised practices, and in 1993 for using an ineligible player from Odessa High School.
Looking back, expectations in 1988 were high, too.
James "Boobie" Miles, a 6-foot, 200-pound running back with rare speed and power, was expected to carry the mail that season. Nebraska, Texas A&M and Houston filled his mailbox with recruiting letters and his head with dreams. His uncle, L.V., who taught him that spin move and pushed him as best he could, bought into the idea, too. But then, during a late August preseason scrimmage against the Palo Duro Dons, Boobie caught his left foot in artificial turf. No one knew it at the time -- it was diagnosed as a knee sprain -- but Boobie's anterior cruciate ligament was torn. His career was over. And when the temperamental athlete, the coddled star, didn't return to form, one of the townspeople joked that they didn't waste bullets on lame horses.
Boobie, who quit the team the week before the playoffs started, was the psychic center of Bissinger's book. He never seemed to be able to separate the world of Permian football from the world at large.
Brian Chavez, on the other hand, was better equipped for it than anyone. The 215-pound tight end was the valedictorian of the senior class and would go on to Harvard. Chavez was used mostly as a blocker for Chris Comer and hell-raising Don Billingsley, who finished as the second-leading rusher with 801 yards and nine touchdowns.
And then there was middle linebacker Ivory Christian, an ambivalent talent, who would become the only Panther to get a Division I scholarship, obtaining a free ride to Texas Christian University. Quarterback Mike Winchell, whose confidence ebbed and flowed with each moment, led the peaks-and-valleys offense.
Gary Gaines, the even-keel head coach, held it all together as Permian lost only to Midland-Lee, 22-21 in the regular season. After winning a gut-boiling coin flip just to get into the playoffs, Permian dispatched Amarillo Tascosa, Andress, Irving Nimitz and then Arlington-Lamar to reach the Final Four of the greatest spectacle in high school sports.
The ride ended in controversy, suddenly, as it usually does, in a cold, wet 14-9 loss to the Carter Cowboys at the University of Texas in Austin. What was so controversial? Ineligible players, court decisions and the fact that the game was even played.
The book was a brutal, dead-on snapshot of the entire season; a yearbook, Chavez calls it today. But it was hardly a valentine.
When an ESPN reporter called Permian High School three weeks ago to say the network was preparing a 10-year sequel to "Friday Night Lights," an assistant football coach laughed bitterly.
"When y'all mention that book," he said, "they'll be going to get the rope for you. Mind you, stay close to your van."
It seemed, at least, like he was kidding.