By Greg Garber
Special to Page 2
Editor's note: "Friday Night Lights," the book and movie, tells the story of the 1988 Odessa (Texas) Permian High School football season. Ten years later, in 1998, ESPN.com's Greg Garber took a fresh look at Mojo football and caught up with some of the key folks from the book.
ODESSA, Texas -- The camera crew, seeking the classic beauty shot, spots an enormous oil rig. Racing against the rapidly setting sun, the sound man wheels the Ford Expedition up the remnants of a dusty road.
The shooter is already rolling on that hulk of a pumping rig when, behind the hill with the half-mast flag, a voice asks who the hell is on his property. Travis White comes down from the roof. He's been drinking Wild Turkey and there's a gun in the back pocket of his torn jeans, and you can tell by his cocky sneer that it's loaded, and so is he.
Later, in the course of a rambling, 15-minute anti-government monologue, Travis explains his front teeth were kicked out during a brief stay in the new damn jail, the cops are all on the take and talk radio is a state-approved poison. Oh, and Clinton is a complete idiot. The half-mast flag? Travis says he is mourning the death of America.
Just about the time the pop-pop-pop of a .22 kicks up nearby -- shootin' rabbits, most likely -- it suddenly becomes clear how Waco and Oklahoma City happened.
Welcome to West Odessa, a place so wild even the good folks of Odessa proper don't venture out here too often.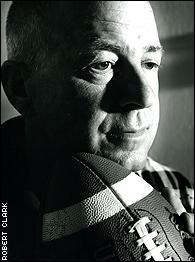 Gary Gaines and the other Permian coaches took exception to Bissinger's book.
This, roughly, is the atmosphere that Andover- and Harvard-educated H.G. "Buzz" Bissinger stepped into when he researched "Friday Night Lights," the 1988 story of Odessa's fascination with Permian High School football.
While the players back his basic version of events, the coaches take great, great exception to Bissinger's choices -- and his facts.
"None of us were all perfect," says former coach Gary Gaines, now a few hours east of Odessa at San Angelo Central. "Anywhere you go, or anybody you talk to, if you talk long enough and hard enough, then you could drag up something that would be somewhat controversial.
"I was just disappointed that he tended to focus on the controversial aspects of it, and not on the things that people really believe strongly in."
Ten years after he and his staff were portrayed as racists, and encouraging a climate where academics took a distant second to football, Gaines is measured and mild, in a 12-step kind of way, as he sits on the edge of the Bobcats' impressive stadium.
Randy Mayes, then an assistant to Gaines and now the head coach at Permian, is less restrained in his anger.
"In my opinion," Mayes says in his clipped way of speaking, "it was a novel. I think the book did what it was designed to do. I think it made somebody a lot of money."
That somebody, of course, was Bissinger, a Pulitzer Prize-winning reporter. And it has earned him in excess of $500,000. When the book was published in 1990, he was set to sign copies of the book at the B. Dalton in the local mall, but was forced to cancel after receiving death threats.
Ten years later, "Friday Night Lights" still pisses people off in West Texas. At his home in Philadelphia, Bissinger, now a contributing editor for Vanity Fair, is still defending himself. Not surprisingly, he stands by every word.
"No fact has ever been proven wrong," Bissinger maintains. "In my mind, and I've had 10 years to go over this, nothing was taken out of context. When you're accused of betrayal, it is a horrible thing, and it does cause deep pain.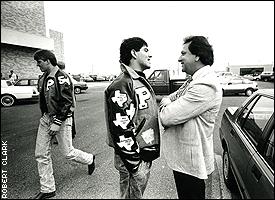 Permian tight end Brian Chavez, center, backs up Bissinger.
"I had that golden opportunity to be able to sit back and really look at that program for what it was. The greatness of it and, I think, the tragedy. And if it meant betrayal, it meant betrayal. Because it would have meant my ultimate betrayal as a journalist."
Brian Chavez, the starting tight end on the 1988 team, backs Bissinger.
"One thing the book is, is accurate," he says. "The one thing they can't say is that it wasn't accurate."
The coaches' company line in Odessa is that Bissinger came in promising "Hoosiers" and delivered "Jaws."
Gaines had just finished reading John Feinstein's book "A Season on the Brink," about Indiana basketball coach Bobby Knight, when Bissinger called about doing a book. Gaines, nervous about the negative aspects of Feinstein's narrative, initially declined.
But after Bissinger came down for a visit, Gaines relented.
"He kind of sold us on the idea that he wanted to write a book about how football binds a community together," Gaines says. "I think he sold himself, and he sold his product, and what he was wanting to do, very nicely."
Says Mayes, "I just think that the guys I worked for, especially Gary, and the staff were grossly misled on what type of writing it would be. I could go to Philadelphia or New York or Houston and spend nine months and write my opinions, and they're not going to be totally accurate.
"I'm not saying it wouldn't make interesting reading."
Oh, it was interesting, all right. Horrifying is probably a better word.
In Bissinger's Permian High School, star football players had a free pass in school, at worst. At best, the educational system was badly out of kilter. James "Boobie" Miles, whose knee injury robbed him of the chance to carry the ball and his team the state title, says he was allowed to float through school largely unburdened by the demands of academia.
"I felt like they pushed me through school," Boobie says. "I wouldn't even have homework. For what?
"At that point in time, you were the cream of the crop. Teachers were literally passing out grades, man. Kids trip out when I tell them on a Friday I didn't do no work."
A handful of players from the 1988 team said that the athletes gravitated to the teachers who, it was understood, would "take care" of Permian football players.
Gaines counters: "We've got guys that are now doctors, guys that are lawyers, and I'm sure that we had some poor students or underachievers. I don't ever recall anybody being given a grade.
"We constantly told them that they were in school to get an education, and that this was a vehicle to do that, that football would not sustain them nearly as long as an education would."
More insidious were Bissinger's quotes that suggested some of Odessa's residents, particularly its football coaches, were racist in their comments surrounding the treatment of Miles and other blacks on the team.
These charges cut the deepest. The coaches deny the specific allegations with a broad, circuitous denial.
"The book was written in a manner that it made Odessa the example of this country's problems since its birth," Mayes says. "This country was born with a congenital disease, and even though on paper it's been overcome, in reality it hasn't."
"It doesn't matter how you worship the Lord, doesn't matter what color you are, how much money you have. That was the same philosophy when Gary was the boss. And that hasn't changed."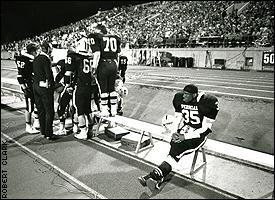 Coach Gaines' treatment of Boobie Miles is one of the key storylines of "Friday Night Lights."
Gaines insists that Miles' banishment to the bench had nothing to do with the color of his skin.
"It got to that point in the season where we felt like we had to go with our best players, and at that particular time, after the knee injury, Boobie wasn't one of them. We're in an attempt to win football games, and our job security, at times, depends on that. It was certainly nothing racial."
Boobie, and his uncle L.V., naturally disagree.
"It's just like a secret you got hid and you don't want nobody to find out," L.V. says. "If you stand back, you can see it. You hate to see a child done like that."
Chavez wasn't behind the closed doors when the reported remarks were made, but he says, "The parts that involved me and my friends, those were all true. That's all I can tell you. This type of racism, that kind of overt racism, is something that at the time, and probably still today, was somewhat evident in this town.
"He [Bissinger] heard the n-word, or maybe even spic, and I think his ears lit up and he's like, 'Wow, there's something here.' Being a journalist and investigative reporter, he thought it was something he had to deal with."
Says Bissinger, "I'm sorry if there were coaches and boosters and people in town -- and I hate to use the word -- who used the word 'n-----.' That word was used routinely."
Mayes says he didn't read the book until last spring -- three seasons after he became head coach. Gaines? He says he still hasn't read it. After his wife gave him a synopsis, he couldn't bring himself to do it.
"I've had hundreds of people who have brought books for me to autograph," Gaines says, "and I've autographed only one. It was just last month; a lady begged me. I tell them that it wasn't a happy chapter of my life, in regard to the book."
Curiously, many of the kids from the 1988 team live in the area, but don't go to the games.
"When you play in front of 25,000 people, and they're screaming and cheering," says former middle linebacker Ivory Christian, "it's pretty hard to get excited about anything else."