By Greg Garber
Special to Page 2
Editor's note: "Friday Night Lights," the book and movie, tells the story of the 1988 Odessa (Texas) Permian High School football season. Ten years later, in 1998, ESPN.com's Greg Garber took a fresh look at Mojo football and caught up with some of the key people from the book.
ODESSA, Texas -- The marching band is kicking ass, big-time. The cheerleaders are flying through the air as if they had bowls of Skittles for breakfast. Even the parents' section is rocking out.
You can feel the vibration in your chest.
There are 2,500 people squeezed into the gymnasium at Permian High School and, well, it feels like the roof is going to blow. It's incredibly hard to believe it's only 8:45 on a Friday morning.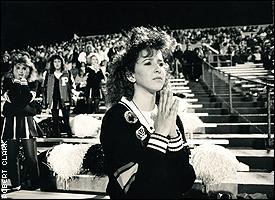 In Odessa, and many other places, prayer is an essential part of the game.
The principal, Mr. Rosson, is wearing jeans and a T-shirt rolled up to his shoulders. Many of the teachers are wearing poodle skirts and regulation white socks. The Permian Panther is strutting, directing the '50's-inspired pep rally. It's all too real to be 1998.
The football players? They're sitting in a long row of folding chairs, dressed in their varsity whites, soaking it all in with deep satisfaction. These are the moments they dream of growing up in this hard town in the desert.
Ten years ago, H.G. "Buzz" Bissinger came along and wrote "Friday Night Lights." He eloquently captured the fever Odessa had for the exalted thing called Mojo Football. In the process, he turned the town upside down. At parties, even the teenage beer blasts, the book would come up and fists would start crashing into faces.
After a decade, it is clear "Friday Night Lights" has had a cleansing effect. The book, a 357-page heap of pulp, has been an agent of social change.
"I give a lot of credit to Buzz," says Vicki Gomez, then a member of the school board. "He made us take a good, hard look at ourselves. He made us see how ugly we really looked. And we didn't like it.
"And so a lot of us started making an effort to change that ugliness. We're still not beautiful by any means, but we're kind of cute."
Bissinger says he's gratified.
"If it's true, it's a good thing," he says. "Those high school games when I was there 10 years ago, they lit up the night. It was like a rocket ship landing in the desert. They were liquid and exciting, but the priorities were skewed.
"If there has been a shift toward education, toward the realization that this was just a game and kids have to live their lives after they're 17 or 18 years old, that's a great thing."
Many people involved in the educational process in Odessa admit privately that football reigned supreme over academics in 1988. But, they hasten to add, it made a lot of money for the district. Now, they say there is more of a balance.
"Education-wise, 'Friday Night Lights' was maybe a sock in the face," says Brian Chavez, the starting tight end in 1988 and now a lawyer in Odessa. "It was like, 'Hey, we need to take education serious.' The school district made a lot of drastic changes."
In 1988, Permian boys who took the Scholastic Aptitude Test earned a combined score that was 19 points below the national average for boys.
In 1997, males averaged 511 in math -- matching the national average -- and scored 498 on the verbal portion, seven points lower than the national average.
"We've changed an awful lot," Chuck Hornung, a spokesman for the school district, told the Odessa American. "There's a lot more emphasis on academics. We're not the same district that's portrayed in that book."
And then there is the thorny issue of racism. Folks in Odessa say diversity has driven it back just below the surface.
In 1988, Permain's once almost exclusively white population had dwindled to 69 percent, with Hispanics at 23 percent and African-Americans at 6 percent. This year, the numbers are 60 percent for whites, 33 percent for Hispanics and the same 6 percent for African-Americans.
For the first time ever, the Ector County Independent School District is technically a minority school district. About 52 percent of the 28,000 students are minorities.
"We were a red-necked, little racist town, twenty years behind the times," Gomez says. "And nobody wanted to admit it was true. I'm not saying that racism is a thing of the past; unfortunately, we still have a lot of discrimination going on.
"I'm thinking that now maybe there's a little more subtlety to it. But I do think people are making an effort to try to understand the differences in cultures."
Perhaps more than anything, "Friday Night Lights" left the impression that Odessans were something south of fanatical regarding their cherished high school football team.
Maybe it's because the population is slipping away to more hospitable places. Maybe it's because the team was banned from the playoffs twice in four years for violating the rules. Maybe it's because coach Randy Mayes went 3-6 last year, only the third losing season in the school's four decades.
For whatever reason, attendance is down a bit, around 13,000 per game.
"Maybe it's because no one wants to be portrayed as being this rabid Mojo fan," says Brian Rosson, Permian's principal. "We're not as loud and as vocal as it might have been at one time. I don't know if it has anything to do with the book."
Says Mayes, "Maybe there were some members of the older generation that needed to take a look at their value system."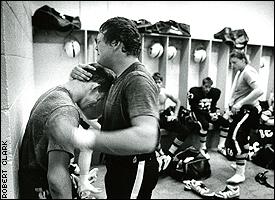 "Friday Night Lights" captured football at its most heartfelt.
Somehow, Mojo football means a little bit less than it did 10 years ago. The moment of critical mass came last season, when Odessa High School beat Permian for the first time in 33 years.
"People thought if Odessa beat Permian, it would be the end of the world," says Gomez. "It used to be 'God, Country and Permian football.' Now, it's 'God, Country and football.' "
Permian's real rival remains Midland's Lee High School, where the Rebels' theme song is "Dixie."
Two weeks ago, the two teams hooked up in one of their best, nastiest games ever. Permian trailed 14-0, but came back to tie it.
The Panthers took a 21-17 lead on Koefie Powell's 1-yard run with 4:51 left, but Midland came back down the field. The Rebels converted a fourth-and-seven pass, then scored a touchdown when quarterback Jon Rogers threw a perfect 14-yard fade to Eric Neatherlin with 30 seconds left.
Permian's 62-yard field goal attempt as time ran out was predictably short.
Midland-Lee 24, Permian 21.
Roy Williams, who averages an astounding 30 yards per catch, was the Panthers' star with two interceptions and a touchdown.
His older brother, Lloyd Hill, seemed crushed afterward. Hill's 1988 Permian team lost to Midland-Lee, 22-21.
The more things change, the more they stay the same.
Permian finished the regular season 8-2 after last Friday night's win over Odessa High. The Panthers were 4-1 in District 4-AAAAA play and qualified for the playoffs.
The opponent? San Angelo Central, coached by Gary Gaines, the Permian head coach in 1988.
The more things change ...
Ron Howard, the actor and director, came to town a few years ago to talk about making a movie about Odessa, but nothing came of it.
Somehow, that figured.
"As Odessans, we knew the book was something we had to overcome," says Mayes. "And whether that's a positive or a negative, we have. Let's go on with life."