To Halberstam, sports was never a step down
The reverential obituaries for the writer David Halberstam mentioned his peerless coverage of the Vietnam War, his ceaseless energy and his many sports books, but they didn't really put into perspective what Halberstam meant to the field of sportswriting.


Many sportswriters aspire to "more serious" work, but Halberstam was a writer who happily moved in the opposite direction. He'd won his Pulitzer and established himself writing about civil rights, politics and war, then chose to spend a significant amount of the balance of his career writing about sports.

He came to the field in the late '70s, at a time when all of sports was being viewed with greater gravity; and the best sportswriters -- from Dan Jenkins and Frank Deford in Sports Illustrated to Jim Murray in the Los Angeles Times -- showed an awareness of the larger world beyond the one in which the games were played. As the Time editor Ray Cave once put it, "All of a sudden you could read a sports magazine and still be considered able to read, for starters." Halberstam, too, felt that the merit of sports was self-evident, and his love of sports was clear.

He possessed an almost cinematic sense for a good narrative, and documented his sports subjects with the same indefatigable reportorial persistence that he brought to bear on his other work. Because he made his mark outside the sports world, Halberstam was better than most at putting sports in a larger cultural and historical perspective. His ability to do so was influential to a generation of writers -- some within sports, some not -- and it can be seen in such latter-day sports landmarks as David Remnick's "King of the World: Muhammad Ali and the Rise of an American Hero" and H.G. "Buzz" Bissinger's "Friday Night Lights: A Town, a Team, and a Dream."

Halberstam's best sports book was his first one, the remarkable basketball chronicle "The Breaks of the Game," which Sports Illustrated rated 17th on its list of the 100 greatest sports books, right between works by John McPhee and Roger Angell. Halberstam spent the 1979-80 season with the Portland Trail Blazers, and deftly captured the itinerant, insular life of a professional sports franchise, while at the same time touching on a wide array of fascinating basketball topics, from John Wooden's growing disenchantment with his Bill Walton-led UCLA teams in the '70s, to a glimpse of young high schooler Maurice Lucas traveling from Pittsburgh to Philadelphia to watch a summer league game for which the legendary Earl Monroe arrived in a Cadillac, wearing tattered shorts and a resplendent Panama hat. The result was a textured, intimate portrait of a team that heavy hitter Christopher Lehmann-Haupt in The New York Times would call "one of the best books I've ever read about American sports."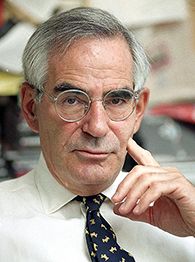 Mark Lennihan/AP Photo
One of Halberstam's gifts was to make the world of sports more meaningful.
From there on out, Halberstam's sports muse led him most often to baseball, and the slice-of-American-life reminiscences "Summer of '49" and "October 1964," two big books that placed baseball seasons within the context of the larger cultural moment.
The writer Bill James famously took Halberstam to task in his review of "Summer of '49." The subhead of James' review was, "Or Was that '50/Wait a Minute, I'm almost sure that was '37/And I think maybe that was Vince DiMaggio." After calling Halberstam on numerous errors of fact, and providing a compelling argument that took issue with several of his interpretations, James asked, "Why on earth didn't he hire somebody who knows something about baseball to read this book carefully before it came out?"
Others were kinder in their assessment of that book, but James had a very good point. Some writers grow lazy as they grow more famous, but that's not what happened to Halberstam. Instead, he grew more prolific and, perhaps because of that, less disciplined. He always seemed to be rushing to the next assignment.
I first met Halberstam when I was editing a coffee-table book called "SportsCentury" for ESPN in 1999. The book was a companion piece to ESPN's millennial blizzard of multimedia sports retrospectives, and I was as burdened with the weight of the moment as anyone else. We assembled an all-star cast of writers -- Joyce Carol Oates, Nicholas Lemann, Roy Blount Jr., Nelson George -- for essays on the key athletes of each decade. The inevitable name that came up to write the introductory essay that would put the entire century of American sports into perspective was Halberstam's.
What I remember from that time was how careful and conscientious most of these writers were with their prose. Wilfrid Sheed dutifully worried over word choices in his descriptions of Joe Louis; Robert W. Creamer wrote an elegant piece on Babe Ruth; Gerald Early sent in a majestic, annotated essay on Jack Johnson.
But as the months passed, there was no word, no communication, nothing from Halberstam.
As the book hurtled to within days of its hard and fast final deadline, I called Halberstam on a daily basis and one day he finally said, "OK, pal, I'll fax it to you in the morning."
The next day, I sat at my fax machine as the pages began to come through. Halberstam had agreed to write a 3,000-word essay, so as it arrived -- small text in single-spaced format, with a few rushed notations in the narrow margins -- I breathed a sigh of relief and watched the rest of the essay pile up. It turned out to be a long watch. Like some football team that wouldn't be denied, Halberstam's prose just kept coming -- a torrential 78 pages in all, a sprawling first draft of thoughts and notions and loose connections, suffused with dozens of long paragraphs entirely given over to dense "If … then … " constructions.
I called my boss, ESPN executive editor John Walsh, who'd talked Halberstam into writing for the book in the first place.
"We got Halberstam," I said.
"Didn't I tell you he'd come through?"
"Um, yeah -- John, he sent us
40,000 words!
What the hell am I going to do?"
I heard Walsh chuckling over the phone, and he said, "My friend, you are the editor. You are going to tell him thank you. And then you are going to do some editing."
One does not trifle with a Pulitzer Prize winner's copy lightly, and boiling down Halberstam was a particular nightmare; but within all the weighty proclamations in his piece, there was vision and genuine insight, and the book was far better for having him in it.
Around the same time, I took issue with Halberstam after the publication of a book he edited called "The Best American Sports Writing of the Century," which had inexplicably, and in my opinion inexcusably, omitted the work of Dan Jenkins (an oversight all the more puzzling because it was Halberstam's laudatory review of Jenkins' best-selling novel "Semi-Tough" in The New York Times Book Review that introduced a whole new group of readers to Jenkins' marvelous and profane work). Halberstam's response struck me as at once apologetic and dismissive. He pleaded that he'd been very busy, and had only been the nominal editor of the collection, and that he was sorry for the oversight, but, "I'm sorry, pal, I've got to run."
When I saw him at the Texas Book Festival a few years later, he clapped me on the shoulder, called me pal again, and asked after Jenkins and fellow SI alum Bud Shrake. And a year later, he was gracious enough to offer up a blurb of advance praise for the cover of a book I'd written about the rise of pro football in postwar America. He was beyond grudges, focusing on the task at hand, and admiring the work of those who followed.
The broadcaster Bob Costas remembered Halberstam's "basic decency and his willingness to mentor. He said to me one time, 'These young bucks -- like Remnick and Bissinger -- they have all the tools I ever had and then some. I hope they take whatever I did and then go beyond it. And I'll be there cheering them on.'"
But he would also remain in the fray, forever working on the next story. In 1999, Halberstam returned to the world of basketball with his Michael Jordan chronicle, "Playing for Keeps." The book took the measure of the way the world of sports, especially the NBA, had changed in the time since "The Breaks of the Game." Media coverage had increased exponentially, largely because of the rise of cable television. In the new world, it was harder for any writer -- even a legend like David Halberstam -- to get the sort of access and time that journalists need to tell the story from the inside. Halberstam admitted to friends that "Playing for Keeps" suffered for his inability to gain the same access to Jordan that he'd enjoyed with Bill Walton and Jack Ramsay and the other key figures in "The Breaks of the Game."
But even in his later years, Halberstam had a nose for dramatic, meaningful sequences, and he was particularly good at writing about the deceptively complex social situations on sports teams. It was there in his portrayal of the way the rest of the Bulls orbited around the star that was Jordan in "Playing for Keeps," in the long ride that Dom DiMaggio and Johnny Pesky took to visit their dying teammate Ted Williams in "The Teammates," in the eye-of-the-hurricane perspective from which Bill Belichick viewed the dying minutes of Super Bowl XXXIX in "The Education of a Coach."
Was any of it as good as "The Breaks of the Game"? No, but only a precious few books ever written about sports were.
So if this was his biggest sin -- he was a writer who wrote too much for his own good -- then it seems a forgivable one. To read Halberstam's work about both sports and the larger world is to see that they were of a piece; he brought the same energy and commitment to his sportswriting as he did to his other work. He wasn't slumming.
Reports said that at the time of his death, he was working on a book about the 1958 NFL championship game between the Baltimore Colts and New York Giants. I'm sorry I won't have the chance to read it.
Michael MacCambridge is the author of "America's Game: The Epic Story of How Pro Football Conquered a Nation," and the editor of "The ESPN College Football Encyclopedia."

Also See
ESPN Top Headlines