Page 2 Guide to the NCAA Tournament
Need some help getting through the NCAA Tournament?
Don't worry, Page 2 counts everything down from how to get off work to who will have "One Shining Moment."
10 Excuses To Get You Out Of The Office On Thursday And Friday
1. "My grandmother died."
Although sad when it really happens, the fictional grandmother death is the best excuse there is for getting a day off and is available for use twice per employer. It always works, too, no questions asked. Well, it always works unless you work for your family business. Then it's a bit difficult to pull off.
2. "Want to join the office pool?"
Get your boss to put a few bucks into the office tournament pool. Once she has given you the money, tell her that if she doesn't give you Thursday and Friday off, you're going to report her to the corporate office for being an accomplice in an illegal gambling operation run out of the office under her watch.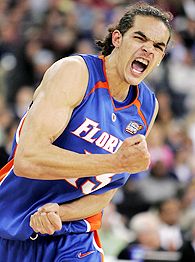 Andy Lyons/Getty Images
There's a target on Noah's back -- and he couldn't be happier about it.
3. "I am going to work from home."
Many companies now allow their employees to work from home a few days a month. Take advantage of this perk on Thursday and Friday. But even though you will be watching nonstop basketball, assure your boss you will get just as much accomplished at home as you would in the office. And feel good knowing that's not even a lie.
4. "You have to give me today off for religious reasons."
Your boss might ask you what religion has holy days in mid-March. Tell him you are a devout Bracketologist. If he says he has never heard of that religion, tell him you are shocked by his ignorance and that if he pursues the issue further you'll issue a formal complaint with HR and contact the ACLU. Then, if you're feeling really bold, kick him in the crotch. (Just say it's a sacrament of Bracketology.)
5. "I'm sick."
True pros will start foreshadowing a fake sickness a good week before the tournament kicks off by dropping hints with co-workers about feeling an illness coming on. Short of that, you'll have to prove you really are sick if you want anyone to believe you. Try this: Come to work Thursday morning and immediately guzzle a gallon of milk. Then vomit it back out all over your boss's desk. You'll be home in time for the noon tip-off with your credibility intact.
6. "I have a two-day, off-site meeting with an important client."
And in a way you do. It's simple, really -- just find a contact at another company who needs his own alibi for Thursday and Friday. You tell your boss you're meeting with him; he tells his boss he's meeting with you. It's a flawless plan. You can even try to expense your pizza delivery costs.
7. "My wife is giving birth."
What -- you don't have a wife? Then make it your girlfriend. But what if everyone in the office knows she's not pregnant? Useless details. They'll forget about all that when you show up on Monday with pictures of your adorable new baby -- pictures of some random baby you pulled from the Internet and Photoshopped your head into.
8. "Your wife is having an affair."
Leave an anonymous note with those words on your boss's desk before he arrives at work Thursday morning. He'll be busy for at least the next two days trying to uncover the truth and will never even notice you're not in the office. It's a win-win for everyone -- you get to watch two days of basketball; he discovers his wife isn't a floozy. (Well, maybe. She actually probably is.)
9. "I got shot/stabbed/beaten/grenaded/etc."
Explain that you were merely minding your own business at the mall Wednesday night when Pacman Jones happened to come by and, before you knew it, you were down in a pool of your own blood. This is a great excuse because it's sports-related but also because it is very believable. In fact, only the flu is responsible for more lost work hours each year in the United States than Pacman Jones-related injuries.
10. "I quit."
If all else fails, you may just have to quit your job. But be sure to join the office pool before handing in your resignation. You'll need those winnings to supplement your measly unemployment check.
-- DJ Gallo
9 Great Guys You Probably Don't Know Much About (Yet)
Stephen Curry, Davidson: The son of former NBA perimeter sniper Dell Curry, Stephen had an outstanding first year, averaging 21.2 points per game and setting a Division I record for 3-pointers by a freshman. Curry wanted to play for an ACC school, but none offered him a scholarship. Now he gets college basketball's biggest stage to show one of them (Maryland) what the team -- and the league -- missed.
Ibrahim Jaaber, Penn: "Ibby" is a two-time Ivy League Player of the Year and was second in the conference this season in scoring (15.9 ppg) and first in assists (5.3 apg) and steals (3.0 spg). He's also the Ivy League's all-time leader in steals, so look for him to give Texas A&M's Acie Law all he can handle.
Trey Johnson, Jackson State: You'll have to wait all the way till 9:50 p.m. Eastern Friday night to see last year's national champs open their title defense. But the Gators won't be the only reason to tune in. Jackson State's Johnson was the second-leading scorer in the country this season (27.1 ppg), and the 6-5 senior surely will be looking to make a name for himself against Billy Donovan's bunch.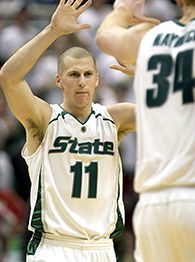 Matthew Mitchell/WireImage.com
Drew Neitzel and Michigan State have just one true road game but have a ton of quality neutral-site games.
Drew Neitzel, Michigan State:
You've probably heard a decent amount about Neitzel, a three-year starter for the Spartans. But you really need to sit down and watch this young man play against Marquette on Thursday evening. He has transformed his game this season, going from a pass-first point guard to a lethal perimeter scorer (18.1 ppg). And he's shown heaps of guts in the clutch, particularly when he scored 28 points in MSU's win over Wisconsin on Feb. 20, just after the death of a close friend.
Scottie Reynolds, Villanova: He's been overshadowed by fellow freshmen Kevin Durant and Greg Oden, but Reynolds has been sensational for the Wildcats, particularly down the stretch. Before scoring 11 in Nova's loss to Georgetown in the Big East tournament, Reynolds had averaged 28.2 points per game in his previous five games. He'll knock down a few 3s, but he's at his best on his acrobatic drives to the basket.
Jonathan Wallace, Georgetown: Most of the talk about the Hoyas centers on big men Jeff Green and Roy Hibbert, but Wallace is another key to their success. A former walk-on, Wallace averaged 11.2 points per game this season while running the point. And he has a knack for knocking down big perimeter shots when it counts.
Keith Simmons, Holy Cross: Simmons, the Patriot League Player of the Year, is an athletic swingman who can score from the perimeter or with his back to the basket (17.3 ppg). He and his fellow seniors had lost to Bucknell in the Patriot League championship game the previous two seasons, so Simmons will be gunning to make a statement against Southern Illinois in his one and only trip to the Big Dance.
Jamar Wilson, Albany: Virginia guard Sean Singletary will get the hype heading into UVa's first-round matchup with Albany, but don't be surprised if Wilson gets the better of things. He does it all for the Great Danes (18.5 ppg, 6.3 rpg, 4.8 apg) and acquitted himself very well against Marcus Williams and UConn in last year's first-round matchup (19 points) -- a game Albany led by 12 with 11:34 to play.
Brad Brownell, Wright State: OK, he's a coach, not a player, but Brownell's story is worth telling. He led UNC Wilmington to the Big Dance twice (and his Seahawks would have beaten defending national champ Maryland in 2003 if not for a miraculous buzzer-beater by Drew Nicholas). And all he's done in his first year at Wright State is lead the Raiders -- picked to finish in the middle of the Horizon at best -- to regular-season and conference tournament titles.
-- Kieran Darcy
8 Upsets most likely to happen
(5) Butler -- (12) Old Dominion: Butler peaked in November, when it beat four tournament teams -- Notre Dame, Indiana, Tennessee and Gonzaga -- in succession, all away from Hinkle Fieldhouse. That might be the most impressive winning streak for any team this season, but Butler went on to struggle late in the year, dropping four of its past eight games, two to a so-so Wright State team and one to Loyola-Chicago. Meanwhile, Old Dominion got better as the year went on, reeling off 12 straight wins before falling in the CAA tournament. All that in a conference that featured three other tournament-caliber teams: VCU, Drexel (worst snub of them all) and Hofstra. Senior forward Valdas Vasylius will be a matchup nightmare for the Bulldogs.
(6) Duke -- (11) Virginia Commonwealth: One of the worst matchups Duke could possibly have drawn. The Devils' biggest weakness is their lack of athleticism and quickness in the backcourt -- and VCU's guard combo of B.A. Walker, Jesse Pellot-Rosa and Eric Maynor is one of the most explosive in the entire field. If Josh McRoberts doesn't take advantage of his size advantage and assert himself against VCU's small, trapping defense (the Rams' biggest rotation regular is 6-7, 240-pound forward Wil Fameni), the Dukies go home early.
(5) USC -- (12) Arkansas: Five years ago, USC came into the tournament as a No. 4 seed, after an impressive run through the Pac-10 tournament that ended with a loss to Oregon in the finals. Spent from that breakneck schedule, the Trojans came out flat against UNC Wilmington, eventually falling in overtime. USC could face the same fate this year after looking exhausted in falling to Oregon by 648 points Saturday. The biggest factor that could save the Trojans? Arkansas gutted its way to its own conference tournament final before getting similarly blown out by Florida. Considering how poorly both teams played last weekend, this could get ugly.
(2) Wisconsin -- (7) UNLV: Just a week ago, ESPN Bracketology guru Joe Lunardi was predicting UNLV as a No. 4 seed. But although most teams that finished the season strong got bumped up, the selection committee apparently thought so little of UNLV's seven straight wins to end the year (including a sweep through the Mountain West tournament) that it relegated Lon Kruger's boys to a No. 7. Wisconsin has overachieved all season, lacking the premier talent that typifies the nation's best teams -- Alando Tucker excepted. With Brian Butch out and Michael Flowers struggling down the stretch with nagging injuries and ineffectiveness, the Badgers are ripe for an early exit.
(4) Virginia -- (13) Albany: When Albany takes down Virginia, we'll hear lots of talk about the game being one of the best David vs. Goliath stories of this year's tournament -- a reasonable comparison only if David were carrying a crossbow instead of a slingshot. The Danes' top five scorers are upperclassmen, and lead guard Jamar Wilson can be every bit as dynamic as Virginia's all-world tandem of Sean Singletary and J.R. Reynolds. As a No. 16 seed last year, the Danes jumped on Wilson's back against mighty Connecticut and nearly pulled the upset. They get it done this time as a No. 13, against a skilled but erratic Virginia squad.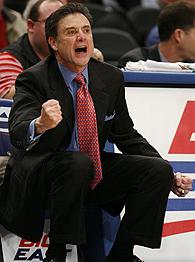 Rich Kane/US PRESSWIRE
How long will Pitino last in the tourney? Hopefully, not long.
(6) Louisville -- (11) Stanford:
The most compelling matchup of the first round. Some argued that Stanford's résumé wasn't good enough to get into the tourney. But on sheer talent, this is a scary bunch. Four of Stanford's late-season losses came with second-leading scorer Anthony Goods out or limited by injuries. Goods returned in the Pac-10 tourney to score 19 points against the Trojans, and the Cardinal are now fully loaded, with Goods and Lawrence Hill bombing away from outside and the Lopez brothers a pair of 7-foot intimidators no other team can match. Stanford could swallow up David Padgett, Derrick Caracter & Co., forcing Louisville to sink or swim with 3s.
(6) Notre Dame -- (11) Winthrop: Winthrop is everyone's answer to the question "Who is this year's George Mason?" (answer: no one). We're big Eagles backers too, with Michael Jenkins, Torrell Martin and Craig Bradshaw forming a trio of scorers that can play with anyone and Winthrop battle-tested after playing North Carolina, Wisconsin, Texas A&M and Maryland earlier in the season and nearly knocking out 2-seed Tennessee in the first round last year. This won't be an easy upset, though. Notre Dame ranks No. 6 in the country in offensive efficiency, a kenpom.com stat that breaks down what teams do with every possession (more on this later). Notre Dame's Rob Kurz and Luke Harangody are skilled bruisers who will make the Eagles work for boards, but Winthrop is one of the best defensive rebounding teams in America in its own right.
BRACKET BUSTER SPECIAL
(3) Washington State -- (14) Oral Roberts: Caleb Green will be the best player on the court, and the Cougs don't have an answer for the 6-8, 255-pound scoring machine. Oral Roberts' other top player, lead guard Ken Tutt, is another senior leader and 2,000-point career scorer. Washington State relies on a more balanced attack and can be defended when teams take sharpshooter Derrick Low out of the game. Wazzu's slow tempo (322nd among the 336 Division I teams) lets teams stay close, and the Cougs rank just 39th among the 65 tournament teams in offensive efficiency. From projected Pac-10 cellar dweller to national power and likely national coach of the year honors for Tony Bennett, it's been a great run this year for the Cougars. But it ends here.
-- Jonah Keri
7 Teams You Really Should Root For
Florida A&M: First of all, you've got to have a team to root for in Tuesday's "opening-round" game, right? And no offense to Niagara, but Florida A&M has the coolest band in the country -- I've seen them in person. The NCAA Tournament -- and the fans attending the Chicago subregional in particular -- would be well-served to see the Rattlers advance to face Kansas.
Kentucky: This isn't a vintage Kentucky team talentwise -- Tubby Smith has done well just to get this squad in the NCAA Tournament. And maybe a win over Villanova in the first round would get the critics off Smith's back a bit -- because there's simply no way Smith should lose his job.
Southern Illinois: The Salukis are the most intense defensive team I've seen all year. You have to work hard for every single point against them, nearly every shot is contested -- they make defense fun to watch. Plus, even though they're a No. 4 seed, they have a bit of "Cinderella" in them, coming from the good ol' Missouri Valley.
Texas: Doesn't it seem as though every game the Longhorns play either goes into overtime or is packed with 40 minutes of high drama? Plus, they have that pretty good freshman … um, what's his name again? Bottom line, this is probably Kevin Durant's only NCAA Tournament, and don't you want to see him play a few more college games?
Virginia Commonwealth: Simply 'cause they're playing Duke -- isn't that an automatic? (Just kidding, Blue Devils fans … well, mostly). Plus, VCU hails from the Colonial, aka the home of George Mason -- maybe the Rams can borrow Mason's slipper?
Winthrop: The Eagles come in with a great deal of hype for a mid-major -- but it's well deserved. Coach Gregg Marshall has now led Winthrop to seven of the last nine NCAA Tournaments -- and it's time for the school to win a game in the Big Dance. The Eagles just missed knocking off Tennessee as a No. 15 seed a year ago. They're a No. 11 seed this time, so No. 6 seed Notre Dame had better be ready for 'em.
Texas A&M Corpus Christi: The Islanders just might be the best story in this year's NCAA Tournament. And you can read all about them -- on Tuesday, right here at Page 2.
-- Kieran Darcy
6 Best (Potential) Games Before Atlanta
North Carolina-Texas: Get thee to East Rutherford! The East Regional could include the nation's most-talented team (North Carolina), best player (Kevin Durant) and hottest team (Georgetown). Could we see Roy Williams slap his own long-armed, ubertalented freshman forward, Brandan Wright, on Durant? Will Ty Lawson and D.J. Augustin crank the game's pace up so fast that Continental Airlines Arena will hit 88 miles per hour and launch itself back to the Enchantment Under The Sea dance? Forget Atlanta -- the tournament's best game might happen three rounds before the final.
North Carolina-Georgetown: Roy Hibbert and Jeff Green against Tyler Hansbrough and Wright? Yes, please. This game would pit the country's two most efficient offenses against each other. The Heels and Hoyas achieved those rankings through drastically different styles. Carolina runs the secondary break better than anyone and constantly looks to push the ball. Georgetown's modified Princeton offense is a joy to watch, with big men and guards equally adept at running backdoor cuts and feeding those cutters from up high, depending on who has the ball at any given time. If Texas beats Carolina and meets the Hoyas in the Elite 8 instead, a Durant-Green matchup would see America's best talent battle one of its most versatile, most cerebral players.
Tennessee-Long Beach State: Why wait for a potential great game somewhere down the road when we have one ready to go in the first round? This offensive bonanza includes the No. 5 and No. 6 top-scoring teams in the tournament field. Tennessee treated fans to a high-scoring, buzzer-beating thriller last year against Winthrop and could do the same this time. Chris Lofton is a fearless shooter who'll step back to 25 feet and drill rainbows in a taller defender's face. The Vols' pressure defense also should speed up the 49ers. That might not be a great idea, though, given Long Beach State's already scary-fast, scary-good offense. This is a squad that's loaded with 3-point bombers, with its top seven scorers all seniors. For the Vols, there could be so much trouble with the LBC.
Maryland-Florida: Last year, Florida was a very good power-conference team that still lacked the luster of a No. 1 or No. 2 seed. A balanced squad with multiple threats inside and out, the Gators came together at the right time and rolled all the way to the national title. Sound familiar? D.J. Strawberry and Mike Jones have emerged as great scorers able to create their own shots. They complement James Gist and Ekene Ibekwe inside. And we haven't even mentioned Greivis Vasquez, the Venezuelan sensation who'd be a national story in any year but this Durant-Oden freshman-packed one. The Gators looked shaky down the stretch this season before regrouping in the SEC tourney. If they let down against the fourth-seeded Terps, their hopes for a repeat will end early.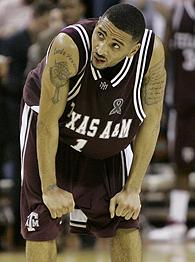 AP Photo/Eric Gay
Texas A&M's Acie Law IV could be one of the stars of this year's NCAA Tournament.
Memphis-Texas A&M:
Youthful talent and breakneck speed vs. experience, poise and killer D. This potential Sweet 16 matchup would be a great one for its contrasting styles -- only North Carolina-Georgetown could offer a similarly compelling matchup of elite teams with such different profiles. Do teams with one go-to scorer have the best chance to go deep in the tourney, or is a balanced attack the best way to play in early April? Call this one the small-sample-size litmus test, as Memphis sends its army of speed burners against the player with the most clutch shots of anyone in the country this season, A&M's Acie Law.
Kansas-Virginia Tech: This assuming that Virginia Tech makes it through the first two rounds, including getting by the defensive terrors at Southern Illinois. The Hokies have a good chance to do so, given their amazing résumé: wins over Boston College, Duke (at Cameron Indoor) and Maryland; a 27-point blitz of Virginia; and a two-game sweep of North Carolina. It's an inconsistent, but loaded, team that's waiting to put its stamp on the tournament with a deep run. Kansas might be a No. 1 seed, but the Jayhawks look a little like the Hokies, with a deep stable of great players but question marks about their ability to hang with the tourney's other elite teams. Freshman Sherron Collins became a go-to guy down the stretch, lighting up opponents with his fearless drives to the rim against much bigger players. A Collins-Zabian Dowdell matchup would be TiVo-riffic.
-- Jonah Keri
5 Celebrity Tips on Filling Out Your Bracket
Page 2 was curious to know what advice the rich and famous might offer on putting together our bracket. So we selected three Hollywood starlets and two "athletes" who've "been known to make a friendly wager or two" out of our speed dial in search of the secrets to win this year's pool.
Either that, or we made it all up. You be the judge.
Paris Hilton
• Stanford vs. Louisville intrigues me. I've partied with the Stanford tree many times, but I'm going with Louisville. I mean, how is one Cardinal going to beat a whole flock of Cardinals?
• USC won't last more than one round. The Trojans just aren't the same without Matt Leinart.
• Take it to the bank: UNLV and Oral Roberts will reach the Sweet 16. These are two things I know a lot about -- Vegas and … religion. Come on, get your mind out of the gutter.
Nicole Richie
• I love Vanderbilt as a sleeper and wouldn't be surprised if this team reached the Elite 8. The Commodores haven't been this good since my dad was the front man.
• Even I know that a No. 12 seed has beaten a No. 5 seed in each of the last six years. This year, I'm picking Long Beach State over Tennessee based strictly on property value -- the ocean is so much prettier in Long Beach than Tennessee.
• Whatever Paris said, do the opposite. I kick her ass in the office pool every year.
Britney Spears
• I met a couple of really nice guys from Gonzaga here in rehab, and they insist this is their year. I believe them, so I've got the Zags in the Final Four.
• I know it's a trendy pick, but I'm going with Florida to repeat as national champs. Joakim Noah's hair is terrific. I'm like soooo jealous.
• How about a sleeper? Hmmm. How about Holy Cross? I'll take the Crusaders in the Sweet 16, mostly because I think I know what a Crusader is. Somebody tell me what a Hokie, a Saluki and an Illini are.
Phil Mickelson
• Memphis is a soft No. 2 seed and ripe for an upset by a hot North Texas team. This pick has nothing to do with Memphis being nicknamed the Tigers, although I'm happy to see Missouri, Clemson and Auburn get left out of the Dance.
• I'm down on Duke, which got a No. 6 seed despite losing its last three games. I'm reminded of the yips the Blue Devils got in last year's Sweet 16 loss as a No. 1 seed -- nearly as bad as me on 18 at the U.S. Open.
• Since my Arizona State Sun Devils aren't in it this year, I'll take Ohio State to go all the way. I love Greg Oden, who has looked great this season as a lefty.
John Daly
• Well, naturally I like my alma mater, Arkansas, which is peaking at the right time. As a No. 12 seed, we have a tough draw. But if the Hogs get to the Sweet 16, I pledge to eat my weight in pork chops.
• Unfortunately, Arkansas is in the same region as North Carolina. If there's anyone who appreciates the seductive power of Tobacco Road, it's me.
• I gotta agree with Britney that Florida is going all the way again. The first Hooters opened in Florida, so this is naturally a sentimental pick for me. Somebody order up some wings!
-- Thomas Neumann
4 Looks To Look For
Uni-wise, the big story of the NCAA Tournament is Nike's oddly named System of Dress uniforms, which are being worn by Florida, Ohio State and Arizona (and would have been worn by Syracuse, but it turns out the Orange will be dancing in the NIT -- guess Nike should've banked on a safer school). By now you probably know the basics -- tight jerseys with extra-baggy shorts. But here are four details you might not be aware of:
1. Florida: Florida's design, which comes in several colors, including black, features gator-patterned fabric. An extensive Page 2 investigation has found nothing to support the rumors that Nike asked the other three System of Dress schools to consider changing their team names to the Leopards, the Striped Bass and the Measles.
2. Ohio State: OSU's uni will not feature the Nike swoosh. Instead, Nike's Lebron James logo will appear on the shorts. It's nice that we've reached the point where not having attended college doesn't prevent you from endorsing a college uniform.
3. More Ohio State: Another OSU detail: According to Nike, the jersey typography was borrowed from the school's 1960 national championship team. A nice thought, but do you really see much similarity between this and this? And compare the numeral "5" here to the one here. Artistic license or sloppy history? You be the judge.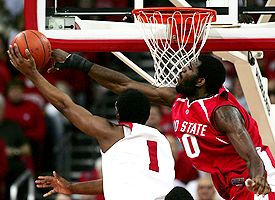 Jonathan Daniel/Getty Images
Catch the Greg Oden Farewell Tour! Coming soon to a region near you.
4. The Rest:
Don't expect to see these
patterned undersleeves
on the court -- NCAA regulations prohibit them. But many players will be wearing sleeveless or plain short-sleeved undershirts. And if their jerseys come untucked, you might be able to see an interesting detail: The base-layer shirts have
diagonal type
printed along the
torso
. Look closely and you'll see that the shirts feature the
names
(and, in the case of Florida, the
stats
) of famous alums. A very nice nod to the past, although reader
Eric Stangel
notes that they could've used a proofreader for the
Syracuse version
, which lists "Rafeal Addison" (instead of Rafael), "John Cincebox" (instead of Jon), "Wendall Alexis" (instead of Wendell), and, most glaringly, "Danny Shaves" (instead of Schayes). No wonder the Orange didn't make the tournament.
-- Paul Lukas
3 Stats You Can't Forget
1. Offensive Efficiency: A great statistical measure will do more than give Billy Packer a few seconds of on-air fodder to slip in between bash jobs of mid-major schools. It also can help bust some of the biggest myths in a sport. Ken Pomeroy, the architect of the great site kenpom.com, tracks many of these eye-opening stats for college hoops at kenpom.com.
Offensive efficiency might be the flagship stat. Simply put, it measures what a team does with each possession, while stripping out how fast a team plays. So even though North Carolina outscores Georgetown by a mile on a per-game basis, the Hoyas are actually the more efficient offensive team by Pomeroy's standards, ranking No. 1 in the country to the Heels' No. 2 rating according to the adjusted efficiency leaderboards (adjusted numbers also reflect strength of schedule). Top teams in this category have fared well in the tournament each year since Pomeroy started tracking the stat in 2004.
2. Defensive Efficiency: The flip side to offensive efficiency, it measures how well teams defend opponents on a per-possession basis, stripping out the effects of tempo. Just as Georgetown's points output looks pedestrian until you break it down by possession, Carolina's points-allowed numbers seem high -- until you remember that the Heels induce lots of possessions on both ends thanks to their fast-moving offense and pressure D. If you're looking for two top teams that could ride great defensive efficiency numbers into the Final Four, Kansas and Texas A&M rank No. 1 and No. 8 in the country, respectively.
3. 3-point FG percentage: A simpler stat, but a telling one. Many teams in the field rely heavily on the 3. If they're hitting, watch out for great performances by middle seeds BYU (41.3 percent, third among tournament teams), Texas Tech (41.2 percent, fourth) and Virginia Commonwealth (40 percent, seventh). Among higher seeds, Texas A&M (42.2 percent, first), Florida (40.8 percent, fifth) and Notre Dame (39.7 percent, 11th) could be in trouble if their shots from distance don't fall.
-- Jonah Keri
2 Commentators We Can't Wait To Hear
1. Bill Raftery: Raftery is the voice of college basketball and, for me, the NCAA Tournament does not officially begin until I hear Raftery open a game with: "And they start out … in the man-to-man." However, there is a chance some coach will ruin this simple pleasure by playing a wussified zone defense. So let the word go out now -- if any coach prevents Raftery from uttering his catchphrase and thereby ruin my NCAA Tournament experience, I will hunt you down. And then I will personally beat you … man-to-man.
2. Some Random Guy You Never Heard Of: CBS has a lot of games to cover in the first four days of the tournament, and not every game can feature a well-known crew. That means some random guy you never heard of will try to make his name by calling a 7-10 game as though a national title is at stake. And to be fair, a national title is at stake. This is the guy's chance to supplant the poor "Boom goes the dynamite" kid for the title of "America's worst sportscaster."
-- DJ Gallo
1 Winner
In truth, there are many winners in this NCAA Tournament. Teams like Texas A&M Corpus Christi have "won" just by getting to the Big Dance -- they've won the experience and memory of a lifetime.
But I suppose we all need to predict a national champion. And as I look at the bracket -- and as down as I was on them just a few days ago -- I just can't pick anybody other than the defending national champs.
We watched Florida roar through the NCAA Tournament a year ago. They roared through this year's SEC tournament. And I don't see any serious roadblocks on their way to Atlanta.
But it's little fun rooting for the favorite. So although my head (and bracket) will be pulling for the Gators, my heart will be cheering for any team but.
-- Kieran Darcy