LAS VEGAS -- This epic T-Mobile bash -- a party hosted by Dwyane Wade and featuring performances by will.i.am, Ciara, Ludacris and Nas -- ain't good enough.
See, this is NBA All-Star Weekend, so at midnight on Saturday, Ron Artest is already set to leave the rollicking party tent across from The Palms to hit up the next venue.
"I just got in town an hour ago and I'm leaving tomorrow at noon," explains Artest. "So I'm like … on to the next one."
The next one is Moon Club at The Palms where Artest will join Shaquille O'Neal. He wants me to come with him. Seems he liked my story on his summer concert in Champaign, Ill. While I'm honored, I remind him that I'm a professional and this is All-Star Weekend in Vegas. So if I see strange behavior, I won't hesitate to write about it. After sprinting straight to the airport, that is.
After embracing Barry Bonds, paying his respects to Wade and picking up Kings teammate Kevin Martin, Artest and his entourage of six cats start the 500-foot walk through a parking lot to the Palms lobby. Along the way, the entourage members recruit five fine young ladies from hundreds of shrieking commoners waiting outside. Artest is giggling at the revelry.
"I wasn't going to come, but I heard about what's goin' on down here," Artest says. "And everything I heard is true. This town is crazier than I've ever seen it."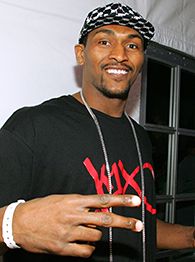 Jordan Strauss/WireImage.com
Ron Artest said he tried to stay away from All-Star Weekend in Las Vegas, but ultimately couldn't resist. Can you blame him?
On the casino floor, the Palms security squad keeps the fans at bay, but Artest is making this difficult. The train stops as he briefly ponders playing some poker.
"Let's go Ron," says the security leader. "I know you too well." They know him here. By now, they know every player. It's been that sort of weekend.
Just ask Kevin Martin. "I lost everything last night," Martin says, bowing his head in shame. "Wallet, keys, everything."
Finally, the Fun Squad bypasses an ungodly line of wannabe partygoers to take a VIP elevator up to the 53rd story of The Palms, site of Moon.
"Take them to 32," the security leader says to a colleague. "Thirty-two" is booth 32, a massive roped-off sanctuary overlooking the dance floor, where Grey Goose bottles and mixers and wine await.
And where Shaq is holding court, texting on his Sidekick -- which I'd imagine to be a difficult task given his massive fingers -- in search of the next party, no doubt.
"Like Wayne Newton, I'll be here all week," he said. "Four days in Vegas is too long."
Yet, not long enough. It's already time to leave. "I'm going to hit up Jay-Z and Lebron's s--- next," says Artest, of the two moguls' shindig at TAO. "I heard that s--- is tight."
It was indeed.
The following is a rundown of All-Star Weekend parties. To maximize time and exposure, one rule was strictly followed: no lines or waits of any kind. If the promoter outside the event was fussy, it was time to move on. Sadly, this eliminated Paris Hilton's birthday party at the Hard Rock. But not much else.
What happens in Vegas … runs on Page 2.
50 Cent and vitaminwater's Celebrity Poker Tournament
At Crazy Horse Lounge, MGM Grand
Roster: Curtis "50 Cent" Jackson, Eva Longoria, Tony Parker, Shawn Marion, LaDainian Tomlinson, Danny Masterson, Mekhi Phifer, Jamie-Lynn Sigler, Jamie Kennedy, Ellen Pompeo, Champ Bailey, Queen Latifah, Paul Wall, Winky Wright, Floyd Mayweather Jr.
Game: Despite a 2 p.m. start time, many turned out for an intimate affair, all for 50's charity the G-Unity Foundation. Marion and DJ AM would leave 50 Cent, Bailey, Parker, and Longoria at the center table to emerge to the finals before losing to a man identified as "Masterson's friend." Lucky punk.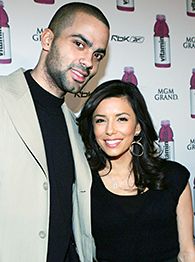 Maury Phillips/WireImage.com
Eva Longoria and her beau, French rapper Tony Parker, make an All-Star Weekend appearance.
Key plays:
50 Cent said he forewent the celebrity bashes in favor of simple pleasures: "I've just been going to strip clubs. It's the best fun you can have out here. Make sure to try one before you go." … Tomlinson bemoaned the tourney's 2 p.m. start time. "This is early for Vegas," he said. "Most people are just getting home from the night before, and I'm no different." … Said Bailey: "The difference between this and the Super Bowl is the women. The best of the best are here right now. And they're a little more eager."
That did not just happen: Before Parker arrived, 50 Cent wanted to know about Parker's upcoming musical debut, an album of all-French rap. "Well, it's French," I said. "I don't understand it."
Immediately upon Parker's arrival, 50 ratted me out. "I asked him if your rap is any good, and he made it sound bad," 50 relayed to Parker, directly in front of me, with Longoria as a witness.
"I said, 'I don't understand it,' " I yelped, a ball of nerves.
"If you don't understand it, then you shouldn't say nothin' bad about it," 50 replied. "Ain't that right, Tony?"
Even Longoria chimed in. "His French rap is absolutely beautiful," she said. "It flows off the tongue."
"I'll send my album to 50 to get his opinion first because his opinion matters," Parker said to me with a deadpan expression. "I don't care about what you think. Seriously."
Then the two erupted in laughter.
Final score: 8.5.
ESPN and Boost Mobile's Zo and Magic 8-ball Challenge
At Wynn Las Vegas
Roster: Alonzo Mourning, Magic Johnson, Ludacris, Queen Latifah, Terrell Owens, Amare Stoudemire, Carmelo Anthony, Paul Pierce, Shaquille O'Neal, Dwyane Wade, Sugar Shane Mosley, Floyd Mayweather Jr., Regina King, Vernon Wells, Reggie Bush, Nick Cannon, Julius Erving, Vivica Fox, Gabrielle Union, Jermaine Dupri, Bow Wow, Big Boi.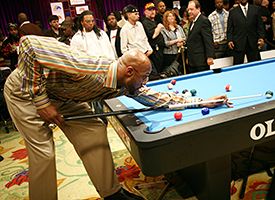 Johnny Nunez/WireImage.com
Alonzo Mourning can shoot some stick. Just ask Paul Pierce, who Mourning beat in the 8-ball challenge final.
Game:
This star-studded billiards tournament inside a Wynn ballroom was a swank affair that benefited from little competition on Thursday night.
Key plays: Alonzo Mourning beat Paul Pierce for the tournament title … Shaq looked unenthused when approached by Owens for a hug … Said Union: "My pool strategy is to be gorgeous." … Magic Johnson, on the 15th anniversary of his magical All-Star MVP performance after he'd announced his retirement: "Everybody thought being HIV-positive was a death sentence, so getting to play in that All-Star Game was something special. It inspired me to not let the disease prevent me from living my life. I'll always be grateful to the players and the NBA for letting play in that game."
The turnover: Many bemoaned the lack of open bars, a rarity during All-Star Weekend festivities.
That did not just happen: After a highly competitive T.O. and partner Shaun Robinson of "Access Hollywood" fell to Mosley and the always-stunning Fox, the infamous trash-talker looked like his face would explode from embarrassment. "We just eliminated the biggest mouth in sports," said an ecstatic Fox. "He tried to distract me with his muscles and clingy shirt, but I prevailed because I've got tighter jeans."
"See, my play was simple," she continued by demonstrating. "Bend over real low, then toss the hair. I don't have no shame in my game."
Final score: 8.5.
Dwyane Wade's Converse party
At Jet, The Mirage
Roster: Wade, Amare Stoudemire, Jameer Nelson, Kenyon Martin, Jason Kapono, Carmelo Anthony, Kenny Smith, Common, Nick Cannon, Nicky Hilton, Lesley Visser, David Aldridge.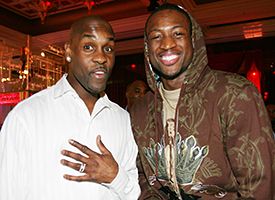 Johnny Nunez/WireImage.com
Gary Payton knows that Dwyane Wade is a good person to hang with on the All-Star Weekend scene.
Game:
Converse pulled out all the stops in unveiling Wade's head-to-toe line -- the company's first for an athlete. Rapper Common performed a long, inspired set while Anthony, Wade, and Cannon commandeered private booths along the stage.
Key plays: In a shocker, scantily clad dancers worked the poles on raised platforms … The apparel line was introduced during a fashion show featuring a bevy of male models, Cannon, Smith, Wade's high school coach Jack Fitzgerald and his mother Jolinda … Wade said All-Star Weekend is proving to be the ultimate fashion show. "Everybody is bringing some unique flavor," he said. "But Shaq, as always, is the smoothest. He won't be outdone in big events."
The highlight: Common had the crowd hyped, and even too-cool ballers were swinging lighters and flipped-open cell phones, singing in unison to "The Light." For his next tune, a righteous freestyle, Common worked Smith, Anthony, Wade and -- in a telling display of his skills -- Stoudemire, into his lyrics. Melo was not easily impressed: "Don't get me wrong, he's great, but Melo rhymes with a lot of things."
That did not just happen: After the fashion show, Kenny Smith snatched the mike from Wade to share this gem with the crowd: "I just want to say one thing: A lot of players get shoe deals. But D-Wade earned his."
Then, Wade would take the mike back: "Can we get back to partying, now?"
The turnover: Nicky Hilton and her beau, David Katzenberg (his primary profession is "son of Dreamworks co-founder Jeffrey"), spent the majority of the night mauling each other in a VIP room as their bodyguards watched them.
Final score: 9.5. Common's performance and the general good vibes flowing through the crowd overcame any shortcomings (like its light guest list … and Smith's speech).
Kenny Smith's All-Star Celebrity Poker Challenge
At The Empire Ballroom
Roster: Smith, Tony Parker, Antoine Walker, Vince Carter, Warren Sapp, Don Cheadle, Damon Jones, Rich Eisen, Jason and Jarron Collins, Bryon Russell, John Salley.
Game:This annual, go-to event suffered from Friday night competition, and the venue was unimpressive. But big names showed in support of Smith's charities: Feed the Children and The Aim High Foundation. Of the ballers, Jones was ousted first, Walker came in second (to win a diamond watch), Carter fourth and Sapp sixth. Later, all were treated to performances by DJ Jazzy Jeff and Q-Tip
Key plays: Carter told me he has an itch to scratch: "I might get back into the slam dunk contest for an encore. I'll decide after I judge it tomorrow night to see if I still have the jones" … All-Star Weekend has left Cheadle leery. "It's ridiculous right now," he said. "I think they need more police." … At the end of his opening speech, Smith named the celebrities and athletes in attendance, even citing Salley. Russell, however, was not named and looked heartbroken.
That did not just happen: When "Access Hollywood" opened its red carpet interview with Parker by posing a question about Longoria, Parker deadpanned: "I'm not talking about Eva. No questions about Eva. I've got to put my foot down." After an awkward beat in which the "Access" reporter looked like he might ignite in flames, Parker defused the tension. "I'm just kidding," he chortled … Later, the same reporter tried to pose a "Tim Hardaway hates gays" type question to Cheadle. "Next," the actor interjected.
Final score: 7
Tracy McGrady and Diddy's All-Star Kickoff Party
At Jet, The Mirage
Roster: McGrady, Diddy, Usher, Kevin Garnett, Lamar Odom, Chauncey Billups, Jordan Farmar, Baron Davis, Paul Pierce, Ray Allen, Jason and Jarron Collins, Derek Fisher, Tyronn Lue, Grand Master Flash, Busta Rhymes, Yung Joc, Too Short, Taye Diggs, Kim Kardashian, Brandon Davis.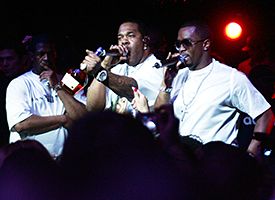 Chris Farina/WireImage.com
We're hoping that Busta and Diddy might just
decide to "Pass the Courvoisier" in this direction.
Game:
McGrady and Diddy hosted the premiere late-night event on Friday, though the hip-hop heavyweight did most of the heavy lifting, feting the loving crowd with classics like "Mo' Money, Mo' Problems" and "All About the Benjamins." Later, with Davis and McGrady standing on stage, Diddy reunited with Busta Rhymes for "Pass the Courvoisier" -- throughout which Busta wielded a full bottle of Courvoisier, of course.
That did not just happen: Lakers rookie Farmar worked his magic with some ladies on the dance floor, but when they shimmied away, he found himself dancing with Odom. This lasted for approximately three seconds before they briskly parted ways. But forgive Odom for releasing some steam. He had a heavy day unveiling his "Son of Man" T-shirt line featuring a black Jesus at Magic, the nation's largest apparel convention at the Las Vegas Convention Center. "I couldn't be happier," he says. "There was a lot of buzz and a lot of buyers.
The turnover: While Diddy & Co. performed on stage, many ballers -- including former teammates Garnett and Billups -- elected to watch the performance on monitors in an adjacent VIP room. "We've all seen Diddy perform before," Lue said. "It's no big deal." Tell that to Marco Jaric. The tight list left him chilling outside the club with commoners.
The buzzer-beater: Leave it to Diddy to put the weekend in perspective. "A lot of f----- up s--- is going on in the world right now, wars, AIDS in Africa," he said. "For us to be in Vegas during All-Star Weekend, we need to be thankful." A short time later, when Diddy and his entourage of security goons exited the club at 3 a.m., 200 fans pursued, leading to many open-hand palms to the faces of some unsuspecting bystanders.
Final score: 9.5
Jay-Z and LeBron James' Two Kings Dinner and Party
At TAO Las Vegas, The Venetian
Roster: James, Jay-Z, Beyonce, Kobe Bryant, Diddy, Whitney Houston, Magic Johnson, David Stern, Christina Aguilera, Willie McGinest, Baron Davis, Tiki Barber, Rasheed Wallace, Barry Bonds, Larry Johnson (Chiefs running back), J.R. Smith, Fabolous, Jermaine Dupri, Dave Chappelle, Jason Kidd, Kelly Rowland, Queen Latifah, Mary J. Blige, Method Man, Nelly, Taye Diggs, Scottie Pippen, Al Sharpton, Russell Simmons, Roy Williams (Cowboys safety), Jeremy Piven, Busta Rhymes, David Hasselhoff, Big Boi, Zach Braff.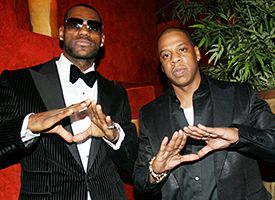 Johnny Nunez/WireImage.com
LeBron will leave the music to Jay-Z, but he will hit
his mentor up for business and marketing advice.
Game:
The "two kings," pals Jay-Z and James, commandeered the elegant 42,000-square-foot TAO Nightclub to co-host the most star-studded event of All-Star Weekend. The night began with a private power dinner that included several CEOs of Fortune 500 companies, then all kicked their heels to the sound of DJ Funkmaster Flex.
Jay-Z spent much of the night introducing King James to his fellow moguls. "LeBron can transcend the game because he's so coachable," Jay-Z said. "But I'm more than a business partner. I'm his lifestyle coach."
"I'm lucky to have a mentor like Jay-Z," James said. "But I don't want to be him at all. I'm LeBron James. I'm looking more at real estate, investing in corporations."
And definitely not music. "I'll get on the stage, dance with him a little bit, move the crowd," James says. "But the mic ain't me."
Key plays: Wallace inexplicably hung out behind the bar with the 'tenders … Houston sprinted through the red carpet with nary a wave nor smile while Aguilera looked positively peeved for much of the night … Barber and Magic were duking it out to determine whose footsteps James is following. "He's a lot like me," said Barber. "He's polite and he understands the game off the court." … "LeBron has the smile, the poise and smarts," Johnson added. "But now he's got to work on the one thing he's missing: the championships." … James could only laugh. "Definitely, but I don't have nine Hall of Fame teammates like the Lakers did."
That did not just happen: Poor Roy Willliams. After the dude posed for photos on the red carpet, the paparazzi swarmed me to ascertain his identity.
Final score: 9.5. The only knock? With so many suits in the house, the atmosphere was understandably stuffier than most All-Star Weekend parties.
Dwyane Wade Sidekick by T-Mobile Party
At the T-Mobile tent
Roster: Wade and wife Siohvaughn, Ron Artest, Barry Bonds, Dwight Freeney, Roy Williams, Kevin Martin, Joe and Gavin Maloof, Jeremy Piven, Kevin Connolly, Nas, Ellen Pompeo, Fabolous, Ludacris, Mekhi Phifer, Kennedy, Danny Masterson, Penny Marshall, will.i.am, Kim Kardashian, Ed Lover, Jim Gray, Regina King, Method Man.
Game: While the backslappers kicked it at TAO, the fun-lovers headed to Wade's shindig, his third in as many nights. "It's Vegas, and I guess I'm a veteran now, so I needed to step up," Wade admits, adding that this latest business venture might be the wave of the future. "I think you'll see a lot of athletes take their game outside of shoe deals and into the technology world."
Inside the massive tent, the lights of Vegas were swapped for Miami's white sand, palm trees and pools of water. For Wade, this party might've been his personal highlight, partly because he was celebrating his victory in the skills competition hours earlier. "Any time you're up against stars like Kobe and LeBron, you definitely want to win," he admits. "It's time to celebrate, but I'm not sure what's going on here. They're keeping a lot of secrets from me."
The secrets? Surprise performances by Nas, will.i.am, Ciara and Ludacris.
Key plays: Who consistently rolled with the hottest ladies over the weekend? The Maloofs. By far. Also roaming their private tent: Bonds, will.i.am (wearing a blinged-out earring that covered his entire ear), and what appeared to be Arab sheiks. "They know how to throw a party," Artest said of his owners. "And coming to these things is one of the perks to being a Kings player." … Phifer, Masterson, and Connolly (E from "Entourage") are sharing one bodyguard. He must be effective, as nobody seemed to be bothering them.
That did not just happen: Jim Gray tried hard to get Wade's attention from the main floor while the baller watched the show from atop his raised private platform. When Gray finally succeeded, he gave Wade a weak index-finger point, as if to say, "Heeeyyy, you!" Later, Gray would relieve Artest of his massive diamond-encrusted Tru Warier necklace, place it around his own neck, then dance like a madman. Said Joe Maloof, "Jim Gray is losing it." Indeed.
The buzzer-beater: The Maloofs were beaming with pride all night. "We do feel a responsibility as hosts," Gavin Maloof said. "We came up with this idea to host the All-Star Game in Vegas, and it's been a tremendous boon to the local economy, and I'm sure the hotels will all thank us for bringing them all of these high-end customers."
Joe Maloof says the success of the weekend should help Vegas land a team. "I think we'll have a team because they only need to do two things: build an arena and take the local team off the books," he said. "David Stern left the ball in Mayor Goodman's court. But there's no doubt in my mind this will happen."
Final score: 10.
And may god have mercy on the Las Vegas Violators.
Sam Alipour is based in Los Angeles. His Media Blitz column appears in ESPN The Magazine and regularly on Page 2. You can reach him at Sam.Alipour@gmail.com.