Black people can't swim.
It's that myth -- and, all too often, a reality -- that Jim Ellis has tackled for more than 35 years.
Ellis' story is at the center of "Pride," a film from Lions Gate and first-time director Sunu Gonera that chronicles Ellis' first year with the Philadelphia department of recreation, where he founded an African-American swim team in Nicetown, one of Philly's roughest neighborhoods. It was 1972 when the schoolteacher and former Cheney State swimmer first changed the lives of a number of troubled black inner-city kids by, in effect, tossing them into a pool.
Academy Award nominee Terrence Howard ("Hustle and Flow"), who plays Ellis in the film, has some familiarity with the challenge his real-life counterpart faces. During a recent conversation at a hotel in Beverly Hills, Howard admitted that growing up in Cleveland wasn't easy for a kid who liked to swim.
"Those inner-city pools are a nesting ground for death and harm," he recalled. "You'd get beat up. People urinated in the water. It wasn't a good place, so we didn't do much swimming."
Howard laid his hands on the table, palms down. By most standards, particularly those belonging to movie stars, Howard's digits are gnarly.
"I can box better than I can do anything else," said Howard, one of Hollywood's up-and-coming thespians. "So why do you think my knuckles are jacked up? That's what you had to do if you want to swim in those pools in Cleveland."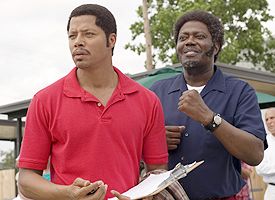 Lions Gate
Terrence Howard, left, plays Jim Ellis, who has taught swimming in inner-city Philadelphia since 1971.
Howard estimates that one in three of his black friends doesn't know how to swim. I tell him that of the dozen or so African-American Pro Bowlers I attempted to recruit for a shark-diving foray in Hawaii for an ESPN The Magazine story, only two were capable of not sinking to the ocean floor.
Forget a movie star's mangled knuckles. Mind the stats. Drowning rates in ethnic communities are nearly three times the national average. According to a recent study by the Centers for Disease Control and Prevention, African-American children are more than twice as likely to drown than white ones. Black children ages 10 to 14 are five times more likely.
"Something is drastically wrong," Howard said. "And U.S. swimming is being handicapped by it."
The numbers back Howard up. Only four black swimmers have represented the U.S. Olympic team. The first male was Anthony Erwin, in 2000, when he won a gold medal in the 50-meter freestyle. It wasn't until Athens in 2004 that the first black woman, Maritza Correia, qualified. She won a silver medal in the 400-meter freestyle relay.
"We only believe what we can see," Howard explained, citing track legend Jesse Owens' performance at the '36 Olympics. "Until Owens broke those records, we didn't know it could be done. We need one person to challenge and raise the bar." But here, there's hope. Ellis cites Correia and Cullen Jones -- the first African-American to break a long-course world record at the World University games -- as two of the brightest stars in USA Swimming's sky.
This, in part, is why Ellis agreed to a film based on his life: to help expand that list by ensuring that the next LeBron James will want to swim and not dunk. Good thing Ellis has some friends to aid him in his efforts. USA Swimming is already using the film to recruit swimmers and utilizing its real-life hero in PSA spots for "Make a Splash," a campaign aimed at reducing drowning deaths and drawing more children to the sport. And Ellis says Lions Gate, the studio behind the film, is planning to help raise funds for his club.
It's this grassroots effort that can help clubs like Ellis' the most. Like many inner-city pools, his Marcus Foster Recreation Center -- the one featured in the film -- is in need of repair.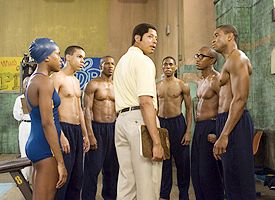 Lions Gate
Ellis says his club is down to 30 members from as many as 150.
"Right now, we're down to 30 swimmers, from 150, and much of that has to do with the physical condition of the pool," Ellis said. "If you come in at 5 a.m. and there's no heat, that deters people.
"U.S. Swimming can use this movie to help attract inner-city youth, but you need a lot more than a movie to attract Afro-Americans to swimming. If we don't have the facilities, we have nothing."
It's quite a conundrum, and one often tackled by socially conscious filmmakers: Can a plight that begat a movie be eradicated by the movie's effort to raise awareness and funds? If so, then maybe myths can be dispelled, Ellis' pool will be full and USA Swimming can paddle a promising new course.
And then maybe one of George Clinton's creations will finally be saved.
On "Motor Booty Affair" by Parliament ('78), a critically acclaimed underwater-themed album that helped shape funk in the years to come, Clinton plays to stereotypes with his fictional character Sir Nose D'Voidoffunk (or "Devoid of Funk"), who hates to dance and -- on the track "Aqua Boogie" -- to swim. "I can't swim," the character crows, "I never could swim, I never will swim." Not if Misters Ellis and Howard can help it, Sir Nose.
Sam Alipour is based in Los Angeles. His Media Blitz column appears in ESPN The Magazine and regularly on Page 2. You can reach him at Sam.Alipour@gmail.com.