PARIS -- Tony Parker's self-titled French hip-hop album finally dropped in his native land last week, and though he doesn't plan to share it with Americans, there's hope.
"I want to see how it does in France before I bring it here," Parker told me during NBA All-Star Weekend. "If it does well, anything is possible."
So how's it doing? According to his Amazon sales rank (16,234), he's faring better than some had feared. Parker is currently outselling Ron Artest's "My World" (192,027), K-Fed's, um, junk (116,378), and even "Ouest Side" (241,703), the latest album from Booba, who is apparently France's top rapper.
Preliminary numbers aside, it seems the album's potential to travel is tied to Parker's temperature with his own people. So that's where Blitz must go.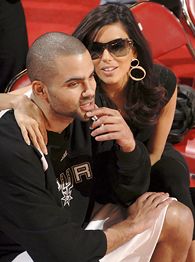 Andrew D. Bernstein/Getty Images
Tony Parker is indeed engaged to Eva Longoria, "the girl from that show about the women."
While in Paris on an assignment during the week of Parker's debut, I decided to conduct some highly professional research at a nightclub in the hip neighborhood of St. Michel where, at around midnight, the DJ cued up Parker's first single "Balance Toi" (roughly "Swing Yourself"). Sure, this dance number includes the translated lyrics, "What, you want to dance? No, it's not worth it. Me, I'll stay on the sofa enjoying the vibe by raising my arms." And this is, no doubt, why you're currently feeling that searing pain between your ears.
But, I must admit, while I typically do not dance unless my partner is either (A) extremely attractive or (B) holding a switchblade to my nose, I did dance to "Balance Toi" that night. And I was not alone. Aided by flashing neon lights and a generous smoke machine, the track, which recently reached No. 2 on France's new music chart, nearly set the two-story club on fire. Yet, even as the limbs and rears belonging to nearly 100 college-aged clubgoers were flailing and shaking, respectively, many were scratching their heads.
When informed of the artist's identity, 21-year-old, gum-smacking student Marie Martin was surprised.
"No way?!" Martin said. "Is he the one who is marrying the girl from that show about the women?"
He also plays with an orange ball for a lot of money. Seems many locals are unaware of this fact, and through no fault of their own.
PARKER'S TUNES
Don't trust the French? Peep two tracks for yourself. "Balance Toi" and the krunkish "Bienvenue Dans le Texas" ("Welcome to Texas").
Over the course of my three-day stay in Paris, my channel surfing produced exactly two highlight segments of the NBA (one featuring the Spurs) and zero mentions of Parker's rap efforts. Though the local newsstands were awash in French music and sports rags, Parker's name and face were apparently not cover worthy.
This does not mean that the locals are entirely Parker illiterate. One morning, I visited a popular Internet cafe near the famed Champs Elysees where a dozen locals were watching an England-Wales rugby match streaming live on the Web. These sports fans were quite knowledgeable on almost all things Parker.
"In France, we support Tony in everything he does," says Olivier Hanot, 40, the hip Nike-sweats-clad owner. "He makes a lot of money, but he's nice and cool and doesn't drive fancy cars and get into trouble. So we watch the Internet results of the San Antonio team, and we know he's dating a nice girl in the States."
Her name is Eva Longoria, people. But this is unimportant. What is of utmost importance is whether Parker's countrymen will buy his album. Hanot is a self-described "big rap fan" and Booba devotee, so he'll be a good gauge.
"Tony has a rap album?" said Hanot, who looked both stunned and saddened for being stunned. "When? I never heard about it."
A young customer who was well aware of Parker's side gig then interrupted Hanot. "I know of his album," said Alexander Lagnel, 15. "I like rap and I like Tony very much."
Seems Parker has at least one guaranteed customer, right?
"No, I will not buy his album," Lagnel corrected. "But I will download it."
His countrymen notwithstanding, early numbers and my ears suggest that Parker's album may, in fact, deliver the goods. And, if it does, the rap world might undergo the same dramatic shift that the NBA has undergone: Foreigners will take center stage. Parker could inspire Manu Ginobili to rap in Span-alion, DeSegana Diop to kick Wolof, and space visitor Gilbert Arenas to wipe out all with an album rapped in his own native tongue: Babaloo Marsaloo (which, when spoken, is punctuated by two claps, then a bat-like screech.)
This is all well and good as long as Dirk Nowitzki zips it. Surely, there are laws and commandments forbidding German rap.
Merriman gambling for good
According to a source close to the project, Shawne Merriman recently appeared in the just-wrapped pilot for "Wanna Bet?" a reality competition spun off from a German hit. The Chargers LB and comedian Tom Green joined two other contestants to compete in a series of wagers like, I'm told, whether USC's marching band can perform a certain tune.
We applaud Merriman because his winnings go to charity. But imagine if the producers would've signed Charles Barkley. Roughly three Barkley-sized wagers could create an entirely new ozone layer for Earth.
Agassi secures book deal
Andre Agassi has accepted a reported $5 million offer from Knopf to publish his memoir. Says senior vice president Paul Bogaards, "He got a healthy advance, but we think he's worth every penny."
This is, in part, because Agassi has assured Knopf execs that his book will be a "complete tell-all," revisiting his freakish roots in covering topics he previously shied away from, including his Iranian heritage (his dad boxed for Iran's Olympic team), his failed marriage to Brooke Shields and, though some things are better left alone, his brief fling with Barbra Streisand. Sweet.
Mayweather definitely not a puppet

As he prepares for his bout with Oscar De La Hoya, Floyd Mayweather Jr.'s focus might be an issue. In addition to his turn on HBO's behind-the-bout series "De La Hoya/Mayweather 24/7" (debuts April 15), the CEO of Philthy Rich Records is readying his first release by Cleveland-based rapper H-Flow for an early '08 drop. Why H-Flow?
Said Pretty Boy, while at a recent charity event at the Wynn Las Vegas: "He's good-looking and he's got a lot of diamonds."
Makes sense.
For his next act, the pugilist is searching for a sultry "Dreamgirls"-like female quartet because, you know, they're marketable. "Philthy Rich is not just music," he explained. "It's the lifestyle we live: the money, the life, and the music." To ensure that his austere vision is implemented correctly, Pretty Boy personally oversaw H-Flow's music video shoot in Vegas in late February and he's serving as the album's exec producer. So don't bother asking Mayweather whether he's a hands-on executive. You'd be better off punching him in the face. Trust me.
"I'm the boss, and I call the shots," he said, his brow furrowing. "I'm not like [Bernard] Hopkins, [Winky] Wright or [Shane] Mosley. They're just puppets under De La Hoya's company. I'm my own boss."
Sam Alipour is based in Los Angeles. His Media Blitz column appears in ESPN The Magazine and regularly on Page 2. You can reach him at Sam.Alipour@gmail.com.