LOS ANGELES -- Producers Mark Ciardi and Gordon Gray were taking a stroll around CBS Studio Center, site of the scoring stage for their film "The Game Plan," when they came across a pretty young girl with a scar that blankets the right side of her face.
Though the understandably self-conscious lass promptly flipped her blond mop over the vicious burn, her disfigurement didn't go unnoticed. "Man, that's a nasty one," Ciardi told the girl. "That's too bad."
It's a bold gesture, bordering on sickening, but Gray did him one better: "Can I touch it?" He didn't pause for an answer.
With each of Gray's pokes, a naive witness – like, say, me – would expect the lady to puke from embarrassment. Instead, she giggled with delight, all the way into a nearby stage for the daytime drama "Passions." While I didn't peg her as an actress -- nor a fictional burn victim -- these men figured as much. And that figures.
As Tinseltown's go-to shepherds of sports flicks, there isn't much in the way of cinematic curveballs that Ciardi, 46, and Gray, 42, haven't seen. The guys behind "The Rookie," "Miracle" and "Invincible" and partners in Disney-based Mayhem Pictures have "been on every minute of every movie we've ever made," as Gray would note. Their level of commitment would be on display today. [Editor's note: ESPN is a subsidiary of The Walt Disney Company.]
As they put the finishing touches on "The Game Plan" – a family comedy starring Dwayne "The Rock" Johnson as Joe Kingman, a self-absorbed pro quarterback who discovers he's the father of an 8-year-old girl – they'll spend the morning in a frenzy of driving that will take them from Universal Studios, to Burbank for a pitch meeting with Disney brass, to CBS Studio Center in Studio City to tinker with the musical score for "The Game Plan," and finally a return to Disney for a music budget meeting.
They claim not to suffer from ADD but, hey, when you're fighting to complete a movie in time for its release date while juggling several future projects, the tendency is to push the day as far as it can go.
During a reprieve over lunch at the Disney studios dining room, the producers took some time to discuss their game plan for "The Game Plan" and a producing career that inspired others to pursue a similar gig.
Want to know how to make a sports flick? These are the guys you should be talking to.
---
LOOKING FOR IDEAS? DOESN'T HURT TO BE A SPORTS FAN
Ciardi and Gray – who Andy Fickman, director of "The Game Plan," refers to as "the runway model" and "the hand model," respectively – are both impeccably dressed and well-groomed former actors. But don't let their appearance fool you. They're also guys' guys with sports on their minds.
Over the span of a few hours, they'll debate USC's national championship chances, whether the NFL will return to Los Angeles and the latest on Kobe's temperature. It's a reminder of the years they spent working out of Ciardi's garage when Gray, a USC football nut, and Ciardi, a pitcher who briefly reached the majors with the Milwaukee Brewers in 1987, were struggling to launch producing careers.
Ironically, it was their not-so-casual interest in sports that resulted in their first big break. Back in '99, Ciardi was killing time in his doctor's waiting room when he read a story on Jimmy Morris, a 35-year-old high school science teacher turned pitcher for the Triple-A Durham Bulls. The producers contacted Morris' reps that afternoon, just days before his call-up to the bigs, beating what would total nearly 250 suitors.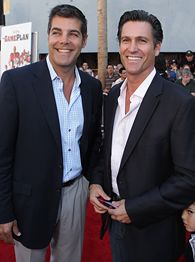 Gordon Gray and Mark Ciardi know sports movies.
"These sports stories are everywhere, so clearly, you really need to have your ears to the ground and move quickly," says Ciardi of the film that would become "The Rookie."
GIVE 'EM SOMETHING DIFFERENT ...
Today's theaters are flooded with inspirational, reality-based sports films. But while these films have been profitable, the highest-grossing sports movies are comedies like "Talladega Nights" ($146 million domestically), "The Longest Yard" ($158 million) and the granddaddy of the genre, "The Waterboy" ($161 million).
With the success of such wacky sports fare in mind, and with a meet-and-greet with Johnson looming, Gray and Ciardi fashioned a pitch uniquely suited for the thespian, who played defensive tackle for the 1991 national champion Miami Hurricanes. "It's clear he has the physicality of a football player," says Ciardi, "but when you meet Dwayne, the first thing that strikes you is he's a very funny, charming guy. He's perfect for a big family comedy."
To implement their vision, the producers took a chance in hiring Nichole Millard and Kathryn Price, aspiring comedy writers without a credit to their name, to write the script and Fickman, who they hired off his stage musical "Reefer Madness," to direct.
"We made 'Invincible' with a director who didn't know anything about football and 'Miracle' with a guy who didn't know anything about hockey," explains Gray of his decision to hire Fickman, who recently directed the soccer comedy "She's the Man." "These sports movies aren't about sports. What's important is what's going on off the field: The characters, the story, and the comedy."
... AND DON'T FORGET TO MAKE IT RAIN
If you didn't shed a tear during, say, "Rudy," "The Rookie" or "Brian's Song," chances are you're either a corpse or Art Shell. The best sports flicks pack a strong emotional punch, and sports comedies shouldn't be any different.
As Gray put it, "If I'm crying on the last page, then I'm in," adding that he shed a "fully-formed man-tear" when he first read the script. "Sports films are really chick flicks for guys. We're not embarrassed to cry during sports movies."
Emotional resonance is also the key to luring female ticket buyers. The producers note their flicks test highest among women over 25, a demographic that responds to romantic subplots and strong female characters. Explains Ciardi, "Their world needs to feel just as real as the football."
Kingman's ladies include his daughter Peyton (the adorable Madison Pettis), his take-charge agent (Kyra Sedgwick), and Peyton's alluring but no-nonsense ballet teacher (Roselyn Sanchez). "The girls in this movie are educated young women with strong personalities," Sanchez would tell me. "These types of movies should have meaty female characters. As an audience member, that's what I want to see myself."
Teenage boys, not so incidentally, might agree. "She's fine as the day is long," Johnson says of Sanchez. "That never hurts."
IF YOU'VE GOT THE TIME, GET THE RIGHTS ...
In the gaming world, it's the difference between Nintendo's "Tecmo Bowl" and Commodore 64's "4th and Inches," which featured the red "Champs" and the blue "All-Pros." In the realm of sports flicks, think the Cleveland Indians of "Major League" versus the Washington Sentinels of "The Replacements." "When you don't have the luxury of a fact-based film and it's about recreating that reality, getting the real league is the biggest thing," says Gray, adding, "the marketing value that goes with it can't be quantified."
Originally, the script had Johnson portraying a New England Patriots QB, so the filmmakers reached out to their partners on "Invincible." They'd landed the use of NFL logos and game footage (for a reported $600,000 in licensing fees) for the drama about Vince Papale's stint with Philadelphia Eagles in the '70s, and struck a similar a deal with the MLB for "The Rookie," but with their September 2006 production start nearing, the sides failed to come to terms. Unlike the stalemate between the league and the filmmakers behind "Any Given Sunday," the salacious, Oliver Stone-directed flick, theirs wasn't a creative impasse, but a business one.
"The NFL didn't have any issues with our script," Gray explains emphatically. "The problem was we had two giant conglomerations trying to redefine a lot of the decisions we made on 'Invincible' and make all of their corporate deals fit in a short amount of time. It wasn't for lack of trying. We passed the studios' deadlines. We exhausted their legal affairs team. It just got to the point where we were being irresponsible as producers."
"When it comes to marketing, endorsements and signage, the league's needs aren't always in line with the needs of creative entity," Fickman would explain. "At a certain point, if you don't pull the trigger on your contingency plan of creating a whole new league, then your 'Plan A' can destroy you."
... BUT DON'T SWEAT IT IF YOU CAN'T
With the NFL out, Gray and Ciardi – together with Disney's design team, production designer David J. Bomba, and partners Nike and Underarmour – took on the gargantuan task of creating a fictional league.
Though the league is never identified in the film – in various interviews, the cast and crew would refer to the league as the "AFL," the "AAFL," and "the Whatever League" – the Patriots became the Boston Rebels, and uniforms and logos were created for other teams.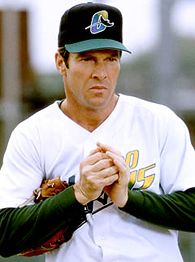 You don't have to look far to find your next idea.
"You have to remember, because of ESPN, sports fans are all experts," says Ciardi. "Nobody has seen actual pirates on a ship, but everyone knows what pro football is supposed to look like. If you screw that up, you'll lose the audience right away."
The Patriots, who granted the filmmakers permission to shoot at Gillette Stadium, and a bevy of cameos from familiar faces, further bolstered the film's authenticity. The Maloof brothers, Paul Pierce, Sebastian Telfair, Wally Szczerbiak, and JoJo White appear in a scene at Kingman's restaurant, while media members including Boomer Esiason, Marv Levy, Jim Gray and ESPN's Stuart Scott, Steve Levy and John Clayton populate the film's press rooms.
Not making the cut? Cameos by Pats owner Bob Kraft and Gray's former USC classmate Sean Salisbury. "Don't tell Sean," Gray adds. "We'll get him onto the DVD and see if he notices."
ROLL WITH THE ON-FIELD PUNCHES
Game action is the most vital component in assuring a sports flick's authenticity. It's also an area in which Mayhem's flicks have excelled thanks to a long-time collaborator. "I wouldn't want to make a sports flick without Mark Ellis," says Ciardi of the former college gridder who served as sports coordinator on all of Mayhem's films, as well as football flicks like "Any Given Sunday" and "We Are Marshall."
It's Ellis' responsibility to scout, train and choreograph a roster of jocks who can act (and not necessarily the reverse), but the all-too real action can also lead to some unexpected consequences. In June 2006, just days before production was originally set to commence, Ciardi was in the shower at his hotel in Boston when his wife beckoned him to an urgent call from Ellis. "I immediately thought, 'Oh no, something happened to Dwayne,'" Ciardi recalls.
Johnson had ruptured his Achilles tendon during rehearsals. "Dwayne said, 'If you don't know me, let me tell you: I work hard, and I'll be back in a few months, faster than anyone," Ciardi relays with a chuckle. "So I asked my doctor, 'Is this doable?' He said, 'If there's a miracle.' But sure enough, Dwayne pulled it off. "
After a three-month delay, the game, of course, rolled on. The producers managed to retain nearly their entire cast and crew and accommodated Johnson by pushing the majority of the game action toward the end of the shooting schedule when, explains Ciardi, "the poor guy could actually walk."
Though the new September start date did cost the filmmakers a cameo by Shawne Merriman, Johnson noted one other tangible benefit. "They put an imaginary three-foot radius around me to keep the players away from the Achilles," he recalled, "So, you know, I felt like a real QB."
KEEP AN EYE ON THE BUDGET
Sports films are profitable fare, largely due to their cost-efficiency. According to an Motion Pictures Association of America report, the average cost to make a film in 2006 was $65.8 million. Meanwhile, according to various reports, the final cost tally on "The Rookie" and "Miracle" – films that would gross an estimated $75 million and $64 million in domestic receipts alone – were $24 million and $40 million, respectively. Toss in DVD revenue, and it's a wonder someone's not making a bio drama on Norv Turner just for the heck of it.
While sports films aren't typically burdened with star salaries and car chases, bringing one in on budget isn't an easy proposition. "If you want to be economical, a little football goes a long way, " explains Ciardi of cost-prohibitive hiccups like injuries, the matter of fleeting daylight – a hindrance when you're shooting a day game – and, in case of life affecting art affecting life, the finicky Gillette turf.
Because the production ran simultaneously alongside the NFL season, both the Patriots and the Rebels were forced to play on the same rainstorm-ravaged, sand-based grass surface. The filmmakers compensated by painting the grass before the Patriots eventually installed artificial turf following a Nov. 26 home loss to the Bears. The fallout? Another film on time and on budget, while the Patriots haven't lost a home game since.
And for the loss to the Bears, offers Gray, "They can blame Mark. Not me."
THE MUSIC MUST ROCK
When the camera ceases its whirring, the producers' work continues. One of their top post-production priorities is musical accompaniment because sports flicks rely on tunes to punctuate game action, push the narrative and flesh out its characters. "You can't underestimate its importance," say Ciardi, and if "Rocky" ("Gonna Fly Now"), "Karate Kid" (Joe Esposito's immortal "You're the Best") and "Remember the Titans" (who knew a locker room sing-along of ''Ain't No Mountain High Enough'' can bridge racial divides?) are any indication, he's right.
At the urging of Johnson – a big Elvis Presley fan – the filmmakers set much of the film to Elvis classics, a pricey proposition because publishing rights to The King's tunes are very expensive.
Next, they hired composer Nathan Wang ("She's the Man") to write a musical score that infused Presley's sounds with the attributes of a classic football score which, as Wang himself would put it, "typically pushes to create tension with a rhythm that's created by drums or percussion, a lot of fast notes, with brass always coming up with some relentless chatter underneath the strings."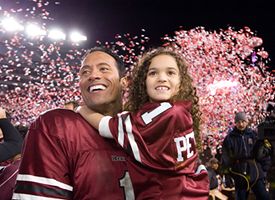 Can you smell what "The Game Plan" is cookin'?
ABOVE ALL, ENJOY THE PARTY
Weeks later, I meet with the filmmakers at Disney's historic El Capitan Theater in Hollywood for the world premiere of "The Game Plan." It's an NFL Sunday, a day typically spent in front of the tube, but when the credits roll, partygoers head to a lot next door for an after-party unique to a sports flick.
Here, Hollywood slicksters swap suits for Rebels jerseys, kids toss footballs and maim inflatable tackle dummies, Lakers GM Mitch Kupchak, Clippers coach Mike Dunleavy and Erik Estrada talk "C.H.I.P.S" and hot fudge dips, and all rib the film's star over his ballet recital scene, one in which Johnson donned a leotard. "Seeing me in those tights, I didn't know whether to laugh or cry," Johnson admits.
That this is a fun scene, and not your typical wine-and-wonks affair, shouldn't come as a surprise. For many of the cast and crew, it's their first reunion since working in Boston last fall, days of impromptu touch football games. "These types of movies are truly fun to make," Fickman explains. "They're rare, in that when we finished shooting, people didn't head back to their trailers. We wanted to hang out. That doesn't happen in this business."
Though Ciardi and Gray are currently branching out with non-sports fare (they have several in development), their next movie will likely be a biopic on Penny Chenery, owner of 1973 Triple Crown winner Secretariat. So no, they haven't yet had their fill. Gray explains: "When I was deciding on a career, I asked myself, 'What are the three things that you love?' For me, it was the beach, movies and sports.
"Two out of three ain't bad."
Sam Alipour is based in Los Angeles. His Media Blitz column appears in ESPN The Magazine and regularly on Page 2. You can reach him at sam.alipour@gmail.com.