Bittersweet
Memories
That is all I'm taking with me
So goodbye
Please don't cry
We both know I'm not what you
You need
And I ...
Will always love you
-- Dolly Parton/Whitney Houston
Will he stay or will he go? After demanding a trade this summer, then going mum in the fall, Kobe Bryant has Los Angeles on edge. Well, one jilted Kobe fan, a Lakers lifer, has had enough and ended it the way any Angeleno would: via text. Page 2 nabbed the transcript.
---
(Sent 6:00 p.m., 10/4) KB, driving 2 Staples for the Utah game, bluetooth in my ear, Red Bull in one hand, punching the horn with the other, and texting U with my nose ... just 2 say that, 2night, I'll be saying goodbye. It's over. I'll miss your game, your smile, your white-like-Coby-Karl's-ass teeth. But this isn't working. Don't bother 2 write. Don't call. Don't send Bucher. Goodbye, sweet KB. Goodbye.
(Sent 6:08 p.m., 10/4) Txt back?
(Sent 6:10 p.m., 10/4) What, 2 busy flirting with Zeke? Cuban? Paxson? Slut.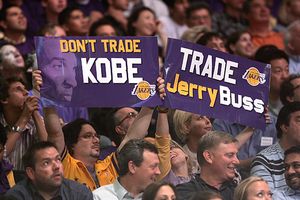 Jeff Gross/Getty Images
Today, I love you ... tomorrow, I may love you not.
(Sent 6:11 p.m., 10/4) Sorry, didn't mean that. This whole breakup thing has me actin' a fool. Shouldn't have booed U at the opener. Heat of the moment, like when High School Musical chick clicked Send. Look, this isn't easy for me. You were the most consistent thing in my life. Crazy times. But let's be BFFs. We've been thru 2 much, come 2 far. Txt back soon, k?
(Sent 6:25 p.m., 10/4) Almost there ... Flying down the 10 at 7 miles/hour ... Roll down the windows, roll down the top, crank up the Beach Boys, man, don't let the music stop ...
(Sent 6:28 p.m., 10/4) Remember, Bean? That was our song. Those wild, sexy nights ... just U, me, 3 championships, 81 points. All gone, in one summer.
(Sent 6:38 p.m., 10/4) I bet u hate Randy Newman now, and the National Anthem and the WGA. Bet you'd cross the picket line! Commie. Anyway, I'm here now, sitting next 2 Phil's girl Jeannie near the court so U can hear me. Here come the player introductions. Here come the boos!
(Sent 6:42 p.m., 10/4) Wait, loud cheers from the courtside fans. What's up?
(Sent 6:50 p.m., 10/4) Spoke 2 Jimmy Goldstein. Know him? Courtside fixture? Silver mop sticking out his long-brimmed hat? Looks like the ghost from Poltergeist? "They charge $2,400 a seat down here," he explained. "If Kobe left, they'd cancel their season tickets in a heartbeat, particularly the so-called celebrities, the most fair-weathered fans imaginable. They'd follow him to the Clippers if it came to that." Yikes! I'll sulk with the real fans, the ones who feel my hurt.
(Sent 7:00 p.m., 10/4) Spoke 2 Matt Everett, UCLA, section 329, 8 beers down. "Hell yeah, trade him!" he yelped. "If he wants 2 be a bitch, trade his ass for Nocioni, straight up! Go Lakers! Wohoo!" Thru drunk goggles, even that Luol Deng package looks good. No, U can't drink thru a breakup. This Everett dude doesn't know that? And doesn't he remember?
(Sent 7:15 p.m., 10/4) Do U remember? We were just a couple of 18-year-olds, offering up our hearts. I, a freshman at UCSB, a Lakers lifer. U, a jittery rookie with a funny name in your Forum debut. I came with a friend, and a boatload of liquid courage. I handed the courtside waiter $40 for an escort to empty floor seats, waved U down during warm-ups, and smiled. You smiled back, and signed an autograph on my "back-2-back champions" Lakers pennant. Love at first sight.
(Sent 7:20 p.m., 10/4) Remember the semifinals vs Utah? Here U were, a rook on a team of All-Stars, and you're the one shooting down the stretch. What was it, 2 air balls? Three?
(Sent 7:26 p.m., 10/4) But when Utah advanced, and the pundits called U names, U know what? I was hooked. You weren't afraid to take those shots. In this town, the lights are bright and hot, but if we like U, we give U global stardom. And if we like U a lot, we give U an Olsen twin.
(Sent 7:28 p.m., 10/4) But U didn't play that. U were an anomaly. U didn't go 2 our parties, star in our Kazaams, bang our Kardashians. All U wanted, sweet KB, was greatness, and 2 be loved unconditionally. We delivered both.
(Sent 7:33 p.m., 10/4) Spoke 2 Derek Bison, an unproduced screenwriter, 47, from Chicago, a Bulls fan. Know what he said? "Kobe's a child. Shaq, messing around in Colorado. ... And now this summer? Forget it, man."
(Sent 7:40 p.m., 10/4) Forget U, Derek! KB, U were superhuman on the court, and all 2 human off it, and I dug that. This town digs tragic heroes, and sees awesomeness in your faults. The more egregious, the better. When the rest of the world saw up Britney's skirt, they puked. I cheered! And then puked.
(Sent 7:47 p.m., 10/4) Look, I know I've made mistakes. I flirted with others (Shaq). U did 2 (Elgin Baylor). But Kobe, baby, when they called U Baby Kobe, I argued otherwise. I faulted the Big Fella, who was older and knew better. And when I had 2 choose, I chose U. And when your kid beat Shaq's kid 2 the delivery room (six minutes, bitch!) I knew I made the right choice. Even your genes are bad-ass.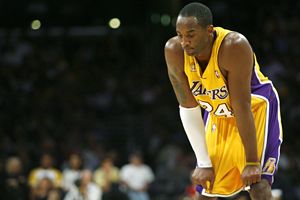 AP Photo/Matt Sayles
Deciding whether or not to break off a relationship can be a very tiring process.
(Sent 7:52 p.m., 10/4) Remember Karl Malone? When U said he tried 2 get fresh with Vanessa? When he told her he was "hunting for Mexicans"? I dismissed a future HOFer as a greasy old man. And a Republican. They said U loafed it in Phoenix; I said U stuck with a game plan that got the Lakers 2 a Game 7 they had no business being in. Even if U did loaf it, so what? I saw De Niro's last six movies, man!
(Sent 7:58 p.m., 10/4) Listen, I dug Magic, but I was 2 young, my immigrant parents 2 disinterested 2 C him play. Magic and I were pen pals. You? My thing for U could move mountains, and make me care about Raja Bell. And that's Y this summer hurt so much. Your trade demand is one transgression I can't get over. The real Lakers fans feel me. Right?
(Sent 8:11 p.m., 10/4) Spoke 2 Dyan Cannon at halftime. She sat courtside thru Showtime, thru the Three-Peat, thru all of it. You've hurt this poor lady, but she's a better lover than I. "I love Kobe, and I will always love Kobe," she said. "He had a beef, maybe didn't go about it the right way, but we all make mistakes. He's here now, he's playing great team basketball, and the team is responding. I mean, don't we look good? I'm telling U, we have some real talent here. I'm so excited."
(Sent 8:40 p.m., 10/4) Hmm, Dyan's right. We pushed the Rockets 2 the brink, blew out the Suns, and we're pulling away from the Jazz. All are Western powers. And no Odom? Wow!
(Sent 8:56 p.m., 10/4) It's not enough, is it? Your teammates are all laughter and chest-bumps, but you're unmoved. The dude sitting next 2 me, Frank Zupan, owner of Zup Products, saw it 2. "Come on, smile Kobe!" he yelled. "Why can't he be happy? He's got a wonderful life, a promising team, a good contract, a city that loves him. It's terrible to see him this way. He's so impatient."
(Sent 9:00 p.m., 10/4) Spoke 2 producer Joel Silver, dude behind Matrix, Die Hard and Lethal Weapon, one of the town's top deal makers: "When you're working with a big star, you need to find out what he wants, and give it to him! It's that simple! If you want him to work hard on the movie, you want him to promote the picture, you have to make him happy. Whatever Kobe wants, I'd give it to him!"
(Sent 9:04 p.m., 10/4) I know, it's not me. It's not U. As is the case in so many star-crossed romances, it's family. Your daddy, Jerry, uncle Mitch, and don't get me started on stepdad Jim, crazy bugger, waiting on the porch with Bynum, his shotgun, and a bottle of whiskey. I get it. You're 29, no spring chicken, and U want 2 win more titles, be better than MJ, eat Ray Allen's children, play with an All-Star sidekick.
(Sent 9:09 p.m., 10/4) Pop quiz, KB: What do Jermaine O'Neal, Baron Davis, Gilbert Arenas, Elton Brand, and Allen Iverson all have in common?
(Sent 9:10 p.m., 10/4) You've whooped 'em all! But what else?
(Sent 9:11 p.m., 10/4) Dude, they can all opt of their contracts next summer! And U know what a Nets player told me recently about J-Kidd, who can opt out in '09? "J wanted to be in L.A. so bad. He said the deal was done and his bags were packed, but Mitch got cold feet. They wanted to keep the kid." Ugh, friggin' Bynum, right? But that's not the point.
(Sent 9:14 p.m., 10/4) The point is this: Patience, dude. That, and Jerry West is hovering.
(Sent 9:16 p.m., 10/4) Whoop! The game is in hand, but U still ran down Kirilenko, swatting his dunk. And I think I just saw U smile! U haven't given up on us, have U, KB?
(Sent 9:20 p.m., 10/4) We just beat last year's Western Conference runner-up. Spoke 2 John Lithgow, who told me, "When a team wins like we're winning, trade requests tend to disappear." I know what you're thinking: Who's John Lithgow? He's a four-time Emmy winner, fool. But, dunno, U think he's right? Think winning can fix this? Think we should stay together?
(Sent 9:25 p.m., 10/4) Because the truth is, in the end, I can't quit you. If U agree, just say the magic words: "I don't want to be traded."
(Sent 9:26 p.m., 10/4) If not, then go, sweet Bean. Enjoy all that life has 2 offer. I wish U well and hope that U find someone who makes U happy.
(Received 10:57 p.m., 10/4) Who is this? Stop.
(Sent 11:00 p.m., 10/4) Then at least waive your no-trade clause.
(Sent 10:09 p.m., 10/5) Whoop, we lost 2 New Orleans. Here's a mixtape. Heck, worked in middle school.
Sam Alipour is based in Los Angeles. His Media Blitz column appears in ESPN The Magazine and regularly on Page 2. You can reach him at sam.alipour@gmail.com.