Forget what you've heard about NFL kickers. The Broncos' Jason Elam is debunking the myth -- you know, that kickers are sissies -- one badass exploit at a time.
On Jan. 1, the hunter, pilot, world traveler and sometime bullet-dodger will embark on his gutsiest venture yet, as his provocative novel "Monday Night Jihad" hits bookstores. From Tyndale, the publisher behind Tony Dungy's New York Times No. 1 best-seller, "Quiet Strength," and Deanna Favre's "Don't Bet Against Me," which debuted at No. 13 on the Times list in August, the action-adventure yarn is the tale of Riley Covington, a professional linebacker who returns to his former Air Force Special Ops life to thwart a terrorist attack on the homeland.
Drawing from recently declassified battle accounts, consultations with various experts and his extensive travels, including a harrowing visit to the Gaza Strip last offseason, the rookie author and devout Christian, together with his pastor and co-author Steve Yohn, presents a disturbingly plausible threat that he hopes will read less like a jingoistic indictment of radical Islam than a balanced examination of the root causes of the defining conflict of our time.
Though the book is sure to bring Elam heat from all sides, don't expect the 37-year-old product of Brookwood High (Snellville, Ga.) to break a sweat. The 15-year veteran, one of the league's all-time great kickers, has proven to be unflappable, a quality he's ridden to three Pro Bowls, two Super Bowl victories and countless clutch kicks, including three game-winners this season alone.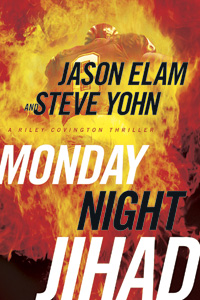 Elam, who's already penning the follow-up to "Jihad," recently took time to discuss his book, his motives, his life on the edge and why kickers are the toughest dudes in the NFL.
OK, I made up the last part. But if the apocalypse befalls us, you might want Elam by your side. Assuming, of course, Will Smith is busy.
---
Sam Alipour: You've got guts. Kicker or no kicker, not too many athletes are willing to tackle radical Islam and the war on terrorism.
Jason Elam: This was an opportunity to cover my three passions: football, current events and my faith, which is a big issue for me. I do a lot of traveling to the Middle East for missionary work, so radical Islam is real to me. I've seen it. I knew there'd be some people who'd have issues with the terrorism element, which we cover through the context of football. But you know what? Radical Islam is here to stay. Since 9/11, it's almost something we don't want to think about. But the reality is there are many radical Muslims in America. I feel I've come up with a nightmare scenario that we're going to have to deal with here. I know there'll be Muslim people who, without reading it, will feel I'm attacking them. That's the opposite of my intent. I think they'll even agree with how I went about this.
Forgive the reference, but are you suggesting that this book is fair and balanced?
When a lot of Christian writers tell stories, they demonize the other faith. That's one thing I did not want to do. I told several Muslim friends what I was doing, and they didn't have a problem with it. My main objective was to bring out the "why." Why do they do this? When a radical Muslim reads my book, I want him to say, "Yeah, that's why I do this; that's how I justify this." So among my main characters are a Christian protagonist, a moderate Muslim and a radical Muslim. Everyone who read this said, "Man, I hope nothing happens to the radical character because I like him." They felt sympathy for him. I tried to flesh him out and not say he's a bad guy. I hope I pulled it off. I think I have.
So, how does your book explain the "why"?
There are things that happened in their past that have made them this way. It's how they interpret the Quran, the different verses. I want to take readers into their mind, their childhood, to explain how this shapes them. People over here, they need to be aware of what's going on elsewhere.
Do you address the role American foreign policy and our presence in the Middle East play in all of this?
I do address it. American policy has a lot to do with what's going on with the radical element of Islam, especially the stance we've taken in Afghanistan, Iraq and diplomatically with Iran. And I think our support of Israel alone is enough to incite the radical Islamic movement. The ideologies are completely opposed to each other, and the radicals have obviously taken exception to our stance, enough so to where they've declared jihad on us, and fatwas against various people and the American government. Just like with Islamic faith, I'm hoping to address some of the misconceptions about the Christian faith and explain why we do what we do in the world.
Were you concerned about the NFL's reaction?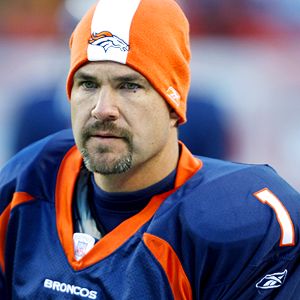 AP Photo/David Zalubowski
The unflappable Elam is co-owner of the NFL record for longest field goal at 63 yards.
Originally, I had Riley playing for the Broncos, but I thought about how the NFL might react, and said, you know what, forget the NFL. Now he's a linebacker for the Colorado Mustangs of the Professional Football League. But every story that I tell from the locker room and field are things I've either seen, experienced or heard. Riley was modeled after a guy I played with during my Super Bowl years, Steve Russ, and Chad Hennings, a former Cowboy. They were Air Force Academy graduates who fulfilled their obligation and ended up in the NFL.
So where's the kicker in all this?
[Laughs] I couldn't have the kicker be the hero. I'm told that would've been implausible. Can't imagine why. I do have the kicker in there, but it's more poking fun at him.
The rumor mill says the book culminates at the Super Bowl. True?
You'll have to read it. There's definitely something going on at the Super Bowl. I played in two of them, so I wanted to write about that unique experience.
Let's talk about your research. From what I hear, you're the most connected kicker on the planet.
[Laughs] Yeah, I've come to know a lot of people, I guess. I had a connection within Air Force Special Ops who sent me declassified battle reports from Afghanistan, so I used these huge reports but changed the names. I also have a friend at U.S. Secret Service who told me how security is handled at the Super Bowl, and I interviewed Denver [Police Department] homicide and Denver bomb squad. We have a lot of expert opinions and plausible scenarios that are going to freak some people out. It's a very real threat.
You're also quite an adventurer. How have your travels fueled this?
Over the last decade, during offseasons, I've been going to Africa and the Middle East, like Israel, Jordan and Gaza last year. Some are for fun. Some of it is missionary or relief work. My Gaza trip had a big part in this. Before going in, we called ahead because if they're not fighting Israel, the Palestinian Authority and Hamas, they're fighting amongst themselves. The Israeli side said they highly recommend we not go in, but that everything was quiet.
So we're going through this 300-yard tunnel between Gaza and Israel when a battle broke out. And once you clear the Israeli side, you can't go back. When we got to the other side, someone yelled, "Get in the car! Get in the car!" It was like a movie. Guys with black masks firing AK-47s. The Israelis didn't know what was going on, so they pulled their tanks up and fired shells into open fields as if to say, "Hey, don't mess with us." I was holed up in the pastor's house for a weekend while the battle went on. A lot of these trips I've done, they've shaped me.
So, you're the Indiana Jones of kickers. Like Indy, you're a pilot. Any close calls?
Yeah, a little bit [laughs]. I've been a pilot for 15 years, and last offseason, when I was in Alaska, a friend of mine loaned me his Piper Pacer, a teeny little plane, to go across the Cook Inlet with another buddy to visit his bear-hunting cabin on the beach near a gravel strip. But there was a storm coming in and we were getting bumped around, so we were going to turn around. Then I spotted a big Grizzly on the beach, so I dropped down to 200 feet to take pictures when my engine quit on me. The tide was out, so I set it down in the mud. There we are, making an emergency landing, stuck in the middle of nowhere Alaska, and we can't get out of the plane because of the Grizzly. Finally, I was able to get the engine going. That was fun.
You're single-handedly squashing the stereotype of the sissy NFL kicker. Are you the baddest kicker in the league?
[Laughs] No, no. I'm just an adventurer. I'm interested in aviation, the outdoors, hunting, rafting. And I like to learn about different cultures. But I don't think of myself as the baddest anything. I'm sure there are tougher kickers. And I'm sure you have sissies in every profession. In Denver, they've never made me feel like I'm that little kicker guy. They've always been very respectful.
I bet you're a heckuva tackler, too.
Well, when I used to kick off -- I don't kick off anymore -- the return unit liked to get their cleats entangled in my jersey as they walked over my chest. I'd get the worst end of it, but I could usually get them down.
I bet. Final question: This season in particular, coach Shanahan has relied heavily on the sneaky tactic of calling timeouts just prior to the snap on crucial kicks. As a kicker, ever want to tell him, "Dude, that's so not cool"?
[Laughs] To be honest, I enjoy when the other coach calls a timeout. It gives me time to find a good plant foot area, see what the winds are doing, and just visualize it. And it can backfire. Coach Shanahan called one a couple of weeks ago against Tennessee, and they missed the field goal but made the second one. It's a roll of the dice. My attitude is, I may miss a kick, but it has nothing to do with a timeout. That doesn't bother me at all.
You're such a badass. [Laughs] No, I'm not.
Sam Alipour is based in Los Angeles. His Media Blitz column appears in ESPN The Magazine and regularly on Page 2. You can reach him at sam.alipour@gmail.com.